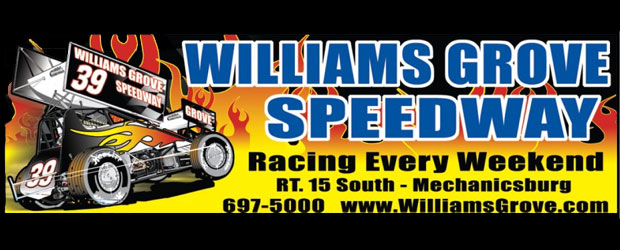 8/19/11
Mechanicsburg, PA — (August 19, 2011) — Daryn Pittman and Steve Buckwalter split Twin 20's for sprint cars Friday night at Williams Grove Speedway, each scoring $2,500 for their victories.
Pittman started second in the first main and led 19 of 20 circuits to pick up his win aboard Mike Heffner's No. 27 machine.
Polesitter Brian Montieth took advantage of a Pittman error in traffic to lead the 13th circuit before Pittman returned the favor when Montieth made a mistake, reclaiming the lead moments later.
Three ref flags marred the event, the first with only a lap completed for the night's fast timer, Nicole Bower, who rolled over in the first corner.
Brent Marks then flipped on the frontchute with five away before TJ Stutts rolled over in the middle of turns three and four with a trio of laps left.
There were no injuries.
Pittman beat Montieth across the finish line followed by Brian Leppo, Fred Rahmer and Alan Krimes.
"I definitely gave that race away there but the same thing happened to him (Montieth)," Pittman said of the fortunes that cost him the lead and then allowed him to regain it mid-race.
Buckwalter led all the way to score the second 20-lapper, beating fellow front row starter Lance Dewease for the lead.
The second half of the race ran intermittently under the green flag, enduring a pair of yellow flags and two reds as well.
The first red flag was for Chad Layton with 13 laps down, when his car's engine department erupted in flames.
The second stoppage occurred just as the checkers were set to fly when Alan Krimes turned over on the backstretch exiting the second turn.
Again, there were no injuries.
"People say anybody can win from the front row but when you got Lance starting beside you, it's tough," Buckwalter said of his run to victory.
"I figured – just hold it to the floor and stay up top and if they get you, they get you," he said of his mindset throughout the race.
Buckwalter bested Aaron Ott, Dewease, Leppo and Rahmer.
Twin B Mains went to Doug Esh and Brent Marks.
Bower set fast time with a lap of 16.544 seconds.
Feature Finishes
August 19, 2011
Sprint cars, 20 laps, Feature 1: 1. Daryn Pittman, 2. Brian Montieth, 3. Brian Leppo, 4. Fred Rahmer, 5. Alan Krimes, 6. Aaron Ott, 7. Lance Dewease, 8. Steve Buckwalter, 9. Chad Layton, 10. Doug Esh, 11. Mark Smith, 12. Don Kreitz Jr., 13. Todd Shaffer, 14. Ryan Bohlke, 15. Davey Sammons, 16. Frank Cozze, 17. Danny Dietrich, 18. Cory Haas, 19. TJ Stutts, 20. Adam Wilt, 21. Gerard McIntyr Jr., 22. Rick Lafferty, 23. Brent Marks, 24. Nicole Bower
Sprint cars, 20 laps, Feature 2: 1. Steve Buckwalter, 2. Aaron Ott, 3. Lance Dewease, 4. Brian Leppo, 5. Fred Rahmer, 6. Brian Montieth, 7. Danny Dietrich, 8. Daryn Pittman, 9. Mark Smith, 10. Todd Shaffer, 11. Ryan Bohlke, 12. Cory Haas, 13. Brent Marks, 14. Rick Lafferty, 15. Alan Krimes, 16. Nicole Bower, 17. Adam Wilt, 18. Doug Esh, 19. Davey Sammons, 20. Chad Layton, 21. Don Kretiz Jr., 22. Frank Cozze, 23. Gerard McIntyre Jr., 24. TJ Stutts.