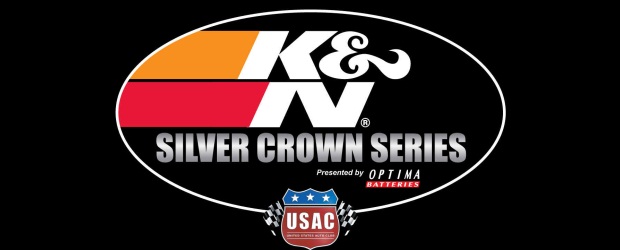 By Dick Jordan
Springfield, IL………Bryan Tyler of Mount Pleasant, N.C. started 14th in Saturday's "Tony Bettenhausen 100" USAC Traxxas Silver Crown race at the Illinois State Fairgrounds but it didn't take long for him to become a factor and he recorded his fourth victory in the classic 100-miler in his Toyota/Team 6R Beast. It was Tyler's fourth win at Springfield in the last seven events! He moved in to the "top-five on lap five, passed Levi Jones for fourth on lap six, caught Bryan Clauson for third on lap 12, Tracy hines for second on lap 14 and one lap later motored by leader Jerry Coons Jr. going into turn three. The race was halted for a mid-race pause on lap 51 but Tyler resumed his lead after the stop. Jones came from fourth after the stop to take second at the checkered flag, ahead of early race leader Jerry Coons Jr.,, Kyle Larson and pole starter Tracy Hines. Springfield favorite Donnie Beechler escaped injury when he flipped during a four-car tangle on lap 81. Coons retained the series point lead, but is just three points ahead of Jones entering the September 4 "Ted Horn 100" at DuQuoin, Ill. Tanner Swanson, tied with Coons entering Springfield, suffered through a disappointing day and finished 25th.
TRAXXAS USAC SILVER CROWN RACE RESULTS: August 20, 2011 – Springfield, Illinois – Illinois State Fairgrounds – "Tony Bettenhausen 100"
QUALIFICATIONS: 1. Tracy Hines, 16, Lightfoot-31.373; 2. Bryan Clauson, 22, Stewart-31.418; 3. Levi Jones, 10, Stewart-31.462; 4. Jerry Coons Jr., 27, RW-32.033; 5. Bobby East, 6, Klatt-32.200; 6. Kyle Larson, 71, Kunz-32.242; 7. A.J. Fike, 3, RFMS-32.358; 8. Jon Stanbrough, 17, RW-32.470; 9. Chris Windom, 5, Baldwin-32.556; 10. Darren Hagen, 99, Edwards/RE-32.559; 11. Dave Darland, 56, Foxco-32.622; 12. Shane Hollingsworth, 20, Nolen-32.815; 13. Russ Gamester, 51, Gamester-33.121; 14. Brian Tyler, 21, Team 6R-33.140; 15. Kody Swanson, 19, Team Six-R-33.205; 16. Derek Hagar, 91, Hagar-33.256; 17. Bud Kaeding, 29, BK-33.295; 18. Mike Hess, 39, Aquilini-33.326; 19. Shane Cockrum, 114, Hardy-33.379; 20. Zach Daum, 50, Daum-33.412; 21. Donnie Beechler, 14, McQuinn-33.550; 22. Chris Urish, 77, Urish-33.682; 23. Tanner Swanson, 23, Team 6R/TK-34.149; 24. John Heydenreich, 43, Nix-34.217; 25. Randy Bateman, 55, Bateman-34.390; 26. Mike Martin, 116, Racing Associates-35.118; 27. Craig Dori, 38, Shoestring-35.605.
FEATURE: (100 laps) 1. Brian Tyler, 2. Levi Jones, 3. Jerry Coons Jr., 4. Kyle Larson, 5. Tracy Hines, 6. Jon Stanbrough, 7. Bud Kaeding, 8. Kody Swanson, 9. Russ Gamester, 10. Chris Windom, 11. Shane Hollingsworth, 12. A.J. Fike, 13. Dave Darland, 14. Derek Hagar, 15. Bobby East, 16. Mike Hess, 17. Shane Cockrum, 18. Bryan Clauson, 19. Mike Martin, 20. Zach Daum, 21. Donnie Beechler, 22. Randy Bateman, 23. Darren Hagen, 24. Craig Dori, 25. Tanner Swanson, 26. Chris Urish. NT
——————————————————
**Beechler flipped on lap 81.
FEATURE LAP LEADERS: Laps 1-14 Coons, Laps 15-100 Tyler.
NEW TRAXXAS USAC SILVER CROWN POINTS: 1-Coons-255; 2-Jones-252; 3-Kaeding-213; 4-T.Swanson-209; 5-East-207; 6-Tyler-205; 7-Hines-203; 8-Larson-191; 9-Bobby Santos III-156; 10-Fike-125.
NEXT TRAXXAS USAC SILVER CROWN RACE: September 4 – DuQUoin (IL) State Fairgrounds – "Ted Horn 100"