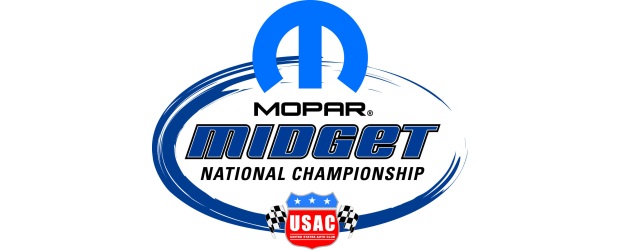 By Dick Jordan
The lingering question surrounding the October 6-7-8 "Gold Crown Midget Nationals" at Tri-City Speedway in Pontoon Beach, Ill. is "Can anybody beat Kyle Larson?"
That question became valid after Larson's "clean sweep" of the recent "4-Crown Nationals" at Eldora Speedway in Rossburg, Ohio. The 3rd Annual "Gold Crown Midget Nationals" offers $10,000-to-win and Larson's proficiency in top-dollar races this season has been remarkable.
In addition to raking in $28,000 for his "4-Crown" sweep, Larson also won the $15,000-to-win USAC Sprint race at Oskaloosa, Iowa in August and added that month's $10,000-to-win Belleville Midget Nationals in Kansas but the Eldora sweep opened a lot of eyes in the racing community as to his vulnerability.
Jerry Coons Jr. and Darren Hagen will be looking to repeat their 2008 and 2010 "Gold Crown" victories in the three-night Midget racing extravaganza at the 3/8-mile dirt oval. Rain forced cancellation of the 2009 event.
Hagen swept all three nights of last year's "Gold Crown" and has added incentive to repeat this year. He's only 11 points behind defending USAC Mopar National Midget Champion Bryan Clauson in the 2011 standings. More than 200 points are available during the three-night program, so the standings are sure to be revised after Saturday night's feature event.
Larson, the only driver this year to win in all three of USAC's National racing series, Traxxas Silver Crown, AMSOIL Sprint and Mopar Midget, has propelled himself into title contention, now trailing Clauson by only 26.
Larson will be making his "Gold Crown Midget Nationals" debut but that shouldn't deter him, based on previous 2011 results. His appearances at Oskaloosa, Belleville and Eldora were also his first ever!
The field for the "Gold Crown Midget Nationals" continues to grow and has already surpassed the "golden" figure of 50. Preliminary night features Thursday and Friday are 25 laps and Saturday's main event is 50 laps.
TURN 2: Tickets! Get your tickets:Tickets for the 2011 Gold Crown Midget Nationals are all general admission and are priced as follows: Thursday and Friday ($20 each night), Saturday ($28). Kids as and under are free with a paid adult. Gates open at 5 p.m.
TURN 3: We've got you covered: 2011 Gold Crown Midget Nationals t-shirts are available for pre-order now by e-mailing tricityspeedway@msn.com or calling 1-636-448-9111. They can be picked up at the track during the event. Credit cards only on pre-orders, please.
Tri-City Speedway is located in Pontoon Beach, Illinois. The track is located across the Mississippi River from St. Louis, MO. Take exit 4 off of I-270 and then go 1/2 mile south on SR 203. For tickets or more information, you can call the track office at 636-448-9111, 618-931-7836 or 800-617-9077 or visit their website at www.tricityspeedway.net
MOPAR USAC NATIONAL MIDGET POINT STANDINGS
1-Bryan Clauson-945; 2-Darren Hagen-934; 3-Kyle Larson-929; 4-Tracy Hines-828; 5-Bobby East-753; 6-Caleb Armstrong-642; 7-Zach Daum-616; 8-Brad Kuhn-612; 9-Tanner Swanson-582; 10-Jerry Coons Jr.-564.