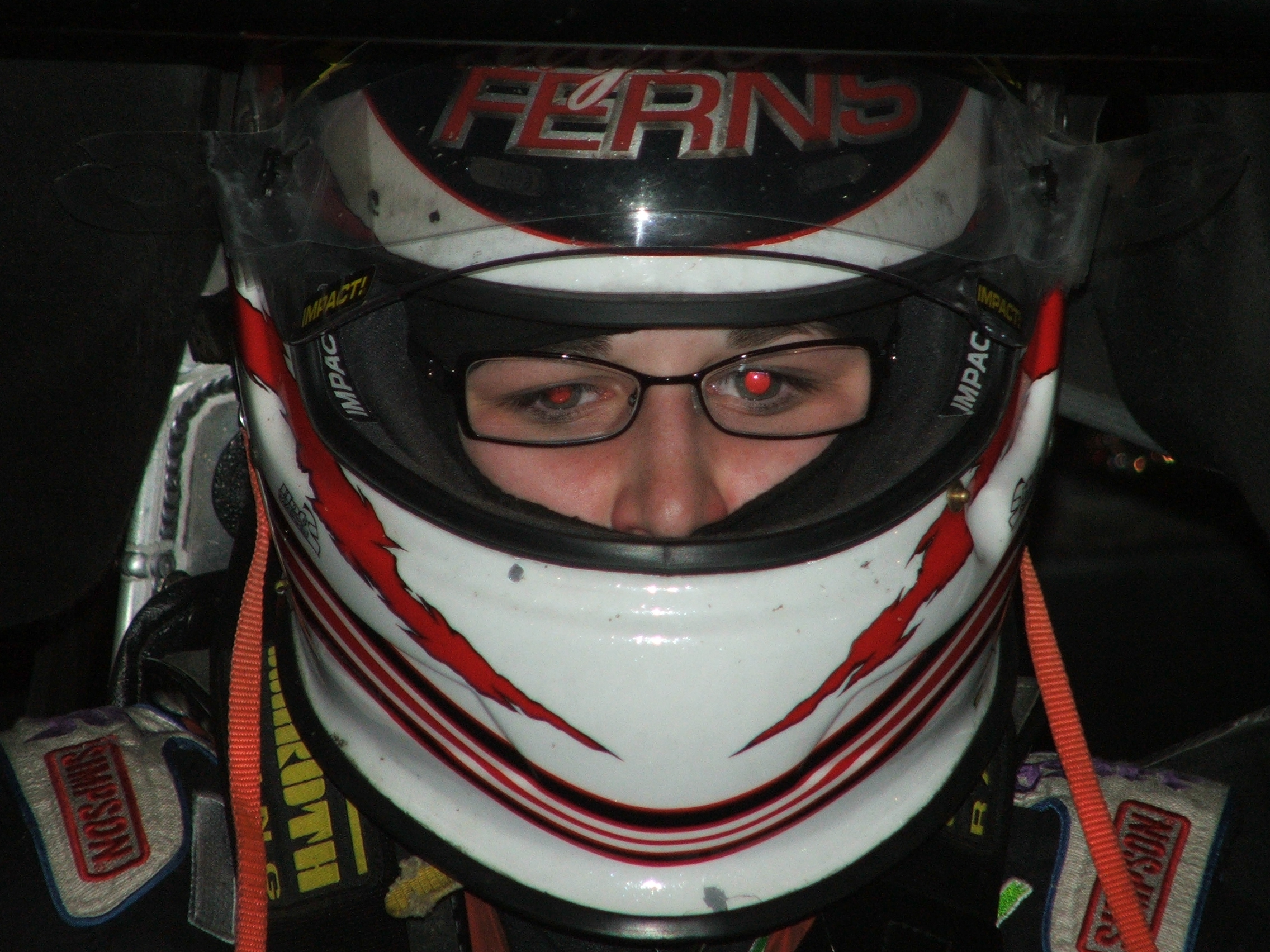 By Ferns Racing PR
Shelby Township, Mich.—Oct 4, 2011—Taylor Ferns may be only 15-years old, but she has certainly shown in her first year competing with the USAC Mopar D1 Midget Series that she can race with anyone, anytime, as evidenced by a thrilling wheel-to-wheel battle with veteran and multi-time champion Dave Darland earlier this season on the dirt at Kokomo (Ind.) Speedway.
Ferns, who leads the USAC D1 Midget Series standings aboard the Motor City Auto Transport Inc./Stanton Mopar/Beast, will make her USAC Mopar National Midget Series debut this week during the Gold Crown Midget Nationals at Tri-City Speedway in Pontoon Beach, Ill. The three-day event kicks off on Thursday, Oct. 6 with a full night of racing, followed by another full preliminary program on Friday, Oct. 7 and wraps up with the $10,000 to win finale on Saturday, Oct. 8 at the three-eighths-mile dirt oval located just outside of St. Louis.
"I'm really excited to head to Granite City," said Ferns. "It will be my first USAC National Midget race and my second time at Granite City. We ran well in a heat race there and didn't have as good of a run in the feature, so I am looking forward to going back and rebounding."
Ferns has competed mainly on the asphalt this year, but took advantage of the opportunity to turn some extra laps on the dirt two weekends ago, as she competed at Macon (Ill.) Speedway with the POWRi Midget Series. For the native of Shelby Township, Mich., it was her second start of the season on the tight one-fifth-mile bullring, with a very strong field in attendance.
"I've been able to learn so much this year racing on the dirt and it's been a great experience," she noted. "I've gotten to learn the transitions between thick tracks and slick tracks and what it takes to run on each. It's been a lot of fun, and so has been running on the paved tracks."
Ferns, the winningest female in USAC history, will be one of over 40 drivers that will be competing in the Gold Crown Midget Nationals at Tri-City Speedway, with midget drivers from coast-to-coast on-hand for the crown jewel event. The high-school sophomore will compete in each of the final two USAC Mopar National Midget Series of 2011, with the season wrapping up with the traditional Turkey Night Grand Prix at Irwindale Speedway on Thanksgiving.
"There is nothing like racing against guys like Dave Darland and Jerry Coon Jr.," she said. "I've worked with Jerry before and he mentored me the first time I drove my dirt midget. Dave Darland and I had a great race at Kokomo and had a really good time. I get to learn a lot as well when I race against drivers like that and that makes it fun as well."
Many of the drivers that Ferns will be racing against in the USAC Mopar National Midget Series event have been racing longer than she has been alive. She doesn't let that bother her though, as she is often one of the youngest drivers at many of the races she competes in.
"I try not to think about it, but sometimes when I do think about it, it can be intimidating," she shared of racing against veteran drivers. "When you look at what they have done, they are pretty stacked. The best thing is to try not to think about and just run my race."
Ferns, who has finished in the Top-10 in all 14 of her USAC D1 Midget Series main event starts this season turned in one of the drives of the season back on July 31 at Kokomo (Ind.) Speedway, when she raced with Dave Darland for several laps trading the lead a couple of times, before a late race spin relegated her to a fourth-place finish. While she was disappointed she did not win that race, she gained a lifetime of racing knowledge from racing with one of the best drivers ever to strap into a midget.
"I've been able to learn so much this year racing on the dirt and it's been pretty exciting," noted Ferns. "I certainly respect the veteran drivers and I think they respect me as well. It's great being able to race with guys like that and learn from them as well."
While many of the tracks that she has visited this year have been new for Ferns, Tri-City Speedway is one that she has competed at before. Led by her crew chief Kevin Besecker, the team will have some good notes to refer to when they roll through the pit gate this week for the Gold Crown Nationals.
"It does help having been to a track before," said Ferns. "You kind of have an idea of what the track typically does throughout the night and what it will do for the feature. It's good to know about the track, but I still look at YouTube videos of tracks and past races to kind of get myself in the right mindset."
Being a competitor, Ferns would like nothing more than to run up front and contend for the win each night at Tri-City, but she is realistic about her goals for the weekend and looks to gain as much experience as she can against the best midget drivers in the world in her USAC Mopar National Midget Series debut.
"Our main focus is to have consistent finishes and avoid problems," said Ferns. "We just have to focus on what we know how to do and what we have been doing. If we do that and have some solid finishes it will be a good weekend."
Ferns currently has a 143-point lead in the USAC Mopar D1 Midget Series standings on the strength of one win, five Top-Five and 14 Top-10 finishes in 14 main event starts with the series. A pair of events remain for the series next weekend at Kokomo Speedway in Indiana and Toledo Speedway in Ohio.