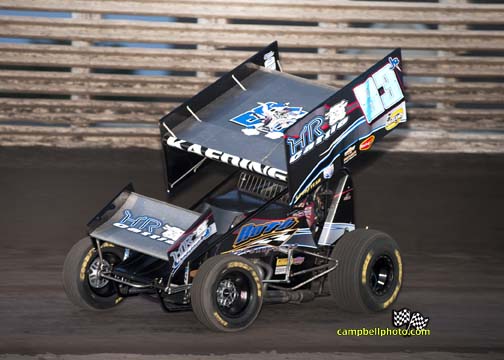 From Gary Thomas
Hanford, CA – October 12, 2011…For as many years that Fresno, California's Dennis Roth has owned a 410 Winged Sprint Car, he had never had the opportunity to win a title in his home state of California.
Coming into this season though he made the commitment to keep a car in the Golden State full-time and this Saturday night in Hanford, his driver Tim Kaeding looks to be crowned as the very first King of the West Series champion.
"We've had a great season overall and I'm really excited that it appears I'll get the title for Dennis and Teresa Roth this weekend," said Kaeding. "They've given me a great chance the last few years and coming into the season our number one goal was to get the King of the West championship."
Kaeding has certainly done everything he can to reach that goal, winning a total of six races thus far and has finished among the top-five in all but one event aboard the HR Cattle No. 83 sprinter. The 2002 Golden State 410 champ has won three consecutive KWS races and will be
searching to finish off the season in style on Saturday.
"It's been a fun year out here and has been one of the most competitive for 410 Sprint Cars in a long time," commented Kaeding. "None of these races have been easy to win this season, but my guys have been doing a great job every week. I can't thank 'Bonzai' and my whole team enough for all their hard work this year."
This Saturday's Golden State King of the West 410 Series finale also comes at a track Kaeding has had immense success at in his career. "The TK Express" has won three of the last four Winged 410 Sprint Car events at the Giant Chevrolet Kings Speedway, including the KWS visit to the 3/8 mile clay oval in early August.
"Kings Speedway has always been one of my favorite tracks and it will definitely be a great show on Saturday, because it's a perfect place for sprint cars," said the 33-year-old San Jose resident. "I've won a lot of races there in the past and won the Cotton Classic back in '02, so I'd like to get another one this weekend."
Other winners of the prestigious Cotton Classic since the year 2000 have been Visalia's Blake Robertson; Aliquippa, PA's Tim Shaffer; Chico's Jonathan Allard (twice); Clovis' Jason Meyers; Chico's Stephen Allard and then last year Elk Grove's Kyle Larson.
As previously noted, to commemorate the final night of the inaugural KWS season Roth Motorsports will also field a second entry with National Sprint Car Hall of Fame member Jac Haudenschild at the helm. "The Wild Child" is sure to add some excitement to the Cotton Classic and is coming off a third place finish last week in Tulare.
As Kaeding looks to cap off the title this weekend, Scotts Valley's Evan Suggs will be shooting to lock up the second position in the KWS standings. The 24-year-old San Jose State graduate has put together his finest Winged Sprint Car season to date, which was highlighted by a victory during the Howard Kaeding Classic in July at Ocean Speedway.
Close battles within the top-10 in points going into championship night include the fight for third between Brent Kaeding and Jonathan Allard, who are separated by just 15-markers, as well as the fight for fifth, in which Jason Statler, Willie Croft and Andy Gregg sit only 10-digits apart. Completing the top-10 in the standings going into the night include Bobby McMahan, Kenny Allen and Brad Furr.
Other top contenders this Saturday are sure to include Easton's Tommy Tarlton, Clovis' Peter Murphy, St. Helena's Rico Abreu, Fresno's Craig Stidham, Tipton's Mike Faria, Visalia's Cory Eliason, Puyallup, Washington's Trey Starks and many more.
Tickets for the 26th Cotton Classic are on sale now and can be acquired by contacting the Giant Chevrolet Kings Speedway box office at (559) 584-7223. Qualifying is scheduled to get underway just after 6pm with racing beginning at 7.
The Giant Chevrolet Kings Speedway is located on the Kings County Fairgrounds in Hanford, California. The physical address is 801 S. 10th Ave, Hanford, Ca 93230. More information can be found at http://www.giantchevroletspeedway.com
Be sure to "like" the Golden State King of the West Series on Facebook and follow us on Twitter at http://www.twitter.com/kws410s
Also check out our official website at http://www.kwssprints.com for results, standings and more. You can also contact the KWS office at (707) 374-2222.