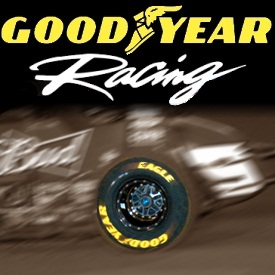 By Lee Elder
HANFORD, Calif. (Oct. 17, 2011) – Tim Kaeding didn't have the race result he wanted, but he'll take it. Kaeding clinched the 2011 Golden State King of the West winged sprint car series championship just by starting the Cotton Classic at Kings Speedway.
Kaeding had a mechanical problem and did not finish the final race of the season, but his six previous wins and other consistently high finishes were enough for him to take the title.
Goodyear is the exclusive tire provider for the rear wheel positions of the cars in the California-based series. The rear tires used by the King of the West come from the same line of tires Goodyear supplies to the top touring winged sprint car racing programs in the nation.
Jonathon Allard won the race, his fourth victory of the 2011 campaign. Allard's win was his third Cotton Classic title and the 28th victory of his King of the West career.
Trey Starks, a 15-year-old driver, finished second after a terrific race with Tommy Tarlton. Tarlton finished third. Brent Kaeding took fourth and Jason Statler came home fifth.
More information about Goodyear Racing is available at www.racegoodyear.com. More information about the series is available at www.kingofthewestsprintcarseries.com.