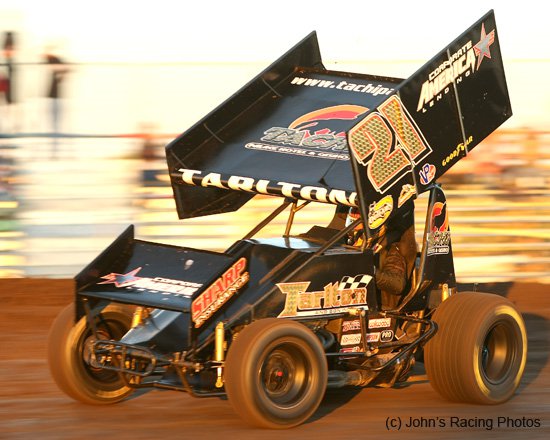 Inside Line Promotions
– EASTON, Calif. (Oct. 30) – Tommy Tarlton knew he was going to have a good season on Jan. 1.
That's when he became the first sprint car feature winner of 2011 in the world with a victory in Baypark, New Zealand. After wrapping up the runner-up position in the New Zealand Sprint Car Championships a couple weeks later, Tarlton headed home for a prolific season in the United States.
The Easton, Calif., native picked up nine victories in 41 races, with an astounding 30 top fives. He won 22 percent of his races and finished in the top five in 73 percent.
"The success we had in New Zealand really carried over to our season here," he said. "It's pretty cool that we were the first winner of the year and that we continued to race up front most of the season."
Not only did Tarlton win a lot, but he won big. Tarlton claimed the inaugural Howard Kaeding Classic race, the first-ever ASCS Southern California Region race, his third Pombo/Sargent Classic and a trio of Ocean Sprints events. He also won the Johnny Key Classic dash for the second consecutive year and earned the inaugural ASCS Southern California Region championship by an astounding 463 points.
Additionally, Tarlton recorded a pair of top-five finishes with the ASCS National Tour on nationally televised broadcasts by the VERSUS network. He also finished 10th in his first-ever ASCS Northwest Region Speedweek and 10th out of 70 drivers in overall points at the 18th annual Trophy Cup.
"When you think back to all the races this year, it's easy to pinpoint another half dozen that I could have won," he said. "But when I look at the accomplishments of this team and the fact that it's the third straight year we've won a championship, I'm very honored to be a part of this group.
"Over the past few years it seems like we've really built off the previous year. So I'm really excited about where we are headed and the success that we can achieve in 2012."
Tarlton would like to extend his gratitude for the partners and friends of the race team this season, including Tarlton and Son, Inc., Corporate America Lending, Tachi Palace Hotel and Casino, Bandy & Associates, Sharp Insurance & Bonding, Simpson and BG Products for their continued support.
SEASON STATS –
41 races, 40 features, 9 wins, 30 top fives, 32 top 10s, 34 top 15s, 38 top 20s
FAVORITE NUMBER –
75: Percent of features this season resulted in a top-five finish.
SOCIAL MEDIA LINKS –
Website: www.tommytarlton.com
Twitter: https://twitter.com/#!/tommytarlton21
Facebook: http://www.facebook.com/#!/profile.php?id=100001286852863
APPAREL –
Tarlton has black t-shirts, sweatshirts and hats, and white women's shirts available for purchase at every race he attends. For information on where you can get them, visit http://www.tarltonandson.com/tarlton-racing-schedule.
ON THE AIR –
Tarlton was a guest on the Lucas Oil ASCS Show by Racinboys on May 3. Click on the link below to listen. Tarlton's interview begins around the 32-minute mark.
http://www.meridix.com/mbp/general/index.php?liveid=Racinboys&recordid=18831
He was also a featured guest on the Dirt Cast podcast on June 29. The link is below:
http://dirtcast.com/2011/06/29/tommy-tarlton-ascs-sprint-cars-ocean-sprints-6-29-11/
Check out the link below to see highlights of Tarlton's King of the West Sprint Car Series' win at Thunderbowl Raceway in Tulare, Calif., on May 14.
Here are a couple of videos from Tarlton's victory and runner-up performance with the King of the West Sprint Car Series at the Howard Kaeding Classic at Ocean Speedway in Watsonville, Calif., on July 1-2:
http://vimeo.com/25952465 and http://vimeo.com/25950506
Here is a link to Tarlton spinning around on the back of his car during a heat race at Ocean Speedway on July 8:
Check out this link to an in-car video of Tarlton winning the B Main at the Cottage Grove Speedway in Cottage Grove, Ore., on July 13:
SPONSOR SPOTLIGHT – Sharp Insurance & Bonding
Established in 1977, Sharp Insurance & Bonding is a full-service insurance agency located in Visalia, Calif. Sharp Insurance & Bonding specializes in commercial insurance, contractors insurance, contractor bonding and personal lines. For more information, visit www.sharpinsurance.com.
"We've been doing business with Sharp Insurance & Bonding since 1995 and it has been a sponsor since 1997," Tarlton said. "We've got a great relationship. He supports a lot of race teams, and has been a great support of me both on and off the track."
Tarlton would like to thank his sponsors, including Tarlton and Son, Inc., Corporate America Lending, Tachi Palace Hotel and Casino, Bandy & Associates, Simpson and BG Products for their continued support.