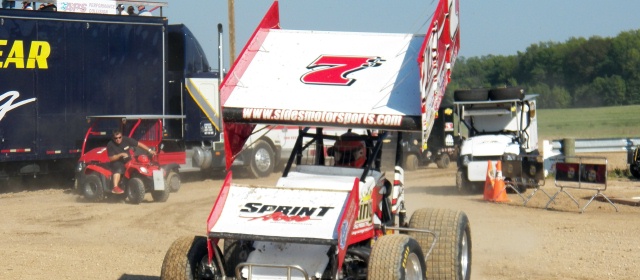 From John G. Deckard, Esquire
After racing full time with the World of Outlaws sprint car series for the last eight years, "Double Down" Jason Sides and Sides Motorsports announced today that they intend to sue the World of Outlaws ownership entity, World Racing Group, to recover Driver Point Fund monies, Car Owner Point Fund monies, tow money and other benefits owed by the series to them. The dispute has been simmering for a couple of months, and Jason, the Series' 2003 Kevin Gobrecht Rookie of the Year, characterized the issue as follows:
"In August of this year, I called the World Racing Group CEO, Brian Carter, and asked him for permission to run a non-Outlaw race in Fargo, ND a few weeks later. He said he couldn't talk right then but promised to call me back the next morning at 10 o'clock. He never called me, so I texted him two more times to ask for permission to run the race. Never receiving a response from him telling me otherwise, I figured I was cleared to race. Two other World of Outlaw teams were racing that same non-sanctioned race, the #9 car and the #15, so I showed up and raced…didn't do very well, though ! The next thing I know, the World of Outlaws come around and tell me they are cutting my tow money in half, cutting my pit passes in half and not going to pay me my Driver and Owner Point Fund money at the end of the year. They told me that regardless of where I finish in the points [currently 6th] they are only gonna pay me last place money. That's about a $40,000 difference, and I am not going to roll over on a $40,000 'fine' just because Brian Carter was too busy or didn't want to call me back. We will let a jury decide whether what they are doing to me is right. I've supported this Series for a long, long time. In the years I've raced with the Outlaws, I've ran 100% of their races. If they think they can just keep my money that I've worked all year for, and that I'll just whimper back to Tennessee, they're wrong. Maybe they'll change their minds before the Banquet, but right now they don't even return phone calls. If they pay me my money, great. Otherwise, I'm suing them."
In addition to his Rookie of the Year honor, Jason was the famed King's Royal victor in 2004, and has finished 5th in both of the last two years on the Outlaw circuit. Driving his Wetherington Tractor Service "7S"car, Jason is a fan favorites wherever he races. Next year, he'll race wherever he chooses.