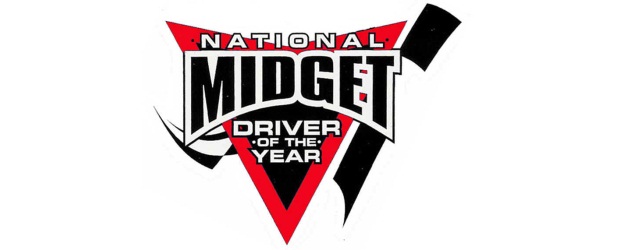 By Bryan Gapinski
Ventura, Calif. Nov. 20—Defending Champion Bryan Clauson has closed to within fifty-eight points of Brad Kuhn in the battle for the 2011 National Midget Driver of the Year Championship, with one race remaining. Clauson narrowed the margin Saturday Night, finishing second to Kuhn in the "Battle of the Beach Finale" VRA/USAC Western Midget Car Series feature at Ventura Raceway.
The Toyota Speedway at Irwindale California will host the 71st annual Turkey Night Grand Prix on Thanksgiving Night Nov. 24. Clauson has won the event the last two years, and also holds a narrow nineteen-point lead over Darren Hagen in the USAC National Midget Series points.
Clauson, NMDOTY Champion the past two seasons and Kuhn winner in 2005, and '06 are trying to become the first three-time winner in the thirteen year history of the award. Two years ago Clauson overcame an eighty-seven point defict passing Kuhn in the final race of the season to claim the Champion. Clauson will need at least a finish of seventh place or better coupled with a finish by Kuhn outside the top ten ten to win the championship.
Kuhn's car owner RW Motorsports holds 104-point lead in the Car Owners Championship, being trailed by Clauson's car owner Tucker/BCI/Curb/Agajanian. Indiana's Jake Blackhurst has locked up the Design 500 Racewear Rookie of the Year. Spike (Chassis), and Ford-Esslinger (engine) again won the Manufacturers Championship.
The top ten drivers and top three car owners along with Manufacturers Champions and Rookie of the Year will receive their point fund checks and trophies in the annual ceremony held during the final night of the Lucas Oil Chili Bowl Midget Nationals on Jan. 14, 2012.
POINTS
Driver: 1. Brad Kuhn 1268; 2. Bryan Clauson 1210; 3. Jerry Coons Jr. 1015; 4. Kyle Larson 986; 5. Brad Loyet 925; 6. Darren Hagen 908; 7. Zach Daum 710; 8. Nick Knepper 702; 9. Tracy Hines 656; 10. Bobby East 645.
Car Owner: 1. RW Motorsports#17, 1269; 2. Tucker/BCI/Curb/Agajanian#39 1165; 3. Keith Kunz#67 905; 4. RFMS#3, 859; 5. Loyet Motorsports#05 872.
Rookie of the Year: 1. Jake Blackhurst ; 2. Brenden Bright; 3. Alex Bright 286; 4. Dillon Welch 204; 5. Shane Golobic 191.