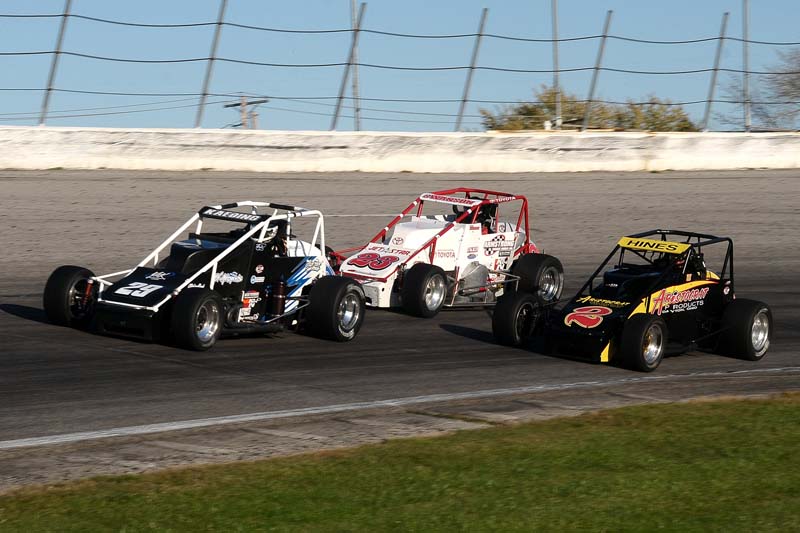 By Dick Jordan
Irwindale, CA……..Tanner Swanson of Kingsburg, Calif. and his brother Kody were involved in first-lap spins but recovered to finish 1-2 in Thursday night's AMSOIL USAC Western/Western Classic Sprint race at Toyota Speedway at Irwindale, Calif. The race was part of the 71st "Turkey Night Grand Prix" activities. Tanner eventually led all 40 laps in his Lyons Transportation/Wawona Packing & Frozen Foods Wysong/Losorwith Brodix to beat Kody Swanson, Mike Murgoitio, Scott Pierovich and Tony Hunt. Hunt ended up winning the AMSOIL Western title and the Western Classic Pavement crown, while Geoff Ensing ended up with the Western Classic championship after finishing eighth. The race was halted right after the start when drivers Audra Sasselli and Cody Gerhardt flipped. Gerhardt was transported to Arcadia Methodist Hospital for observation. The accident ended bids for the Western championship by both Sasselli and Gerhardt.
AMSOIL USAC WESTERN/WESTERN CLASSIC SPRINT CAR SERIES RACE RESULTS: November 24, 2011 – Irwindale, California – Toyota Speedway at Irwindale – 71st "Turkey Night Grand Prix"
QUALIFICATIONS: 1. JoJo Helberg, 7, Helberg-16.163; 2. Tracy Hines, 27, Morales-16.303; 3. Kyle Larson, 67, Kunz-16.325; 4. Kody Swanson, 75, TK-16.363; 5. Tanner Swanson, 17, TK-16.409; 6. Mike Murgoitio, 80, Murgoitio-16.498; 7. Tony Hunt, 56, Phulps-16.502; 8. Audra Sasselli, 77, Sasselli-16.539; 9. Aaron Pierce, 26, Pierce-16.596; 10. Cody Gerhardt, 40, Western Speed-16.627; 11. Tim Skoglund, 60, Western Speed-16.649; 12. Scott Pierovich, 14, Pierson-16.708; 13. Bobby East, 50, Phulps-16.794; 14. Gordon Rodgers, 94, Dusin-16.838; 15. Luis Ramos III, 21, Kaplan/Gennuso-16.840; 16. Shauna Hogg, 5, Hogg-16.845; 17. Geoff Ensign, 3F, Finkenbinder-16.878; 18. Jim Waters, 24, Ault-16.952; 19. Tim Barber, 3T, Finkenbinder-17.027; 20. Michhael Maier, 22, Maier-17.179; 21. Ryan Burdett, 36, Burdett-17.181; 22. Mike Spencer, 97, Hendrix-17.217; 23. Matt Mansell, 14m, Rendle-17.406; 24. Bill Logan, 98, Logan-18.793; 25. Marvin Mitchell, 68, Mitchell- 19.632; 26. Howard Holden, 86, Mitchell-22.998.
FEATURE: (40 laps) 1. Tanner Swanson, 2. Kody Swanson, 3. Mike Murgoitio, 4. Scott Pierovich, 5. Tony Hunt, 6. Aaron Pierce, 7. Tim Skoglund, 8. Geoff Ensign, 9. Tim Barber, 10. Shauna Hogg, 11. Luis Ramos III, 12. Ryan Burdett, 13. Jim Waters, 14. Gordon Rodgers, 15. Mike Spencer, 16. Matt Mansell, 17. Michael Maier, 18. Marvin Mitchell, 19. Kyle Larson, 20. Howard Holden, 21. Bill Logan, 22. Tracy Hines, 23. JoJo Helberg, 24. Audra Sasselli, 25. Cody Gerhardt, 26. Bobby East. 11:17.93
————————————–
**Gerhardt, Sasselli flipped at the start of the feature. Gerhardt transported to Arcadia Methodist Hospital for observation.
FEATURE LAP LEADERS: Laps 1-40 T.Swanson.
FINAL USAC WESTERN SPRINT CAR POINTS: 1-Hunt-668; 2-Sasselli-653; 3-Skoglund-651; 4-Gerhardt-612; 5-Ramos-555; 6-Pierovich-492; 7-Ensign-390; 8-Barber-362; 9-Johnny Geisler-340; 10-Hogg-304.
FINAL USAC WESTERN CLASSIC SPRINT CAR POINTS: 1-Ensign-884; 2-Hunt-878; 3-Pierovich-807; 4-Barber-670; 5-Hogg-655; 6-Jerry Kobza-211.
FINAL USAC WESTERN CLASSIC PAVEMENT SPRINT CAR POINTS: 1-Hunt-491; 2-Sasselli-455; 3-Pierovich-443; 4-Skoglung-413; 5-Gerhardt-393; 6-Ensign-390; 7-Barber-362; 8-Ramos-328; 9-Hogg-304; 10-Rodgers-260.