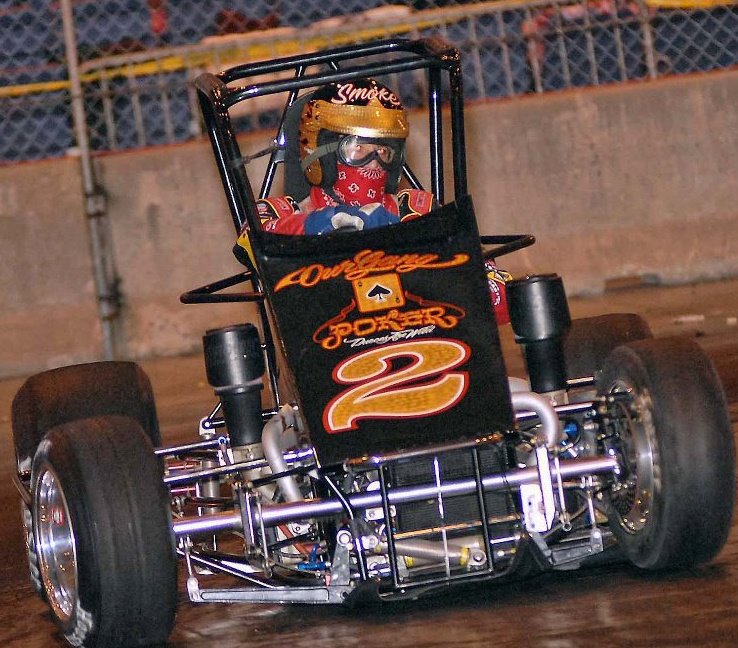 By Tony Barhorst
FORT WAYNE, Ind. – Seven-time champion Tony Stewart heads the more than 250 drivers who are entered for the 14th annual Rumble in Fort Wayne indoor races on Friday, Dec. 30 and Saturday, Dec. 31 at the Memorial Coliseum Expo Center.
Stewart, who will be competing at the 1/6-mile track for the first time in three years, is among 38 entries in the midget division. The 257-car entry list also includes 35 winged outlaw modified midgets, nine mini-sprints, 126 karts (in nine classes) and 49 quarter midgets (in five classes). Entries will continue to be accepted through race weekend.
Stewart, who captured his third career NASCAR championship last month, has won the Rumble in Fort Wayne midget feature seven times in 12 starts, including a sweep of the two-day program in 2006. During a stretch from 2004-08, he won six of eight features in which he competed.
Rich Corson of Markham, Ill., and Billy Wease of Noblesville, Ind. – the only drivers to beat Stewart during his incredible run – also are entered, along with defending champions Jim Anderson of Joliet, Ill., and Dave Darland of Lincoln, Ind. Wease ranks second to Stewart with three career Rumble in Fort Wayne midget wins, all since 2007.
Larry Joe Sroufe of Larwill, Ind., and Ryan Smith of Kunkletown, Pa., will be back to defend their winged outlaw midget titles. Collin Ambrose of Owensboro, Ky., the 2011 Midwest Mini Sprint Association champion, heads the field in mini-sprints, which will be racing at Fort Wayne for the first time. Zach Axlen of Sheboygan, Wis., and Cason Konzer of Holly, Mich., who each won four features last season, top the entries in karts and quarter midgets, respectively.
Complete racing programs are scheduled both days, with spectator gates opening at 11 a.m. and the main portion of the event after 7 p.m. Stuntman Henry "The Pitbull" Rife will attempt a world record indoor jump of 10 cars on an ATV during Saturday's activities. He crashed on landing last year, breaking his collarbone.
Tickets will be available at the door, but fans are encouraged to purchase in advance at the Memorial Coliseum box office, through Ticketmaster or by calling (800) 745-3000. Reserved seating (middle sections of the frontstretch) is available only in advance and is $22.50 for one day or $41 for both days. General admission is $19.50 for one day or $35 for both days. Kids 12 and under are admitted for $10 for one day or $16 for both. Pit passes, available only at the event, are $30 for one day or $55 for two.
More information is available at www.rumbleseries.com, by calling (317) 418-3216 or by e-mailing tbracefest@aol.com.
Preliminary Entry List (as of Monday, Dec. 26, 2011)
MIDGETS (NATIONAL/FORD FOCUS/KENYON)
No. Driver/Hometown Entrant/Sponsor/Chassis/Engine
0 +Dave Darland/Lincoln, IN Rick Daugherty/Peterbilt of Northwest Ohio/Shores/Volkswagen
0s Steve Irwin/Fenton, MI Flying Zero Racing LLC/Ronnie Johncox Racing/Shores/Volkswagen
2 +Tony Stewart/Columbus, IN Tony Stewart Racing/Our Gang Poker Club/Munchkin/Volkswagen
2 Jim "Timex" Morgan/Rochester, NY Afterhours Imaging/Pepsi – Dunkin' Donuts – Afterhours Imaging/Munchkin/Volkswagen
3 Chris Neuenschwander/New Haven, IN Gary Barnett/Wheeler Insulation – Hoosier Metal Recycling – Pro Strip – Saylor Racing Engines/Stealth/Gaerte
4 Gary Bradley/Leiters Ford, IN Gary Bradley Motorsports/Smith Machine & Tool/Beast/Pontiac
6 David Gough/Machesney Park, IL A&G Motorsports/Manic Racing – JAMR Racing Engines – Janssen Machine/Thompson/Autocraft
6T6 Terry Ahern/Countryside, IL Terry Ahern/Terry's Byke Haus – Lightning Chassis/Lightning/Esslinger
7 Jon Stanbrough/Avon, IN Rick Daugherty/Peterbilt of Northwest Ohio/Munchkin/Volkswagen
8 Nick Hamilton/Danville, IN Mike Hamilton/Curtis Motor Sales –Hamilton Painting – Faires Trim/Beast/Volkswagen
8up Tim Jedrzejek/Independence, OH Randall Williams/Mr. Heater/Williams Auto Service – Elliott's Trailers & Carts/Jacobs/Pontiac
10 Jacob Wilson/Crawfordsville, IN Moore Racing Enterprises LLC/Don Moore Music Publications – ClickDonMoore.com/Beast/Stanton Mopar
10t Mike Wallace/Plainfield, IL Mike Wallace/MWR Technology – Lightning Chassis/Lightning/Esslinger
14 Cooper Clouse/Ohio City, OH Jeff Clouse-Cooper Clouse Racing/Burtch Seed – Hawk Chassis – Peterbilt of Northwest Ohio/Hawk/VW
15 +Rich Corson/Markham, IL Corson-Savage/Steve Savage – Ash-Dome – D'Arcy Motors — AutismSpeaks.org – U.S. Navy/Hawk/Fontana
19 Matt Westfall/Pleasant Hill, OH Dave & Bonna Ryder/Dave Ryder Racing – Bordner Welding – E&E Machine & Tool – Klotz/Vogler/VW
19d Dan Dunigan Jr./Jackson, MI Dan Dunigan Sr./Michigan Cat – Balance Performance/Hawk/Brayton
20 Mike Osite/Brooklyn, NY Mike Fedorcak/Fedorcak Fabrication/Munchkin/Volkswagen
22 Eric Shirey/Oberlin, OH Sexton Racing/Sexton Group/Beast/Ford Focus
22h Joe Liguori/Tampa, FL Sexton Racing/Sexton Group/Stealth/Ecotec
27 Chris Jagger/Warsaw, IN Chris Jagger/Jagger Racing/Shores/Autocraft Volkswagen
28 Tyler Cottongim/Brownsburg, IN Eric Cottongim/Pit Stop BBQ & Grill/Kenyon/Yamaha
31 Derek Bischak/Angola, IN Bob Bischak/Angola Collision Services – Snap-on Tools/Spike/Gaerte Ford
32 David Fuhrman/Roachdale, IN David Fuhrman/Umber's Do it Best Hardware/Kenyon/Yamaha
33 Kyle Hamilton/Danville, IN Mike Hamilton/Curtis Motor Sales – Faires Trim – Hamilton Painting/Beast/Volkswagen
49 Donnie Adams Jr./Alexandria, IN Randy Burrow/Burco Molding/Kenyon/Volkswagen
52c Isaac Chapple/Wilkinson, IN Isaac Chapple Racing/CFH Enterprises LLC – PGG Enterprises LLC – 3K Racing/Kenyon/Yamaha
55 Taylor Ferns/Shelby Township, MI Jim Ferns/Motor City Auto Transport – Simpson Race Products – ButlerBuilt/Beast/Volkswagen
56 Cory Setser/Fort Wayne Chuck Rencurrel/Setser Transport & Towing/Munchkin/Volkswagen
59 Bryan Nuckles/Canal Winchester, OH Bryan Nuckles/Columbus Motor Speedway/Strei-Tech/Volkswagen
61 Deano Lennon/Indianapolis Deano Lennon/Printing Image – 3K Racing/Kenyon/Gaerte Buick
67 (TBA) Sexton Racing/Sexton Group/Jacobs/Volkswagen
78k Brandon Knupp/Mooresville, NC John Chambers/Brock Lesnar's DeathClutch Clothing – Mark Knupp Muffler & Tire LLC/LTC/Autocraft VW
92 Joey Burrow/Noblesville, IN Randy Burrow/Burco Molding/Kenyon/Yamaha
97 +Mike Fedorcak/Roanoke, IN Tony Stewart Racing/Tony Stewart Racing/Munchkin/Volkswagen
98 Bobby Santos III/Franklin, MA Randy Burrow/Burco Molding/Edmunds-Burrow/Volkswagen
99 +Billy Wease/Noblesville, IN Randy Burrow/Burco Molding/Fedorcak-Burrow/Volkswagen
99g +Jim Anderson/Joliet, IL Guess Racing Ltd./Packard Transport – Mr. B's/Ellis/Mopar
+former Rumble in Fort Wayne feature winner
(NOTE: Jagger and Cottongim are entered for Friday only; driver of No. 28 is TBA for Saturday)
DEFENDING RUMBLE IN FORT WAYNE CHAMPIONS: Jim Anderson, No. 99g Guess Racing Ltd. Ellis/Mopar (first night), and Dave Darland, No. 0 Rick Daugherty Shores/Volkswagen (second night)
WINGED OUTLAW MODIFIED MIDGETS (600cc)
No. Driver/Hometown Entrant/Sponsor
1h Butch Hamilton/Kirkersville, OH Carl Hamilton/Hamilton Motorsports – Street Scene
3t Tyler Ross/Lincoln University, PA Jon Holmquist/Momo's Racing Engines – Stallard Chassis
04 Cap Henry/Bellevue, OH Henry MotorSports Inc./Henry MotorSports Inc. – Team CHR
5 Ed Wilberg Sr./Newark, DE Ed Wilberg Sr./Sign Talk Signs
5n Ryan Nawrocki/Fort Wayne April Reed/Hoosier Metal Recycling – Bill Colchin Racing – Tom Patterson Racing
007 Amanda Quinones/Indian Trail, NC Advanced Products & Services Inc. dba It's Finished – Dimension Design – Dickie Keipers Racing Supply
11b Drew Dorsett/Loogootee, IN Ralph Bickel-Bill Sager Jr./Bickel Welding
11r Chase Ridenour/Perry, MI Rick Ridenour/Ridenours Auto Repair & Towing
12 Richard Smith/Syracuse, IN Richard Smith/Sroufe's Garage – Rick's Auction Barn
14 Jeremy Glasford/Francesville, IN Schlatter's Inc.
14 A.J. Lesiecki/Lorain OH Jonathon Lesiecki/American Hood Systems Inc.
14j Matt Janisch/Nazareth, PA Matt Janisch/Ted Jones Motorsports
19 Ben Taylor/Kendallville, IN Joe Taylor/600RRRacing.com
19d Dan Dunigan Jr./Jackson, MI Dan Dunigan Sr./Michigan Cat – Balance Performance
19k Michael Kettnich/Battle Ground, IN Judy Kettnich/Buck Creek Pizza Co. – A.E.D. Motorsport Products
19n Tim Neil/Ypsilanti, MI Dan Dunigan Sr./Michigan Cat – Balance Performance – Hyper Racing
21 Clay Sanders/Holt, MI Gary L. Sanders/Joker Motorsports
21s Larry Joe Sroufe/Larwill, IN Larry Sroufe/Sroufe's Garage – Star Tire – R&D Motorsports – S&S Mowing – Hooters – Richards Well Drilling
22 Ryan Smith/Kunkletown, PA Jason VanDoren/Mooses LZ Bar & Grill – Susquehanna Valley Speed Shop – Tire Man
26m Howard McCormick/Martinsville, IN Bill Sager Jr./Shark Chassis – Bickel Welding
28 Russ Belt/Van Wert, OH Larry Fox/Century Bar & Grill – Straightline Body & Paint
28 Larry Fox/Van Wert, OH Larry Fox/Century Bar & Grill – Straightline Body & Paint
28s Steve Shockney Jr./Larwill, IN Steve Shockney Jr./Pic-A-Spot – Sroufe's Garage – M&D Custom Cabinetry – Busz Custom Graphics – Lisa's Snip & Styles
29 Rusty Strausbaugh/Columbus, OH Rusty Strausbaugh/Shark Chassis
32 Erick Rudolph/Ransomville, NY Erick Rudolph/Lafler Chassis
35z Mark Zumbrun/Larwill, IN Mark Zumbrun/M&D Custom Cabinetry
44 Chris Stockham/Cicero, NY Chris Stockham/National Parts Peddler Newspaper
51 Jason Ormsby/Warsaw, IN Jon Ormsby/Jon's Custom Services
51m Jim "Timex" Morgan/Rochester, NY Jon Ormsby/Pepsi – Dunkin' Donuts – Afterhours Imaging
68 Gary Klein/Claypool, IN Gary Klein/Streamliner Restaurant – Tucker Farms – Beaver Dam Property Maintenance Inc.
82 Nick Landon/Dorr, MI Nick Landon/Infinity Shocks – Landon Racing
84 Bill Dunham/Bellevue, MI Bill Dunham/Erwin Motorsports
88 Steve Myers/Cridersville, OH Steve Myers/S-Tech
93 Nick Eastin/West Terre Haute, IN Vern Eastin/Little Trucking – Pagliai's Pizza
94 John Ivy/Bellevue, OH Henry MotorSports Inc./Henry MotorSports Inc. – Sonny's Machine & Welding
(NOTE: Dunigan and Fox are entered for Friday only; Belt is entered for Saturday only)
DEFENDING RUMBLE IN FORT WAYNE CHAMPIONS: Larry Joe Sroufe (first night) and Ryan Smith (second night)
NON-WINGED MINI-SPRINTS
No. Driver/Hometown Entrant/Sponsor
1 Lynn Ambrose/Owensboro, KY Lynn Ambrose/Western Kentucky Trucking Inc.
4 Gary Bradley/Leiters Ford, IN Gary Bradley Motorsports/Smith Machine & Tool
17b Kyle McIntosh/Versailles, IN Terry & Ivan Eaglin/RJE Water Restoration
25 Colin Parker/Martinsville, IN J.D. & Lisa Parker/Cragen Oil – Flat Out Powersports
27 Brian Wallace/Fairfield, IL Brian Wallace/Revolution Motorsports
36 Collin Ambrose/Owensboro, KY Collin Ambrose/Western Kentucky Trucking Inc.
44 Ron Coleman/Bellefontaine, OH Ron Coleman/Steve Austins Auto Body – Chattan Loch – D&R Truck Glass
74 Lynsey Tilton/Lebanon, IN Lynsey Tilton/TRE Welding – Liquid Eyewear – Bell Helmets
328 Becca Stiefel/Piqua, OH Steve Stiefel/Dick's Paint & Body Shop – AMSOIL – Automotive Armature Works – Mark Knupp Muffler & Tire – QS Components – Richard Donnelly – Colors by Barr – J&T Photos
SENIOR SUPER HEAVY KARTS
No. Driver/Hometown Entrant
0 Damen Bock/Fort Wayne Jim Bock Sr.
1 Mark Mason/Fort Wayne Rod Howe & Bryan Gumbert
01 Dustin Hammond/South Vienna, OH Chris & Kim Hammond
7 Matt Dimit/Fort Wayne Dimit-Bish
07 Mike Villena/Hicksville, OH Mike Villena
18 Jay Portman/Noblesville, IN Jay Portman
28 Nick Welch/Brownsburg, IN
31 Brock Anderson/Albany, IN Brock Anderson
33 Todd Squires/Angola, IN
40 Kyle Flores/Freeport, IL
42 Ty Tilton/Lima, OH Tilton Trucking
76 Pete Thompson/Bourbon, IN Larry Thompson
77 Ben Burden/Lima, OH
DEFENDING RUMBLE IN FORT WAYNE CHAMPIONS: A.J. Spangnuolo (first night) and Matt Dimit (second night)
SENIOR HEAVY KARTS
No. Driver/Hometown Entrant
2 Zach Wolff/Fort Wayne Mike Wolff
4 Zack Loe/Harlan, IN Jeff & Becky Loe
05 Preston Oberle/Lafayette, IN
7 Matt Farnham/Tonawanda, NY Charlie Farnham
07 Damen Bock/Fort Wayne Jim Bock Sr.
9 Casey Povelones/Danville, IL
12 Travis Brown/Anderson, IN Joey Brown
21 Jason Dunn/Frankfort, KY Brandon Dunn
22 Joshua Davis/Tecumseh, MI Tim Davis
23 Bill Morris/Rochester, IN Larry Thompson
30 Josh McKnight/New Haven, IN
39 Kevin Wall Jr./Pleasant Lake, IN Wall2Wall Racing
54 Brandon Askren/Williamsport, IN
64 Phillip Bauman/Decatur, IN Tim Bauman
67 Zach Axlen/Sheboygan, WI Winning Karts N Parts LLC
77 Robbie Sarchet/Elida, OH Bill Williams
80 Nick Higdon/Big Clifty, KY
DEFENDING RUMBLE IN FORT WAYNE CHAMPION: Zach Axlen (both nights)
SENIOR MEDIUM KARTS
No. Driver/Hometown Entrant
2 Zach Wolff/Fort Wayne Mike Wolff
4 Steven Ray/Edwardsburg, MI R.J. Saylor
05 Preston Oberle/Lafayette, IN
7 Matt Farnham/Tonawanda, NY Charlie Farnham
9 Casey Povelones/Danville, IL
19 Matt Randall/West Branch, MI Matt Randall
21 Jason Dunn/Frankfort, KY Brandon Dunn
22 Joshua Davis/Tecumseh, MI Tim Davis
24 Nate Randall/West Branch, MI Nate Randall
39 Collin Perry/Hicksville, OH Jan Perry
39 Eric Rogner/Frankenmuth, IN A.J. Thompson
54 Brandon Askren/Williamsport, IN
67 Zach Axlen/Sheboygan, WI Winning Karts N Parts LLC
77 Robbie Sarchet/Elida, OH Bill Williams
80 Nick Higdon/Big Clifty, KY
(NOTE: Rogner is entered for Friday only)
DEFENDING RUMBLE IN FORT WAYNE CHAMPION: Zach Axlen (both nights)
SENIOR CAGED KARTS
No. Driver/Hometown Entrant
1 Dustin Vandermeir/Joliet, IL Dustin Vandermeir
01 Ryan Moran/Continental, OH
2 Cole Rhoton/Indianapolis
3 Ron Vandermeir Jr./Joliet, IL Ron Vandermeir Jr.
5 Sam Longanbach/Hamilton, IN Trailertiresandwheels.com
7 Jason Dietsch/Edgerton, OH Mike Villena
9 Brandon Schnittke/Mansfield, OH Ryan Prosser
11 Kyle Dager/Fort Wayne Tim Dager
17 Thomas Johns/Shorewood, IL Thomas Johns
19 Jason Dunn/Frankfort, IN Jason Dunn
21 John Hawley/Spencerville, IN Hawley
23 Dustin Ingle/Lima, OH
25 Kelsey Ivers/Vincennes, IN John Ivers
29 Joel Best/Blakeslee, OH Joel Best
30 Josh McKnight/New Haven, IN
31 Marie McKnight/Kokomo, IN Rick Dukes
32 Jared Bennett/Hillsdale, MI
48 Jeremy Howe/Fremont, IN Don Schieber
51 A.J. Geren/Montpelier, OH John Limbacher
52 Tyler Ransbottom/Bellefontaine, OH Joe & Carol Ransbottom
55 Max Stambaugh/Elida, OH Tim Stambaugh
69 Blake Lamb/Warsaw, IN Brandie Lamb
71 Matt Dimit/Fort Wayne Dimit & Bish
75 Nathan Dishoungh/Noblesville, IN Stan Dishoungh
77 Robbie Sarchet/Elida, OH Bill Williams
83 Jason O'Hara/Warsaw, IN Dan Kamp
95 Rick Dukes/Kokomo, IN Rick Dukes
(NOTE: Geren is entered for Friday only)
DEFENDING RUMBLE IN FORT WAYNE CHAMPION: Robbie Sarchet (both nights)
JUNIOR HEAVY KARTS
No. Driver/Hometown Entrant
4 Tom Wible/Fort Wayne Scott Wible
6 Trenton Spencer/McCordsville, IN Josh Spencer
7 Michael Heeren/Fort Wayne
11 Gene Gregoric III/Tonawanda, NY Gene Gregoric Jr.
12 Josh Talaski/Wheatfield, IN Clair Talaski
14 Nick Potter/Decatur, IL Ed Potter
24 Sam Weaver/Fremont, OH Sam Weaver
24 Kobe Allison/Lima, OH
33 Derek Lilly/Butler, IN Roger & Deb Petre
45 Ben Knight/Mooresville, IN Tom Knight
48 Derek Hammond/South Vienna, OH Chris & Kim Hammond
55 Damion Icenhaur/Edon, OH Jeff Pease
77 Anthony Deming/Bay Port, MI Ed Deming
(NOTE: Heeren is entered for Friday only)
DEFENDING CHAMPIONS: Ben Knight (first night) and Colton Adams (second night)
JUNIOR CAGED KARTS
No. Driver/Hometown Entrant
1 Stratton Briggs/Anna, OH Thomas Briggs
10 Ryan Ball/Angola, IN Ryan Ball
19 Dylan Anderson/Fort Wayne Doug Anderson
33 Dylan Shroyer/Muncie, IN Bill Shroyer
44 Nathan Myers/Buckland, OH George Myers
69 Bradley Brown/Marion, IN Bradley Brown
77 Anthony Deming/Bay Port, MI Ed Deming
91 Breiden Mooney/Etna Green, IN Joe Mooney
99 Myles Morrolf/New Haven, IN
(NOTE: Shroyer is entered for Friday only)
DEFENDING CHAMPIONS: Stratton Briggs (first night) and John Hawley (second night)
KID KARTS
No. Driver
4 Madison Bland
4 Jakeb Boxell
7 Taylor Dietsch
07 Michael Villena
9 Andrew Castelucci
19 Aiden Williamson
HEAVY CLONE KARTS
No. Driver/Hometown Entrant
1 Scott Dawson/St. Marys, OH Kelly Bowlby
5 Moe Lilje/North Ridgeville, OH Dave Shullick Jr.
9 Charlie Schultz/Lorain, OH Charlie Schultz
11 Brian Huffman/Archbold, OH
15 Kyle DeKnight/Archbold, OH Bob DeKnight
21 Jody Emmons/South Bend, IN Jody Emmons
23 Kenny Barnes
30 Josh McKnight/New Haven, IN
31 Garrett Gosnell/Brunswick, OH
40 Kyle Flores/Freeport, IL
42 Matt Browning/Anderson, IN Matt Browning
67 Steve Burkholder/Archbold, OH
75 Dave Shullick Jr./North Ridgeville, OH Dave Shullick Jr.
76 Allen Poe/Waynesfield, OH Allen Poe
76 Ben Burden/Lima, OH
90 Matt Foos/Fremont, OH Matt Foos
93 Cody Egan/Evansville, WI Egan Speed Cuts
94 Lucas Chaudoin/Buffalo, KY Bill Chaudoin
99 Joe Barker/Whitehouse, OH Joe Barker
(NOTE: Dawson, Huffman and Poe are entered for Friday only; Burden is entered for Saturday only)
DEFENDING CHAMPIONS: Bryan Cataldi (first night) and Charlie Schultz (second night)
LIGHT CLONE KARTS
No. Driver/Hometown Entrant
5 Max Stambaugh/Elida, OH Tim Stambaugh
9 Charlie Schultz/Lorain, OH Charlie Schultz
42 Matt Browning/Anderson, IN Matt Browning
89 Joshua Davis/Auburn, IN
90 Matt Foos/Fremont, OH Matt Foos
93 Cody Egan/Evansville, WI Egan Speed Cuts
94 Lucas Chaudoin/Buffalo, KY Bill Chaudoin
99 Joe Barker/Whitehouse, OH Joe Barker
QUARTER MIDGETS PRESENTED BY ICE OIL CO.
HEAVY 160
No. Driver/Hometown Sponsor
2 Alex Benovich/Harrison Twp., MI Alex's College Fund
15 Walter Thomas III/Indianapolis Clevland Motorsports
16 Robert Ford/Farmland, IN MRT Motorwerkz
21 Aaron Leffel/Springfield, OH Colors By Barr
24 Jonathon Lesiecki/Lorain, OH PATCO Transportation Canada
27 Cason Konzer/Holly, MI Eagles Chassis
LAST SEASON'S CHAMPION: Cason Konzer (both nights)
LIGHT 160
No. Driver/Hometown Sponsor
0 Zeb Wise/Angola, IN NC Chassis
1 Quinnton Bear/Avon, IN Circlecity Liquidators
2 Hayden Dickerson/Curtice, OH
3 Ayrton Olsen/Carmel, IN Baseline Communications
4 Grffin Brown/South Whitley, IN Covington Coneys
6 Jarrett Gerber/Ashville, OH
7 Clayton Gaines/Alexandria, IN Buck Farms
8 Addison Lushin/Carmel, IN Lushin & Associates
9 Austin Stewart/Jacksonville, IL Bryan Clauson Inc.
17 Mox Price/Payne, OH Scott Variety Store
19 Michael Clancy Jr. SSS Racing
20 Caden Hoyt/Albion, MI Stones Garage
22 Bennett Lushin/Carmel, IN Lushin & Associates
LAST SEASON'S CHAMPION: Austin Nemire (both nights)
HEAVY HONDA
No. Driver/Hometown Sponsor
7 Bud McCune/Pierceton, IN McCune Motorsports
10 Starla Parsons/Kokomo, IN Kokomo Speedway
12 Aaron Leffel/Springfield, OH SSS Racing Eagle Chassis
16 Robert Ford/Farmland, IN MRT Motorwerkz
24 Jonathon Lesiecki/Lorain, OH Ice Oil Co.
28 Adam Walker/Kokomo, IN Half Moon Restaurant
LAST SEASON'S CHAMPIONS: Starla Parsons (first night) and Bud McCune (second night)
SENIOR HONDA
No. Driver/Hometown Sponsor
0 Zeb Wise/Angola, IN Angola Collision Service Inc.
1 Richard Johnson/Dryden, MI Johnson Family Motorsports
2 Hayden Dickerson/Curtice, OH
3 Ayrton Olsen/Carmel, IN Baseline Communications
4 Griffin Brown/South Whitley, IN Orr Motorsports
5 Jackson Lee/Avon, IN The Blind Man
6 Lexi Pohlman/Delphos, OH Custom Fabrication
7 Nathan Foster/Greenwood, IN West Side Auto Parts
9 Austin Stewart/Jacksonville, IL Bryan Clauson Inc.
11 Jared Leffel/Springfield, OH SSS Racing
15 Wesley Sargent/Kokomo, IN LCE Moreland Racing — Relay for Life
17 Mox Price/Payne, OH TSM Logistics
18 Addison Lushin/Carmel, IN Lushin & Associates
22 Bennett Lushin/Carmel, IN Lushin & Associates
LAST SEASON'S CHAMPION: Cason Konzer (both nights)
JUNIOR HONDA
No. Driver/Hometown Sponsor
1 Drew Miles/Clayton, IN Checkered Past Midget Racing
3 Caden Hoyt/Albion, MI Wheeler Insulation
4 Luke Wilhelm/Clio, MI Wilhelm Racing
5 Race Price/Payne, OH TSM Logistics
6 Chase Burda/Lapeer, MI Rob's Service
7 Charlie Allen/Crawfordsville, IN
8 Kasey Jedrzejek/Independence, OH Enerco Mr. Heater
9 Brenden Torok/LaGrange, OH
17 Joshua Lank Jr./Lafayette, IN MBP Appraisals Inc
95 Brandon Slomka/Addison, IL
LAST SEASON'S CHAMPIONS: Zeb Wise (first night) and Cole Hentschel (second night)