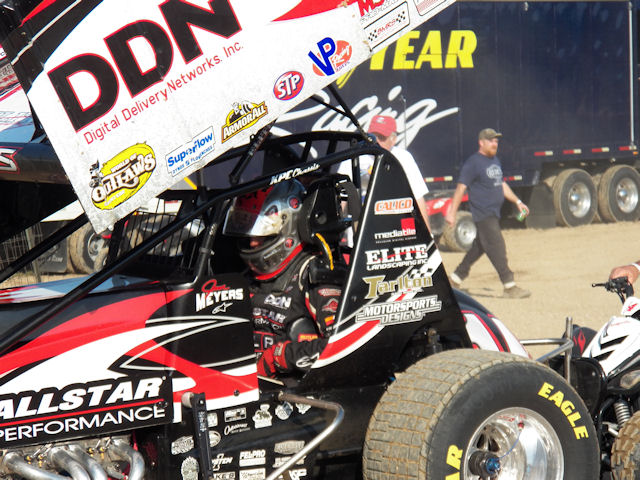 From Sydney Speedway
Sydney, AU — (December 13, 2011) — American World of Outlaws Champion, Jason Meyers, has continued his domination of the Sydney Sprintcar scene by claiming an awesome victory in tonight's Scott Darley $50,000 Challenge Preliminary A-Main at Tyrepower Sydney Speedway.
Meyers, who started from position five in the final, took the lead from front row starter, Ian Loudoun early in the race and was never headed from that point onwards.
Second-placed Ian Loudoun, who has now finished bridesmaid to Meyers for the fourth time in a row, had to fight off constant challenges from eventual fourth place, Mitchell Dumesny.
Third to the line was six-time National Champion, Garry Brazier who spent the majority of the race hovering at the back end of the top five. Brazier went into the A-Main as top point-scorer and drew the six marble at the Tyrepower Top 10, immediately putting Meyers next to him and setting up a mammoth duel. Brazier however, spent most of the race in an intense battle with Lynton Jeffrey swapping positions many times on the demanding slick surface.
Rounding out the top finishers was Dumesny in fourth and Lynton Jeffrey in fifth. Brent Aprile, Ian Madsen, Grant Tunks, Glen Saville and Darryl Campbell rounded out the top 10. Special mention must be given to Madsen who started from position 20 in the main event after having to transfer from the B-Main.
Meyers now goes into tomorrow night's final round of heats as the top point-scorer with Brazier just trailing him.
The scenario looks decidedly juicy going into tomorrow night as all eyes will be on Brazier and Meyers and what they will do, should they be top of the points tree going into the 40-lap finale.
Earlier heat race action saw Roddy Bellbowen, Steve Caunt, Glen Saville, Meyers and Brazier all scored heat race wins.
Time Trials kicked off proceedings with Brazier topping the chart.
In the support divisions, Brett Mitchell win the shortened Street Stocks A-Main from Shane Carlson and Jack Mitchell.
Matt Smith continued his winning way claiming another Speedcar A-Main ahead of Nathan Smee and Adam Wallis.
Tomorrow night, the 2012 Scott Darley $50,000 Challenge will conclude and only one thing is certain….. It's going to be one hell of a show.
The Preliminary B-Main went to Ian Madsen from Darryl Campbell, Jackson Delamont and Jon McCorkindale.