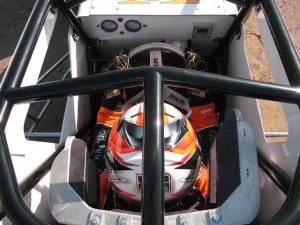 From Scott Daloisio
Perris, CA — (February 21, 2012) — 777 Racecars has been named as the official chassis of The PAS Senior Sprint Car Series at Perris Auto Speedway. At season's end, one lucky driver from the series will take home a brand new chassis courtesy of 777 Racecars. The Senior Sprints will open their 2012 season at the famous Riverside County clay oval this Saturday, February 25th, along with the Amsoil USAC/CRA Sprint Cars and the California Lightning Sprint Cars in the Sokola Shootout. Spectator gates will open at 5:00 PM and the first race will be at 7:00.
"We have to thank 777 Racecars owner John Aden for stepping up and doing this," Perris promoter Don Kazarian said. "John and his company are a fast growing name in the Sprint Car chassis building and components manufacturing market here on the West Coast. He builds quality stuff at an affordable price and we are very happy to be associated with him."
The chassis will be given away via a draw at the Senior Sprints last race of 2012. To be eligible to win the chassis, drivers can only have missed one race all season long.
"When we get to that last race, we are going to throw all the names of the eligible drivers into a hat and pull out a winner," Kazarian said. "If a driver has made all the races, but misses the last one, he will still be eligible as that would be the only raced he missed for the year."
The PAS Senior Sprint Series is open to drivers 45-years-old and over and requires drivers to use a 360 cast iron block engine. There is no mandatory restrictors or gaskets, no weight rule and no tire rule. It is good old "run watcha' brung racin'." Bill Badger, a 61-year-old racer from Saugus, won the inaugural PAS Senior Sprint title in 2011.
John Aden began his racing career in the late 1980s on the tough Southern California Speedway Motorcycle circuit and is now a competitor in the USAC/CRA Series. The 39-year-old racer founded 777 Racecars in 2008 to make sprint car racing a little more affordable to the average racer. In addition to sprint car chassis', he builds reasonably priced bolt on components for sprint cars, speedway sprints (motorcycle powered mini sprints cars) and parts for go-karts. Also, he is the longtime promoter of Wheel 2 Wheel Raceway located on the San Bernardino County Fairgrounds in Victorville.
If you would like more information on ordering a sprint car or parts from 777 Racecars, please visit the web site at http://www.777racecars.com/index.html or call (760) 247-3987.
The best deal in racing, money saving 2012 Perris Auto Speedway season tickets, is only available through this Friday, February 24th. To get yours, please call The PAS office at: (951) 940-0134.