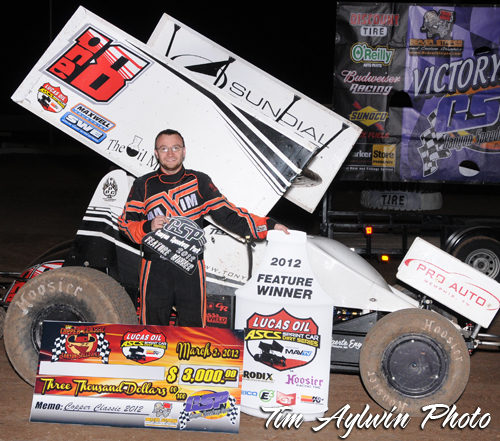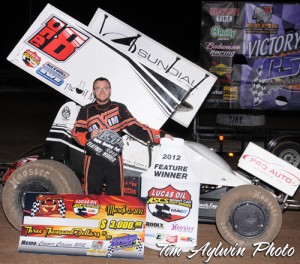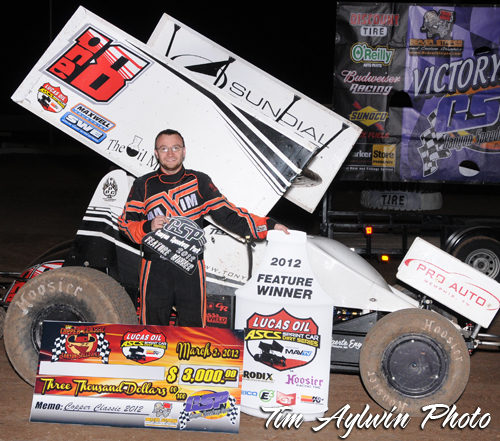 Congratulations to the following drivers that picked up feature victories last weekend in Midget, Sprint Car, Silver Crown, and Super Modified action. If you see an event that is missing or listed incorrectly please contact us with the correct information.
Friday March 2nd, 2012
Bendigo Bank Arena – Latrobe, AU – Winged 410 Sprint Cars – Rained Out
Canyon Speedway Park – "Copper Classic" ASCS Lucas Oil/Southwest Series – Tony Bruce, Jr.
Saturday March 3rd, 2012
Bunbury City Speedway – Bunbury, AU – "Krikke Boys Shootout" Winged 410 Sprint Cars – Brooke Tatnell
Canyon Speedway Park – "Copper Classic" ASCS Lucas Oil/Southwest Series – Jason Johnson
East Bay Raceway Park – Winged 360 Sprint Cars – A.J. Maddox
Florida Sprint Car Association – Putnam County Speedway – Palatka, FL – Postponed
Gator Motorplex – Willis, TX – Winged 350 Sprint Cars – N/A
Heartland Raceway – Moama, AU – Winged 410 Sprint Cars – N/A
Lincoln Speedway – Winged 410 Sprint Cars – Brent Marks
Marysville Raceway Park – Winged 360 Sprint Cars, Wingless Sprints – Kyle Hirst, Jeremy Hawes
Sprint Series of Texas – Mountain Creek Speedway – Grand Prarie, TX – Dale Wester
Southern Thunder Sprints – Many Motor Speedway – Many, LA – Ty Johnson
Sydney Speedway – Winged 410 Sprint Cars, Midget Cars – Rained Out
USCS – Magnolia Motor Speedway – Columbus, MS – Jason Sides
Ventura Raceway – Ventura Racing Association Sprint Cars, Ventura Racing Association Senior Sprints – Greg Taylor, Bruce Douglass
Western Springs Speedway – "Western Springs Championship Series Final" Winged 410 Sprint Cars, Midget Cars – Jonathan Allard, Brad Mosen
Sunday March 4th, 2012
Non-Sanctioned Sprint Cars – "Krikke Boys Shootout" Bunbury City Speedway – Bunbury, AU – Winged 410 Sprint Cars – Shane Stewart