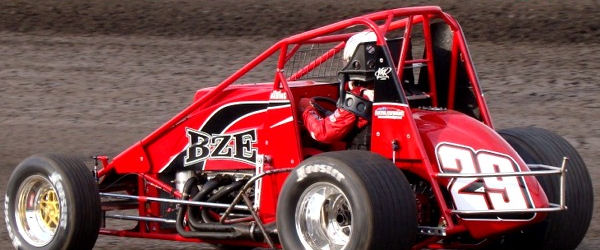 By Lance Jennings
LAS VEGAS, NV – MARCH 10, 2012… Bud Kaeding of Campbell, California passed leader Ryan Bernal with two laps remaining to claim last Thursday's "Sin City Showdown" at Las Vegas Motor Speedway. The first round victory of the USAC vs. ASCS "Grudge Series" earned Kaeding $2,500 for his efforts as the USAC West Coast 360s will head to Tulare this Saturday for the first point race of 2012.
With thirty-three cars in the pit area, time trials were not held and a passing point system was used to set the main event lineup. "Showtime" Danny Sheridan and Josh Pelkey led the field to the green flag and it was Sheridan that took command. Running the high line of the Las Vegas oval, "Showtime" was soon under attack from Pelkey and seventh starting Troy Rutherford. With drivers running three wide and searching for the fastest line of the tricky surface, Rutherford slipped past Sheridan to take the lead on the fourth circuit.
Ryan Bernal, last year's Rookie of the Year, quickly made his way to second from eleventh and pressured the former Ventura Champion. Finding the bottom groove to his liking, Bernal grabbed the lead two laps later and tenth starting Bud Kaeding soon challenged Rutherford for second. Ryan looked to put some distance between himself and the field as it was an all out battle for fourth on back between Sheridan, Casey Shuman, Charles Davis Jr., and R.J. Johnson.
Bernal steadily made his way through slower traffic as Kaeding gave chase. With the laps counting down, action was halted for Nick Aiuto who flipped his machine. Aiuto walked away uninjured and as the field lined up to continue the feature, track officials shortened the event. Now with only a few laps remaining, Bernal led the way with Kaeding on his rear bumper.
Kaeding had an excellent restart on the high side and shot past Bernal coming off the second corner. Taking the white flag, Bud continued to his determined drive and Ryan looked to close in. Kaeding bicycled his mount hard in between the first two turns and gathered his machine. Bernal could not take advantage of the miscue and as the racers flew into the third turn it looked to be all Kaeding. Coming to the checkered flags, Bernal had one last charge and surged off the bottom. In a photo finish met with a roar from the packed grandstands, it was Kaeding, followed by Bernal, Shuman, Rutherford, and Sheridan.
Piloting Junior Bowman's #29 Buster & Ziggy Enterprises / Kaeding Performance Bullet, Kaeding moved to second on the USAC West Coast 360 career win list, one victory behind Peter Murphy. The 3-time USAC Silver Crown Champion claimed third in his heat race and is among the favorites to watch all season. Kaeding had additional reason to celebrate at Las Vegas as his brother Tim won the companion World of Outlaw Sprint feature.
Making his first series start in Keith Ford's #73X King Racing Products / A&A Precision Machine Spike, Hollister, California's Ryan Bernal had to settle for a runner-up finish. The Santa Maria track champion was fourth in his heat race and led thirteen laps of the feature before falling to Kaeding. Look for this young driver to challenge for the series title in 2012.
Tempe, Arizona's Casey Shuman raced hard in the Shon Deskins Racing #21X Performance Transmission / Performance Plus Ellis to finish third after starting fifth. Now based in Indiana, the second generation driver claimed second in his heat race will have his sights set on victories across the country.
Troy Rutherford of Ojai, California came home fourth behind the wheel of his #11 Amsoil / Trench Shoring TCR. The opening night Ventura feature winner also scored the 8-lap Saldana Racing Products / Keizer Wheels Heat Race #2 victory and is a threat to win wherever he chooses to race.
Santa Maria, California's "Showtime" Danny Sheridan claimed fifth behind the wheel of Warren Dorathy's #21 WD Racing / Pace Lighting KPC. The USAC/CRA veteran driver won the night's 8-lap DJ Safety Heat Race #3 and will be racing closer to home in 2012.
Brian Hosford of Gilbert, Arizona got the action underway by winning the Extreme Muffler's Heat Race #1. Driving Bernie Weber's #32B Coffin & Trout Fine Jewelers / Invision Auto Body Maxim, the ASCS driver finished twelfth in the 20-lap "Sin City Showdown." Hosford will be looking for a breakthrough 2012 campaign.
Phoenix, Arizona's Justin Quinn won the program's SBI Fuel System's / Integra Racing Shocks Heat Race #4. Piloting the family owned #93 Four Peaks Hardwood Flooring / Lasting Impressions Ellis, Quinn scored nineteenth in the main event. Justin will be looking to move up the ASCS Canyon ranks this season.
Brody Roa of Buena Park, California claimed victory in the first 10-lap Semi-Main sponsored by Competition Suspension Incorporated and Diversified Machine Incorporated. Racing the BR Performance #91R HD Industries / "Biker" Bruce Fischer Spike, Roa was fourth in his heat race and retired early in the feature, scoring twenty-second. Brody will be splitting time with USAC/CRA and West Coast 360s in 2012.
Temecula, California's Mike Spencer drove Mark Priestley's #7 Roy Miller Freightlines / Sander Engineering Sherman to the Competition Suspension Inc. / Diversified Machine Inc. Semi-Main #2 triumph. The 4-time USAC/CRA Champion was third in his heat race and scored sixth in the feature after starting fourteenth. The second generation driver is going for another USAC/CRA crown and will make various starts with the 360s in his home state.
Mike Martin of Yuma, Arizona earned the Ringers Gloves "Hard Charger / Best Passing Job" honors with a ninth place run after starting nineteenth. Piloting his #16 Ultimate Offroad Maxim, Martin claimed fifth in his heat race and fourth in the first semi-main. Mike will be among the challengers for the ASCS Canyon title in 2012.
The USAC West Coast 360 Sprint Car Series will return to action this Saturday, March 17th, at Steve Faria's Tulare Thunderbowl Raceway. Joining the showcase will be the famed winged World of Outlaw Sprint Car Series. Located at the Tulare County Fairgrounds at the corner of Bardsley and K Streets in Tulare, the Front Gates will open at 5:00pm, with time Trials at 6:00pm, and Racing at 7:00pm. Reserved Grandstand Tickets are $40 and Bleacher Tickets are $35. Advance tickets are on sale and can be purchased by calling the track office at (559) 688-0909. For more event information, visit the track's website at www.tularethunderbowl.com.
The USAC West Coast 360 Sprint Car Series would like to thank Southwest Contractors, Hoosier Tire, Amsoil, ButlerBuilt, Competition Suspension Inc., Cory Kruseman's Sprint Car & Midget Driving School, Crow Enterprizes, DJ Safety, Diversified Machine Inc., Extreme Mufflers, Hilborn Fuel Injection, Hinchman-Indy Racing Uniforms, Integra Shocks, Kaeding Performance, Keizer Wheels, LRB Inc. Race Products, ParkerStore of Phoenix, Ringers Gloves, Rod End Supply, SBI Fuel Systems, Saferacer.com, Saldana Racing Products, and Sander Engineering for their support. If you or your company would like to become part of the series, please email PR Director Lance Jennings at lwjennings@earthlink.net.
For more information on the USAC West Coast 360 Sprint Car Series, please visit westcoastsprintcars.com, usacracing.com, racesantamariaspeedway.com, or follow the series on facebook.
——————————————————–
USAC WEST COAST SPRINT CAR SPECIAL EVENT RACE RESULTS:
March 8, 2012 – Las Vegas, Nevada – Las Vegas Motor Speedway Dirt Track
"Sin City Showdown" – (Co-sanctioned by ASCS Canyon Region)
EXTREME MUFFLERS HEAT RACE 1: (8 laps)
1. Brian Hosford (#32B Weber), 2. Casey Shuman (#21X SDR), 3. Zach Sawyers (#XXX Sawyers), 4. Nick Aiuto (#27N Aiuto/Allen), 5. Jim Richardson (#8 Richardson), 6. Bruce St. James (#7K St. James) 7, Tony Everhart (#55 Everhart), 8. Kyle Evans (#84 Evans), 9. James Aragon (#99 Aragon). NT
SALDANA RACING PRODUCTS / KEIZER WHEELS HEAT RACE 2: (8 laps)
1. Troy Rutherford (#11 Rutherford), 2. Josh Pelkey (#12 Allen), 3. Bud Kaeding (#29 Bowman), 4. Brody Roa (#91R BR), 5. Jonathan Logan (#32 Evett/Logan), 6. Andy Reinbold (#19 Underwood), 7. Tom Hendricks (#14K Kruseman). NT
DJ SAFETY HEAT RACE 3: (8 laps)
1. Danny Sheridan (#21 Dorathy), 2. R.J. Johnson (#51 Martin), 3. Cory Kruseman (#21K Kruseman), 4. Jimmy Crawford (#3X Crawford), 5. Mike Martin (#16 Martin), 6. Stevie Sussex (#1 Sussex), 7. Rusty Carlile (#51X Carlile), 8. Ricky Kirkbride (#87 Van Meter). NT
SBI FUEL SYSTEMS / INTEGRA RACING SHOCKS HEAT RACE 4: (8 laps)
1. Justin Quinn (#93 Quinn), 2. Charles Davis Jr. (#50 Massey), 3. Mike Spencer (#7 Priestley), 4. Ryan Bernal (#73X Ford), 5. Danny Faria Jr. (#17V Faria), 6. Josh Ford (#73 Ford), 7. Rick Ziehl (#41W Williams), 8. Bryan Swinehart (#8SK Swinehart). NT
ALSO AT TRACK: Dustin Morgan (#110 Jones)
COMPETITION SUSPENSION INC. / DIVERSIFIED MACHINE INC. SEMI #1: (10 laps)
1. Brody Roa, 2. Josh Ford, 3. Andy Reinbold, 4. Mike Martin, 5. Zach Sawyers, 6. Jonathan Logan, 7. Tony Everhart, 8. Rusty Carlile. NT
COMPETITION SUSPENSION INC. / DIVERSIFIED MACHINE INC. SEMI #2: (10 laps)
1. Mike Spencer, 2. Danny Faria Jr., 3. Jimmy Crawford, 4. Rick Ziehl, 5. Tom Hendricks, 6. Bruce St. James, 7. James Aragon, 8. Jim Richardson, 9. Stevie Sussex. NT
FEATURE: (20 laps – With Starting Positions)
1. Bud Kaeding (10th), 2. Ryan Bernal (11th), 3. Casey Shuman (5th), 4. Troy Rutherford (7th), 5. Danny Sheridan (1st), 6. Mike Spencer (14th), 7. R.J. Johnson (12th), 8. Josh Ford (15th), 9. Mike Martin (19th), 10. Charles Davis Jr. (6th), 11. Rick Ziehl (20th), 12. Brian Hosford (8th), 13. Zach Sawyers (21st), 14. Cory Kruseman (4th), 15. Jimmy Crawford (18th), 16. Danny Faria Jr. (16th), 17. Tom Hendricks (22nd), 18. Andy Reinbold (17th), 19. Justin Quinn (9th), 20. Nick Aiuto (3rd), 21. Josh Pelkey (2nd), 22. Brody Roa (13th). NT
——————————–
**Kyle Evans flipped during the first heat.
**Stevie Sussex flipped during the second semi.
**Nick Aiuto and Josh Pelkey flipped during the feature.
FEATURE LAP LEADERS:
Laps 1-3 Danny Sheridan, Laps 4-5 Troy Rutherford, Laps 6-18 Ryan Bernal, Laps 19-20 Bud Kaeding.
RINGERS GLOVES HARD CHARGER: Mike Martin (19th to 9th)
2012 USAC WEST COAST 360 SPRINT CAR SERIES SCHEDULE
DATE – TRACK – LOCATION
March 17: Tulare Thunderbowl Raceway – Tulare, CA
March 24: Bakersfield Speedway – Bakersfield, CA
April 7: Kings Speedway – Hanford, CA
April 14: Tulare Thunderbowl Raceway – Tulare, CA (Chris & Brian Faria Memorial)
April 21: Santa Maria Speedway – Santa Maria, CA (Ron Otto Memorial)
May 5: Santa Maria Speedway – Santa Maria, CA
May 12: Tulare Thunderbowl Raceway – Tulare, CA
June 9: Kings Speedway – Hanford, CA
June 23: Santa Maria Speedway – Santa Maria, CA (Bud Stanfield Memorial)
July 7: *Santa Maria Speedway – Santa Maria, CA (War At The Shore / Doug Fort Memorial)
July 14: Tulare Thunderbowl Raceway – Tulare, CA (John Anthony Sharp Memorial)
August 4: Kings Speedway – Hanford, CA (Jim Evett Memorial)
September 8: Kings Speedway – Hanford, CA (Jim Turner Memorial)
September 22: *Canyon Speedway Park – Peoria, AZ (Brawl For It All / Non-Points)
September 29: Santa Maria Speedway – Santa Maria, CA (Billet Cup / John Jewett Memorial / Non-Points)
October 13: Kings Speedway – Hanford, CA (Cotton Classic)
———————————————–
* = Co-Sanctioned Event With ASCS Canyon Region Sprints.