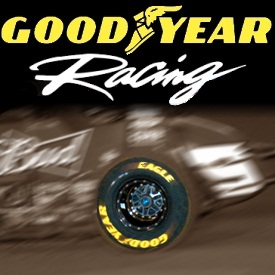 By Lee Elder
The World of Outlaws Sprint Car Series is in the midst of its first swing through the western United States of the 2012 season and two things are clear: The WoO touring regulars are the best winged sprint car racers in the world but the west-based racers know a gold rush when they see one coming.
Defending Golden State King of the West champion Tim Kaeding and Outlaws regular Joey Saldana took wins at Las Vegas, Nev. and Perris, Calif.
Goodyear is the exclusive tire provider for both the Outlaws and for the King of the West Series, providing the same line of bias-ply Eagle tires to both series. The tires, which Goodyear produces in its Innovation Center in Akron, Ohio, are also provided to tracks with weekly sprint car racing programs around the country. This makes it possible for regional racers to compete with touring racers, such as those in the Outlaws and the KTW.
Kaeding led 28 of the 30 laps, taking the $10,000 winner's share of the feature race at The Dirt Track at Las Vegas Motor Speedway to take his seventh career Outlaws victory. Jason Sides finished second, followed by Steve Kinser, Chad Kemenah and Brian Brown.
Saldana took an emphatic victory at Perris Auto Speedway when he led all 30 laps of the main event. Jason Meyers finished second. Steve Kinser, Kemenah and Brian Brown finished the top five.
Sammy Swindell leads the WoO standings with 705 points. Donny Schatz is next with 690.
More information about Goodyear Racing is available at www.racegoodyear.com. More information about the WoO is available at www.worldofoutlaws.com. More information about the KTW is available at www.kingofthewestsprintcarseries.com.