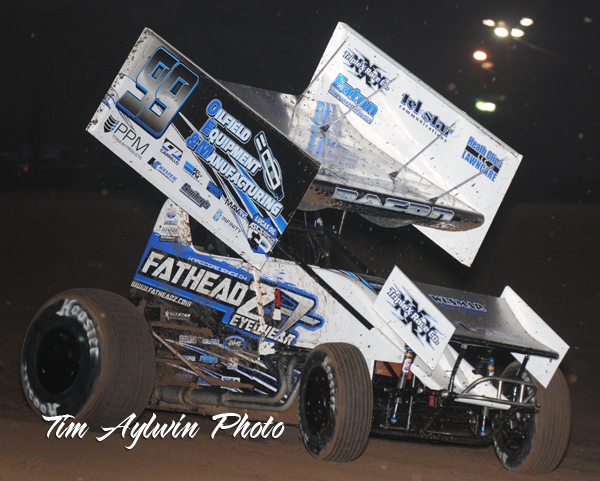 By Bill W
March 26, 2012 – Most would be happy with a third place finish with the Lucas Oil ASCS National Series at the Devil's Bowl Speedway in Mesquite, Texas. Unfortunately, Brady Bacon feels he had the win taken from him with some misfortune while leading. Nonetheless, the Broken Arrow, Oklahoma driver still tallied a third place finish and remains third in the series standings as they take two weekends off.
The two-night event at Devil's Bowl became one after rain all week canceled Friday's effort. After drawing the pole of his heat Saturday, and winning handily, Brady drew a six for his starting spot in the 30-lap feature event. "The bottom was good," he says. "They tilled it before the feature. Sometimes the top of three and four was good too. Everyone was pretty much around the bottom of one and two the whole time."
Brady got a fast start towards the front. "We got started really quickly and got up to third," he says. "The track was still really good in the feature, so everyone was too tight. I was able to sneak by several of them in one and two when they got up the track."
Leader Michael Lang and second place Johnny Herrera were in front of the Brady Bacon Racing #99 at that point. "We ran third until about lap twelve," says Brady. "A lap or two later, (Johnny) Herrera got by (Lang) for the lead when something happened with (Herrera's) motor. I got up to Lang, and I was able to get side by side with him and finally by him (lap 18)."
From there, he started pulling away from the field. "We had it wrapped up," Brady says. "We were out there quite a ways getting through lapped traffic. One of the drivers got his left front up in the infield and drug some of the dry dirt out. I think it was with five or six laps to go."
The debris knocked several things lose including the brakes. "It knocked my nose wing down, and my rock screen off," he says. "It knocked the brake line off too, all just as the yellow came out. We just weren't able to run into turn one very hard, and Jason (Johnson) was able to sneak by us on the outside. I couldn't really run in the corner behind Jason, and then Wayne (Johnson) was able to get by us too."
Brady does have racing plans for this Saturday at the 81Speedway in Wichita, Kansas. "We're running Randy Washburn's (#0) car at Wichita on Saturday with NCRA," he says. "It seems like the place never gets slick, it's either heavy or rubber-down, and so we'll try to get up front for him."
Follow Brady on his Website, Twitter and Facebook!
Follow Brady at his website located at www.BradyBaconRacing.com! Also keep up with him on Facebook and Twitter (which also can be accessed at the website) at the following links…
Twitter Link – http://twitter.com/BradyBacon
Facebook Link – www.facebook.com/pages/Brady-Bacon-Racing/278125555137
Marketing Partner of the Week – Heath Clips Lawn Care
Call Heath Clips Lawn Care in St. Charles, Missouri for all your lawn needs! Call them today at (636) 299-3092!
Associate Marketing Partner of the Week – Hoosier Tire Southwest
Hoosier Tire Southwest is located in beautiful Balch Springs, Texas. They can be reached at 1-972-289-RACE (7223). Call them if you have questions about purchasing Hoosier tires. All Hoosier tires are sold through Hoosier's extensive distributor network. Retail tire prices are set by individual distributors and dealers. The goal is to have the tires you need when you need them. The extensive Hoosier distributor network was developed to bring American made tires closer to the end user as well as provide product support on a local level using many tire experts. If you want to become a member of the Hoosier "family," contact them about arranging a purchase. Find them online at www.hoosiertire.com/DIST/disthtsw.htm!
If you would like to receive Brady's weekly releases, send an e-mail to sprntcar@hotmail.com with the subject "Brady".
Brady Bacon Racing would like the following sponsors for all their help: Fatheadz Eyewear, Oilfield Equipment and Manufacturing, Tel-Star Communications, PPM Titanium Products, Triple X Race Co., Infinity Shocks, Smiley's Racing Products, Heath Clips Lawn Care, Keizer Aluminum Wheels, Eaton Industrial Coatings, Pattison Precision Products, Wesmar Racing Engines, Butlerbuilt Seats, Hoosier Tire Southwest, Diversified Machine Inc., Brown and Miller Racing Solutions, Lightning Wings, Simpson, Pro Pan, CP Pistons, Schoenfeld Headers, Carrillo Rods, KSE Steering, All Star Performance, King Racing, Schroth Racing, FSR Radiators, Three-wide Clothing and Fuel Safe.