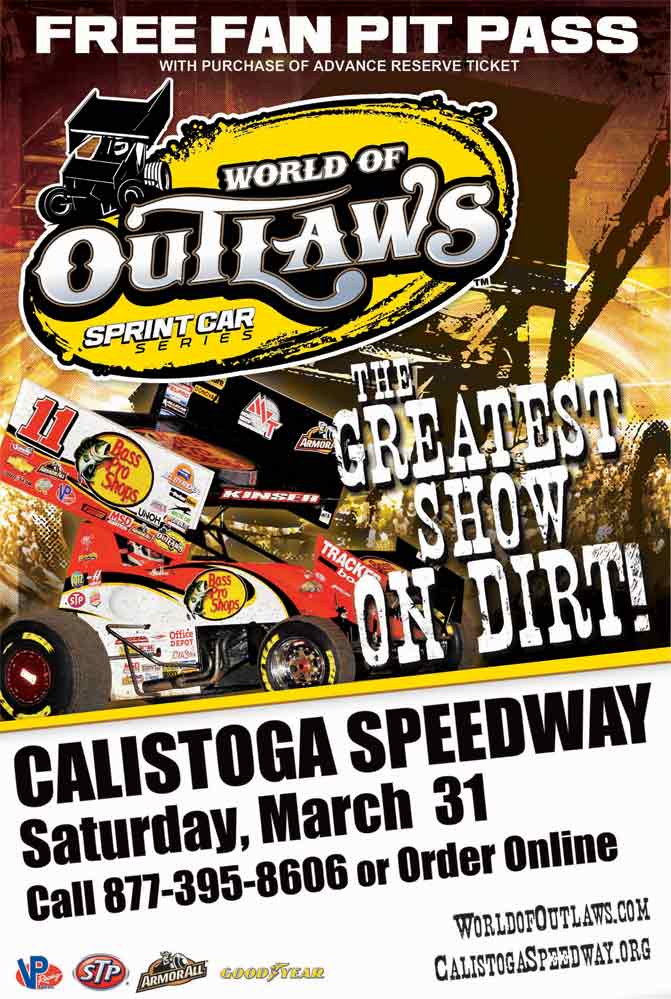 By Gary Thomas
Calistoga, CA – March 26, 2012…When it comes to history and prestige, few tracks on the West Coast offer more than the Calistoga Speedway and this Saturday night the picturesque half-mile will come to life as the World of Outlaws invade wine country.
"We are really pumped for Saturday's event at the Calistoga Speedway," commented Chris Morgan of Motorsports Ventures. "Calistoga has so much history behind it and everyone is excited to have the World of Outlaws back."
This Saturday's event will be the finale of two-time World of Outlaws champion Jason Meyers' "Allstar Appreciation Tour" and he will look to cap it off in grand fashion at the Calistoga Speedway. The Clovis, California driver has won three main events in his career at the half-mile and was also the 2002 track champion.
Meyers' former California rival Tim Kaeding has been making headlines as well, with him experiencing immense success during the swing thus far aboard Dennis & Teresa Roth's No. 83 machine. "TK" has claimed a pair of wins and has finished no worse than sixth in the four West Coast events that have been held.
Kaeding last May also captured the "Salute to Walt Ross" and by doing so, moved into a tie for 19th on the Calistoga Speedway career win list with Jac Haudenschild, Darrell Hanestad and Ron Horton. The defending King of the West Sprint Car Series champion will be hoping to add one more to the list on March 31.
Four-time World of Outlaws champion Donny Schatz will lead the field into Calistoga however, fresh off his victory last Friday night at Silver Dollar Speedway. The Tony Stewart Racing driver finished last season strong and has picked back up right where he left off. Schatz and Kaeding are the only repeat winners so far in 2012.
Other drivers ready to hit the Calistoga Speedway half-mile on Saturday will include Hall of Famers Steve Kinser, Sammy Swindell and Jac Haudesnchild, along with Brownsburg, Indiana's Joey Saldana, Elk River, Minnesota's Craig Dollansky, Bartlett, Tennessee's Jason Sides, Red Lion, Pennsylvania's Cody Darrah, Chico's Jonathan Allard, Findlay, Ohio's Chad Kemenah, Mechanicsburg, Pennsylvania's Lucas Wolfe, Australian Kerry Madsen and more.
There will be a few special things on tap for the event, including a hot rod show at the track featuring vintage race cars, a car display on Main Street from Noon till 2 p.m. on Saturday and free wine tasting on Saturday and Sunday at Charles Krug Winery in St. Helena.
Adult advance reserved tickets for March 31 cost $45 and include a complimentary fan pit pass, which will allow people incredible access to all the stars of the World of Outlaws. General admission tickets will cost $39 with children 12 and under just $10. Tickets for the Calistoga Speedway return are on sale and can be purchased by logging onto http://dirtcar.ticketforce.com/ordertickets.asp?p=200&backurl=default.asp
The Calistoga Speedway is located on the scenic Napa County Fairgrounds in Calistoga, California at 1435 North Oak Street and has been in existence since 1937. For more information on the half-mile log onto http://www.calistogaspeedway.org and for more history visit Bobby Gerould's Hammerdown USA at http://www.hammerdownusa.com/Calistogacareerwins.html
After the World of Outlaw event Calistoga Speedway will go dark until Memorial Day weekend, when the King of the West Sprint Car Series converge at the half-mile for two nights of action on Saturday and Sunday May 26 and 27. The opener will feature the 20th annual "Salute to Walter T Ross" and Sunday's finale will mark the return of the "Tribute to Gary Patterson."