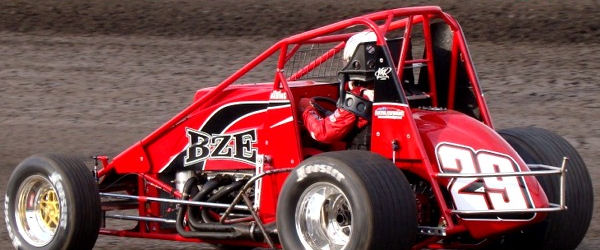 PETERSEN MEDIA
– Campbell, CA driver, Bud Kaeding, remains undefeated with the USAC West Coast 360 series, as he scored the season opening win at Bakersfield Speedway, a win that comes on the heels of his win in Las Vegas in what was a non points race for the series.
With 27 cars in the pit area, Kaeding timed his Kaeding Performance/BZE/Alviso Rock machine in with the seventh fastest lap in qualifications.
Kaeding would move on to win his heat race, and found himself starting in the fourth spot for the 30-lap feature event.
The third generation driver was stout all race long, as he quickly disposed of Josh Ford, before getting passed Matt Mitchell as he then set his sights on leader, Brody Roa.
As the leaders weaved their way through thick lapped traffic, Kaeding was good enough to roll the top of the track or the bottom, as Roa continued to set a stout pace.
As the race wound down, Roa fell victim to a mess of stalled cars on the track, and handed the lead over to Kaeding.
Over the final three laps, Kaeding was able to hold off Mitchell and a hard charging Ryan Bernal as he ended his night with celebratory donuts aboard his Factory Kahne/K&N Filters/Yak Graphics No. 29.
"What can I say, we have a great team, and they gave me a great car tonight," explained Kaeding. "It was a fun track tonight as you could rip around the cushion, or roll the bottom to get through traffic. Hope we can keep it going and keep scoring wins."
Kaeding would like to thank Kaeding Performance, Sprint Car Innovations, Alviso Rock, BZE, Factory Kahne Shocks, Racing Optics, K&N Filters, Yak Graphics, ButlerBuilt, and Brown and Miller for their continued support.
ON TAP: Bud will now climb abord the Werbach No.20 machine for a pair of winged 360 races this weekend, as he will compete at the Ocean Speedway on Friday night before competing at the Giant Chevrolet Kings Speedway in Hanford, CA on Saturday night.
STAY CONNECTED: Stay connected with Bud by visiting www.budkaedingracing.com, www.facebook.com/budkaedingracing or following @Bud_Kaeding on twitter.
PETERSEN MEDIA: Petersen Media specializes in motorsports media constructing news releases, both pre and post race, as well as constructing email lists to keep sponsors, and fans up to date. Petersen media also utilizes today's Social Media networks to provide trackside updates to fans and sponsors, and can customize packages to fit your team's needs.
For more information contact Sales@petersenmediainc.com, 916-342-3424, visit www.petersenmediainc.com, www.facebook.com/PetersenMedia or follow @Petersen_Media on twitter.