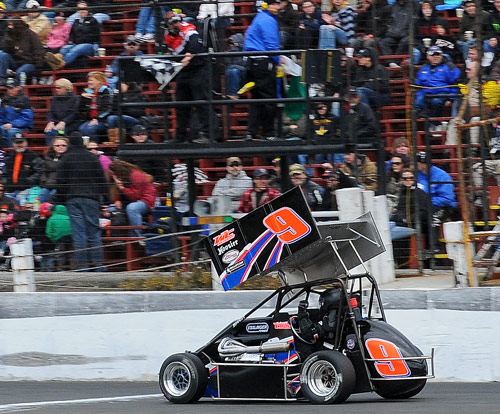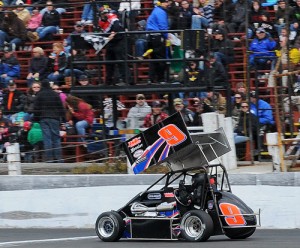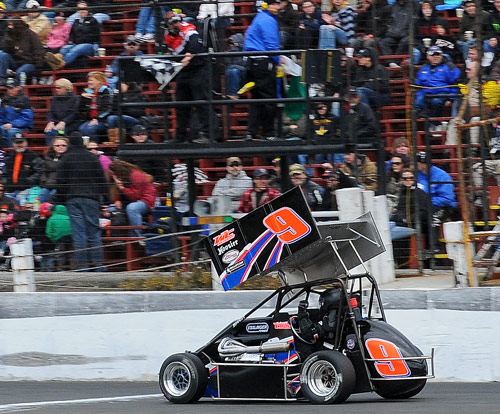 From NEMA
Waterford, CT – (March 31, 2012) — John Zych Jr.'s "very long wait" ended Sunday with a victory in the 25-lap Northeastern Midget Association feature at Waterford Speedbowl's Budweiser Blast Off. Taking the lead four laps in, Zych beat back a mid-race restart challenge from Randy Cabral before posting his first-ever win in impressive style.
The victory ended five years of frustration for Zych and his dad. "It's very special," said the one-time Lemoyne College basketball player who joined Cabral (Bertrand 47) and Russ Stoehr (Dumo's Desire (45) on the podium in a Drinan/Esslinger purchased last year from the Bertrand team.
The biggest challenge came from Cabral on a restart following the second caution. "I saw Randy outside and I knew I had to get all I could out of the car," said Zych, now a resident of Louisville, KY. "I just stood on it and tried to say from the middle to the bottom. If Randy was going to get by, it was going to be on the outside."
They ran side-by-side halfway down the front chute before Zych pulled away, "completely surprising" Cabral. "I was on top but I was pinching him down a little bit," said Cabral who "really throught I had something for him. He blew me away."
It was a cakewalk from there for Zych, who posted the fastest lap (13.001 – 103.822 mph), finishing 2.43 seconds in front. "I think I heard Randy behind me once," Zych said, pointing out he was more concerned with lapped cars over the final laps. "I knew I had to get by them clean," he added.
The battle for third between Stoehr and Joey Payne (Breault 44) highlighted the second half of the race. Anthony Marvuglio (Derosier 38) was fifth.
Starting fourth, Zych took the lead from front row starter Paul Scally on the backstretch. It came just ahead of the first caution. Zych got away from Marvuglio on the restart but Cabral quickly moved from fourth to second and was well within striking distance when the second yellow showed.
Zych, who works for the Hershey (Chocolate) Corporation, drove 14 hours to meet his date with destiny.
Results:
NEMA Feature:
1. John Zych Jr.
2. Randy Cabral
3. Russ Stoehr
4. Joey Payne
5. Anthony Marvuglio
6. Todd Bertrand
7. Jim Miller
8. Matt O'Brien
9. Jim Santa Maria
10. Lee Bundy
11. Paul Luggelle
12. Greg Stoehr
13. Paul Scally
14. Barry Kittredge
15. Seth Carlson
16. Adam Cantor
17. Doug Cleveland
NEMA Lites Feature:
1. Ryan Bigelow
2. Ian Cumens
3. Joey Payne
4. Randy Cabral
5. Kenney Johnson
6. Bethany Stoehr
7. Paul Luggelle
8. Christian Briggs
9. Brandon Igo
10. Carl Medeiros, Jr.
11. Danny Cugini
12. Paul Bigelow
13. Joey Mucciacciaro
14. Avery Stoehr
15. Alan Chambers