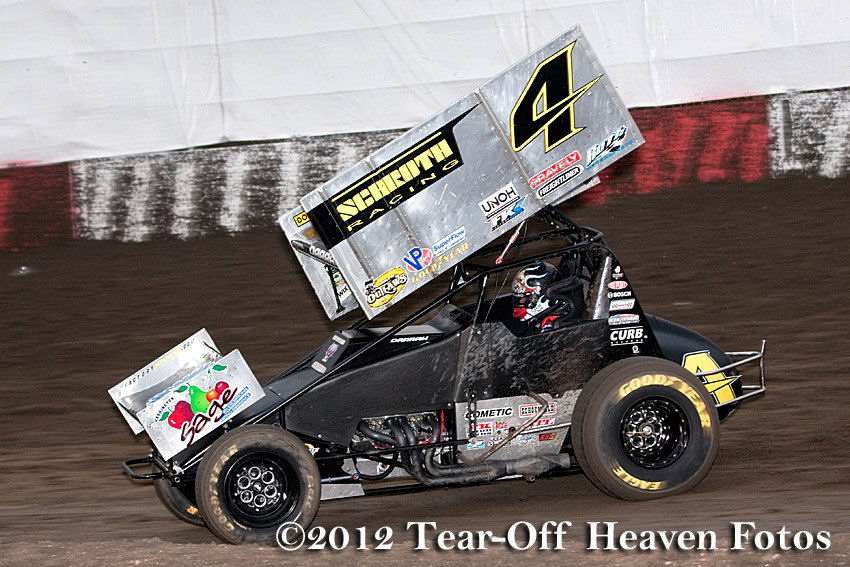 PETERSEN MEDIA
– In his final race of the Spring Western Swing, Cody Darrah put together his best performance of the month as he scored a second place finish aboard his Schroth Racing/Team ASE/KKR No.4 entry Friday night.
As the Outlaws invaded arguably the smallest track on their schedule, the Merced Speedway, Darrah proceeded to click off the third quickest lap during qualifications, giving him a second row starting spot in his heat race.
Darrah scored a fourth place finish in his heat, and transferred into the Dash, where he found himself starting on the front row alongside Sammy Swindell.
With Swindell getting the jump in the Dash, Darrah closely trailed the veteran driver as he just couldn't get close enough to complete a pass, and took the second place finish, and lined up for the feature event on the front row.
History repeated itself during the start of the 40-lap feature as Swindell again got the jump on Darrah, but Darrah didn't go away.
With Swindell glued to the bottom of the speedway, Darrah attempted to search for the top of the California bullring, but Sammy was flawless.
As they worked through lapped traffic Darrah was able to show Swindell his front wheels, but unable to make a move.
Darrah would hold on to the second place finish as he chased Swindell across the finish line.
"We had a couple of restarts, and I couldn't seem to gain anything," said Darrah. "I was hoping he would make a mistake in traffic, or have to change his line a little bit, but he is one of the best for a reason. I can't thank my guys enough for their work, and Kasey (Kahne) for letting us stay out here and run."
ON TAP- Cody Darrah and his Kasey Kahne Racing team will take a week off before getting back to action on Friday, April 13th in Paducah, KY.
STAY CONNECTED- Check in to www.codydarrah.com or visit his facebook page, http://www.facebook.com/pages/Cody-Darrah/164513250262145?ref=ts for the latest news on Cody.