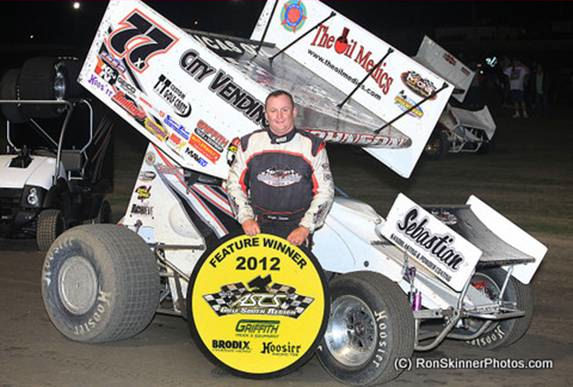 By Bill W
April 4, 2012 – Wayne Johnson racked up his second win of the season, and had another one slip away last weekend in Waco, Texas and Wichita, Kansas. The Wayne Johnson Racing #77x emerged victorious in ASCS-Gulf South region action in Waco on Friday, before being bumped out of the lead with the NCRA series in Wichita. This weekend, the Knoxville, Iowa driver will head to the Lonestar Speedway near Kilgore, Texas for an ASCS-Lone Star event.
Wayne started fifth in his heat and finished third Friday at the Heart O' Texas Speedway. "We're running the same car we ran at the end of last year," he says. "It's like a '08. It's been feeling so good…I'm not going to change it. It was a decent run. That gave us enough passing points to be the last car in the redraw."
Wayne drew a starting spot inside row two for the feature. "The track was heavy all night long," he says. "It started to roll in for the feature, but it was really rough. You had to go up above all the bumps. They always say that place is around the bottom, but both times I've been there we've been around the top."
The lead came when Wayne stormed by Sam Hafertepe Jr. on the fifth circuit, and he was never challenged. He is a perfect two for two in Waco having picked up a victory there in 2010 driving Brian Parker's #9x. "We were really good at Waco," says Wayne. "We were really fast there. We were so far out at one point; Sam was running second and spun out. He collected another car and I was almost in the wreck. That's how far out front we were."
At 81 Speedway near Wichita on Saturday, Wayne won his heat from the pole, and started fourth in the main event. He worked his way into the lead on a lap five restart. "It took me a little bit to get the lead," he says. "The racetrack was a little hard to pass, so it took us a while to get by Luke Cranston. We got by him on a restart with a slider early there, and took off. The thing is, the car was way too loose the whole race, but we still were pulling away."
Despite a free racecar, Wayne found a way to keep the point. "The bottom of one and two was working well for me," he says. "As far as I can tell, no one else was running down there. Late in the race, I did move up once it went away."
Having built a sizable lead, a late caution for Jack Dover brought the field including second place Jason Johnson back to him. "Jason slid me a couple times (earlier in the race)," says Wayne. "He got by me for a lap, then I got back by him. It had to be fun for the fans to watch, and at that point, it was fun to be a part of. On the restart though, he was alongside me at the cone and ended up sliding me going into three. I jammed on the brakes or we would have both crashed. We made contact and it knocked me over the racetrack. That let 'Dude' (Danny Lasoski) and (Brian) Brown get by me. It was a good race up to that point."
Wayne would checker fourth. He has not finished outside of the top five all season. "The worst part about that, was before the caution, I was gone," he says. "I had pulled away. I was a straightaway out with nine to go."
Wayne talked about why he is heading to Kilgore this weekend. "It's on our way down to Houston for the ASCS shows the following weekend, plus we have a big race there later in the year. I haven't run the new configuration there much. We crashed right away there last fall, so we didn't learn much. Hopefully, we can put a good show on for the fans again."
Follow Updates on Facebook!
Wayne will update as his race night goes on at his Facebook page. Find it by searching for Wayne Johnson Racing or clicking the following link…
http://www.facebook.com/#!/WayneJohnsonRacing
Outlaw Wings!
Check out the new "recessed rivet" design put out by Outlaw Wings. Talk to Wayne about purchasing Outlaw Wings for your car! Outlaw Wings – "When Downforce Matters"!
Wayne's Website
To learn more about Wayne and the team, log on to www.WayneJohnsonRacing.com!
Wayne's World
Terry Brody asks: What is your favorite Western movie of all time?
Wayne answers: Tombstone for one. It's a Western, but a newer one. I like all Westerns…any John Wayne, or classic ones. I could sit and watch them for days.
Got a question for Wayne? Each week, Wayne will answer your questions about "Tech Tips", or anything that's on your mind. If you ever wondered what a part on a sprint car is all about, send an e-mail to us at sprntcar@iowatelecom.net, and we may answer it in this section! Put "? for Wayne" in your subject line. He'll try to keep it clean if you do!
Wayne's Fast Facts
Wayne had a good 2007 season at Knoxville in the 410 despite a limited number of starts. He only failed to finish in the top ten on two occasions. One was the Knoxville Nationals finale when he finished a respectable 11th, and the other was Knoxville's Season Championship night when he was a DNF. His finishes chronologically were 7th, 10th, 3rd, 4th, 6th, 3rd (Nationals Prelim), 11th (Nationals finale), 3rd, and 20th. He will be running at Knoxville in their opener April 21.
Partner of the Week – ButlerBuilt Professional Seat Systems
No matter the form of motorsports, ButlerBuilt's leadership makes it the most successful seat in the industry! Winners utilizing ButlerBuilt in the last two weeks span a wide range of motorsports: Kyle Busch, Bubba Pollard, Tyler Walker, Jonathan Allard, Brady Short, Jason Sides, Josh Fisher, Shannon McQueen, Wayne Johnson, Bud Kaeding, Jessica Zemken, Lynton Jeffrey, Jason Johnson, Brooke Tatnell, Levi Jones and many more! To learn more about the Butler Advantage, visit www.ButlerBuilt.net today!
"Wednesday's with Wayne"
"Wednesday's With Wayne" is an up close look at the past, present and future of colorful and talented sprint car driver Wayne Johnson. You'll never know what to expect next with Wayne, so don't miss us on Wednesdays!
To receive "Wednesday's with Wayne", send an e-mail to sprntcar@iowatelecom.net with "Wayne" in the subject line.
Wayne Johnson Racing would like to thank Vern Rengen and Missile Motorsports, Sebastian Sandblasting & Powdercoating, City Vending, Outlaw Wings, Team Achieve, The Oil Medics, Century Signs, Smiley's Racing Products, Hoosier Tire Southwest, Simpson, Butlerbuilt, Super Shox, Maxim, Speedway Motors, Rod End Supply, Schoenfeld Headers and RCM Design.