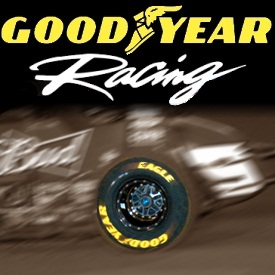 By Lee Elder
MARYSVILLE, Calif. (April 23, 2012) – Jonathan Allard had his work cut out for him at Marysville Raceway Park. But he got the job done and won the race.
Allard and the remainder of the competitors in the Cancen Oil King of the West Series presented by Goodyear for winged sprint cars challenged the quarter-mile oval with a field of 29 entries. The result was terrific racing.
Goodyear is the exclusive tire provider for the Series, supplying the same line of tires the company provides for the top winged sprint car series in the country. The King of the West Series teams frequently compete with the World of Outlaws Sprint Car Series when the WoO races in the West and one of the reasons the western racers have been so successful at racing against the Outlaws is the familiarity the teams in both programs have with the tires.
The Marysville race drew a field of 29 entries, among them a car driven by open wheel racing star Jimmy Sills. Sills started on the outside of the first row in the feature and led early in the race but went out with mechanical woes before the end of the 30-lap event.
Allard's win at Marysville was the first of his career at the facility, but it was also the 29th win of his King of the West career. He is now third on the career win list.
Tim Kaeding, who won twice against the Outlaws early in the season, finished second to Allard. Bobby McMahan was third, followed by Evan Suggs and Brent Kaeding.
More information about Goodyear Racing is available at www.racegoodyear.com. More information about the King of the West Series presented by Goodyear is available at www.kingofthewestsprintcarseries.com.