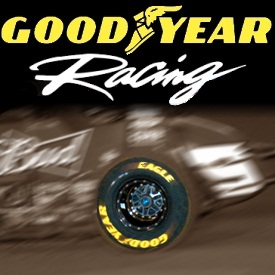 By Lee Elder
AKRON, Ohio (April 23, 2012) – Sammy Swindell combined a win and a third-place finish to give himself a 36-point lead in the World of Outlaws Sprint Car Series standings in the early going of the 2012 season.
Goodyear is the exclusive tire provider for the WoO sprinters. The bias-ply tires Goodyear supplies the competitors come in a variety of sizes and tread compounds, allowing the teams to adapt to the differing track conditions found in a season which criss-crosses North America during a 10-month season.
Goodyear's involvement in the broadsliding, dirt-throwing, winged sprint car sport includes supplying most of the top touring series across the country and sponsoring the biggest race in the sport, the Knoxville Nationals. The Knoxville event, held each August in Iowa, brings together the top sprint car racers in the country each year.
Swindell's first victory of the 2012 season came at Missouri State Fair Speedway in Sedalia, an event that drew 41 entries. Joey Saldana finished second, followed by Brian Brown, Donny Schatz and Jason Sides.
Craig Dollansky won the next race, at Tri-State Speedway in Haubstadt, Indiana. Dollansky led the final 22 laps of the 40-lap main event to get his second victory of the season. Dale Blaney finished second at Tri-State, followed by Swindell, Cody Darrah and Steve Kinser.
Swindell finished the two events atop the standings with 1,547 points. Schatz is second with 1,511 and Joey Saldana, who flipped and crashed at Tri-State, is next with 1,494.
More information about Goodyear Racing is available at www.racegoodyear.com. More information about the WoO is available at www.worldofoutlaws.com.