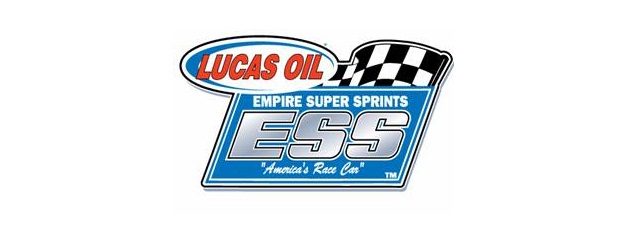 By Dean Reynolds
SYRACUSE, NY – It's been a long off-season for the race teams on the Lucas Oil Empire Super Sprints (ESS) tour but the wait is soon to be over. This Saturday night at the Can-Am Motorsports Park, the 30th season for the very successful 360 sprint car organization officially kicks in grand style with a whole bunch of top sprint car competitors from two nations.
Can-Am is a great way to start the year as drivers from the US and Canada will converge on the 4/10ths mile oval in LaFargeville, NY with the sights on the 2012 championship. The event will also kick off the very popular SUNY Canton Series as well making for a very important event.
When the first green flag drops on Saturday it will mark the first event for "The Cobra" Chuck Hebing as defending Lucas Oil ESS champion. Coming off a very successful second place run in the Mach 1 Series opener at Selinsgrove on March 31st the Ontario, NY pilot is ready for the defense.
But, the list of challengers reads like a who's who in winged sprint car racing. Three-time champ and 2011 runner-up Steve Poirier will lead he brigade to Can-Am looking for the opening night victory. Shawn Donath will now anchor the Ron Mucci stable and his goal will be to move two spots higher in the points. 2010 Lane's Yamaha Rookie of the Year Kevin Ward Jr. is loaded for bear in 2012 as is Cory Sparks who is looking to improve on his fifth place status of last season.
The list doesn't stop there: Local favorite Jeff Cook will be debuting a brand new car, two-time champ Lance Yonge is looking to rebound for a sub-par 2011, last year's rookie of the year Matt Tanner is ready along with Quebec's Michael Parent and Alain Bergeron.
Other top stars that will be in the field on Saturday includes Jason Barney, Justin Barger, Mike Stelter, Tommy Wickham, Tyler Rand, Patrick Vigneault, Paul Habeck, Rick and April Wilson, Charlie Donk, local modified favorite Billy Dunn, SOS champion Lee Ladouceur, Paul Pekkonen, Devin Caron, Chris Jones, Kory Gurney, James Hanson, Kyle Dutcher, Steve Collins, Brandon Warner and more.
This year fans will see an influx of first time sprint car competitors, some with lots of racing experience and some that will be getting their feet wet for the first time in full blown, dirt track machines. Paul Kinney and Sam Reakes IV will be heading the list, both have quite a bit of experience behind the wheel and will take to the winged machines quickly. Can-Am will see the Gypsum Express sprinter of SUNY Canton student and top teenage star Larry Wight. True rookies Joe Trenca, Etienne Girard and Steve Hutchinson will also be in the field.
Fans will get so see the Car Mate Custom Built Trailers heats, the Grampa's Garage Appraisals/Cobra Coaches Dash, the B-Main all leading up to the 25 lap Lucas Oil A-Main finale.
The 29th Anniversary Tour opener…Can-Am Motorsports Park. This Saturday night will continue the tradition of excitement guaranteed!!
For more information:
www.canammotorsports.com
www.empiresupersprints.com
Past Empire Super Sprint Winners at Can-Am Motorsports Park.
July 30, 1987
John Brutcher
July 28, 1988
John Birosh
July 27, 1989
John Birosh
Aug. 2, 1990
Mal Lane
Aug. 1, 1991
Jeff Thomas
July 30, 1992
Tim Kelly
July 28, 1994
Mike Woodring
June 22, 1995
Craig Lane
June 19, 1996
Mike Woodring
June 19, 1997
George Suprick
June 18, 1998
Mike Woodring
June 24, 1999
Dan Kaszubinski
June 22, 2000
Dan Kaszubinski
June 21, 2001
Dan Kaszubinski
Aug. 25, 2001
Alain Bergeron
June 20, 2002
Ryan Coniam
Aug. 17, 2002
Dan Kaszubinski
May 29,2004
Rick Wilson
July 3, 2004
May 28,2005
Rick Wilson
Lance Yonge
July 2, 2005
Dan Kaszubinski
May 27, 2006
Jessica Zemken
July 1, 2006
Justin Barger
July 27, 2006
Jeff VanDusen
July 5, 2008
Justin Barger
July 4, 2009
Justin Barger
July 2, 2010
Justin Barger
July 3, 2010
Jessica Zemken
Sept. 3, 2010 Steve Poirier
Apr. 30, 2011 Alain Bergeron
July 1, 2011 Steve Poirier
Sept. 10, 2011 Chuck Hebing
The Lucas Oil Empire Super Sprints are brought to you by: Lucas Oil, Le Groupe Ultra, SUNY Canton, Hoosier Racing Tires, Fondations 4 Saisons, Cobra Coaches, Westward Painting Company, Mach 1 Chassis, Lee's Repair Auto and Truck, Fondations 55, Eric Varin Roofing, North Eastern Pool and Spa, Car Mate Trailers, Brodix Cylinder Heads, Ohsweken Speedway, Northwood 2 Construction/Lasalle Motorsports, AKS Firearms, Jasmin Peloquin Sport, 730 Truck Stop, Riverside Bar and Grill, FX Chevy and many, many associate sponsors.