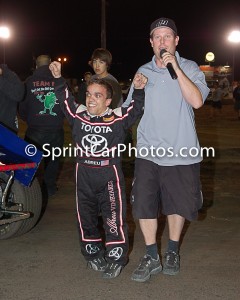 From Troy Hennig
Chico, CA — (April 27, 2012) — It was an epic Friday night at the Silver Dollar Speedway in Chico as 20-year-old rising star Rico Abreu won his first winged sprint car main event. "It just feels unbelievable," said Abreu in victory lane. Abreu's win was more impressive considering he passed Willie Croft with just two laps to go in the 25-lap main event. "I'm glad I got my first win here at Chico," said Abreu. "It's always been one of my favorite places." Once Abreu parked the Abreu Vineyards / Kaeding Performance / Stadelhofer Construction #89 in victory lane he climbed to the top of the wing, saluted the crowd and then dove into the arms of some of his crew members who had gathered below. Abreu then lay on the ground and seemed to have a moment with just himself before he got back up and proceeded with the track side interview. Needless to say, Rico was greeted with a thunderous roar from the crowd as they had just witnessed the historic first win for Abreu.
Willie Croft and Kyle Hirst lined up side by side on the front row to start the 25-lap main event. Croft got the better start and led the field going into turn one. Hirst suffered the brunt of a bad start when he bicycled through turn one and lost valuable spots on the track. This allowed Mason Moore and Rico Abreu to pass Hirst. The only caution of the night happened when a right front tire fell off David Tarter's car on lap one. For the next 24-laps the race was shear excitement for the fans in attendance as the sprint car drivers negotiated the tricky but fast quarter-mile speedway to perfection. Croft began to build of up a sizeable lead on the rest of the field. On lap 10 Abreu found a line to his liking around the top in three and four. On the next lap, Abreu used this same line to pass Moore for second.
Croft was already dealing with some slower traffic. This allowed Abreu a chance to close in and knock off valuable seconds. The race began to tighten on lap 20 when Croft struggled a bit getting around the congested race track. To his credit, Croft had already made some bold and impressive moves to keep a hold on the top spot. However, like many good sprint car races, lapped traffic plays a big role. Sometimes it's better to be in the second spot and get a bird's eye view of what the leader chooses. On lap 22, Abreu dove to the inside of Croft going through turns three and four. As they crossed the line on lap 23, Croft still had a half a car length advantage. Yet, going into turn one, Abreu was able to stick his car on the bottom of the track and pass Croft. Abreu led the final two laps to pick up his first sprint car win. Croft finished in the second spot. Mason Moore held on to finish third. Jonathan Allard ran in the fourth spot. Kyle Hirst finished fifth.
For the third time in five nights, Auburn's Andy Forsberg turned the quickest lap in qualifying with a 12.054. Jason Statler picked up the win in heat race one. Mason Moore and Kyle Hirst won the other two heat races. A total of 20 cars showed up for the open show style winged 360 night.
Full results are available at www.silverdollarspeedway.com or mylaps.com.