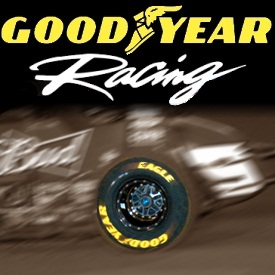 By Lee Elder
TULSA, Ok. (April 30, 2012) – Jamie Passmore started up front and stayed there, winning the Oil Capital Racing Series event at Brill Motor Speedway. But behind Passmore there was, well, more passing.
Goodyear is the Official Tire Company of the OCRS, supplying a right rear tire designed specifically for the rigors of competition in the region. The remainder of the tires Goodyear supplies the competitors in the series come from the same line Goodyear manufacturers for the competitors in the World of Outlaws Sprint Car series and other touring winged sprint car programs.
Passmore led the entire 25-lap distance of the chase around the 3/8-mile oval. Joe Wood Jr. finished second after starting 20th. Frank Dittman started second before finishing third and Kyle Cobb started 19th before he finished fourth. Kenneth Walker started ninth and finished fifth.
The race was the season-opener for the OCRS racers. The event drew 32 entries.
More information about Goodyear Racing is available at www.racegoodyear.com. More information about the OCRS is available at www.ocrsracing.com.
Goodyear employs about 73,000 people at manufacturing plants and facilities in 22 nations. Based in Akron, Ohio, Goodyear is among the largest tiremakers in the world and is the world-wide leader in race tire innovation.