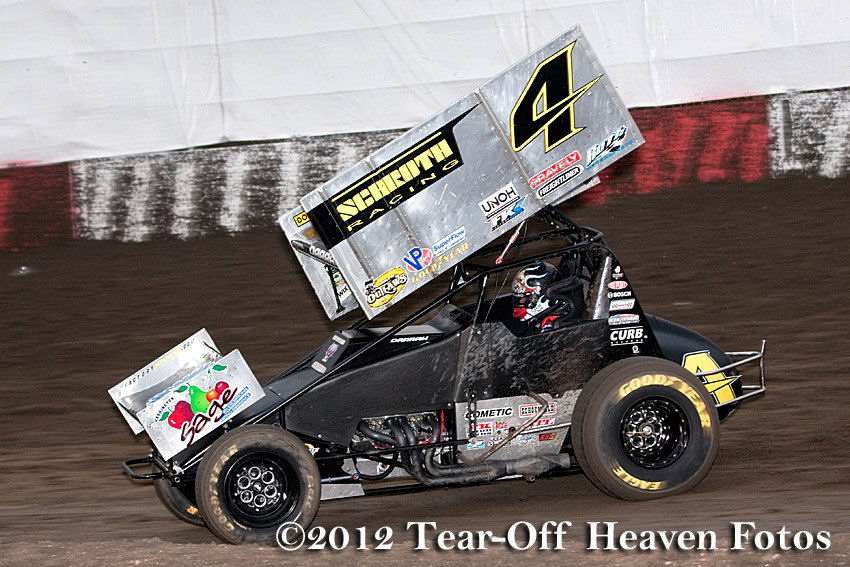 PETERSEN MEDIA
– With a pair of World of Outlaws events over the last week, Cody Darrah made it eventful has he scored a 13th place finish at Farmer City, IL and a 19th place finish at the Knoxville Raceway Saturday night.
Kicking off with a mid-week race in Illinois, Darrah and his Kasey Kahne Racing team had a very eventful night.
Lining up in the 20th spot, Darrah and Shane Stewart followed each other threw the field as they reached the top 15 by the 10th circuit.
As the duo continued to dice, Stewart was forced sideways by a out of shape car in front of him, and Darrah spun into him, and was forced to the pits for repairs on lap 13.
The KKR crew made quick repairs and Darrah tagged the rear of the field.
Darrah came back out and seemed to be on a mission as he ripped around the top of Farmer City Raceway, and got himself back into the top-ten with a handful of laps remaining.
On the 30th lap, Darrah got upside down softly in is Schroth Racing/Sage Fruit/Team ASE machine, and again after repairs, was able to score a 13th place finish.
"Not a night you ever want to have, but I have a great bunch of guys working on this thing, and they did a great job of getting us fixed up and back on the track."
Saturday night saw the circuit travel to the famed, Knoxville Raceway a place that Darrah has had a love-hate relationship with in the past.
"Knoxville is funny," said Darrah. "We always qualify really well there, but something always happens to us in the feature or a heat and turns our night upside down."
On this night, it was a purely hate relationship with the legendary ½ mile as Darrah timed in a lackluster 24th quick with 41 cars in action.
Finishing sixth in his heat, Darrah was forced into the LCQ where a third place finish put him in the feature, in the 22nd starting spot.
During the feature, Darrah just couldn't seem to get his car moving forward, as he tried tirelessly to find real estate on the track to work with, but he struggled to a 19th place finish.
"We just couldn't get a handle on anything tonight," said Darrah. "We kept working on it (the car) and just missed it all night. It will happen, but my guys worked their tails off tonight."
ON TAP- Darrah will now head to the high banked ½ mile known as Eldora Speedway for a Cinco De Mayo double header.
STAY CONNECTED- Check in to www.codydarrah.com or visit his facebook page, http://www.facebook.com/pages/Cody-Darrah/164513250262145?ref=ts for the latest news on Cody.