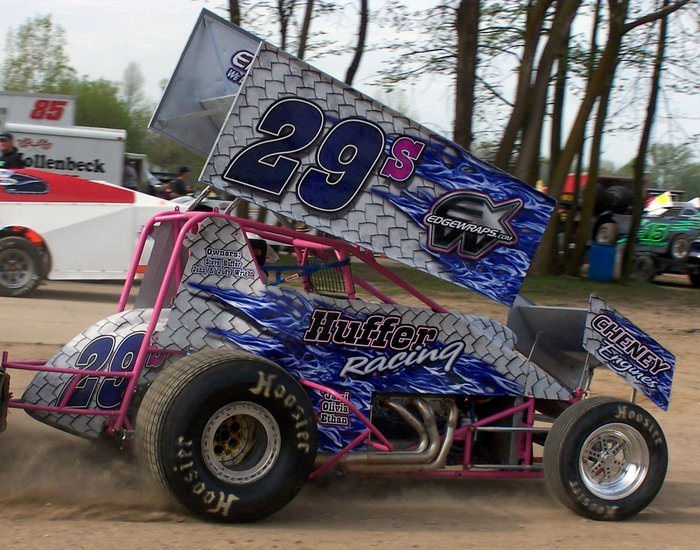 By Matt Prieur
Eagle, Michigan (Thursday, May 3rd, 2012): The weekend of Friday & Saturday, April 27-28th was a rough weekend for Marques Huffer and the Huffer Racing Team as it started at Limaland Motorsports Park in Limaland, Ohio for local Sprint Cars racing action while the 2012 ASCS Sprints On Dirt Championship title chase began the next night on April 28th at the 3/8s (0.375) mile semi-banked dirt oval of Crystal Motor Speedway, located 45 minutes northwest of Lansing in Crystal, Michigan.
After not transferring into the A Main at Limaland after contact with another driver, Huffer would make the show at Crystal the next night only to see his left front brake caliper break just a lap into the A Main forcing Huffer to the pits and out for the rest of the event.
"On Friday at Lima we realized that some people still find it easier to drive through you then around you and on Saturday, we could not shake our Crystal Curse." A disappointed Huffer remarked. "I know the car is good and we were fast both nights. The AFCO Shocks that we are running just make the car feel like its running on rails. Huffer Racing is very fortunate to have been teamed up with Jason Adams with AFCO. Also we owe a special thanks to Gregg Dalman for providing our fuel, Ben Rutan, Craig Rutan, Aaron Huff and Mike Williams for their continued support!" He added.
This Saturday, May 5th, Huffer and crew hope to turn their luck around at the 2012 Season Opener (Take 2) at the 3/8s (0.375) mile high-banked dirt oval of Butler Motor Speedway, located northeast of Coldwater in Quincy, Michigan. "The car felt and ran incredible when we were there back on April 21st for a Test & Tune. We were able to run many lines and we had no problem keeping up with the Butler regulars most of whom were running their 410's." He added.
For the rest of the 2012 racing season, Huffer Racing will continue his run at the ASCS Sprints On Dirt Series Championship as well as the NRA Sprint Invaders title. The team will also make appearances at Butler Motor Speedway, beginning this Saturday, May 5th as well as Limaland Motorsports Park. An aggressive 44-race schedule is on the calendar for Huffer Racing.
Throughout the remainder of the 2012 campaign, Huffer's widely popular #29s Winged Sprint Car will carry sponsorship decals from Huffer Racing as well as Rutan Racing Engines, AFCO Racing Shocks, Lane Automotive, Smart Innovations, Imagine Design Now, M.P.H. Promotions, T.S. Lettering & Graphics, Premier Custom Trailers, and Edgewraps.com.
To learn more about Marques Huffer and the entire Huffer Racing Team and to inquire about sponsorship opportunities available for the rest of the 2012 racing season, go to the teams new website at: www.hufferracing.com You can also stop by and check out the Huffer Racing Facebook Fan Page at: www.facebook.com and search "Huffer Racing"