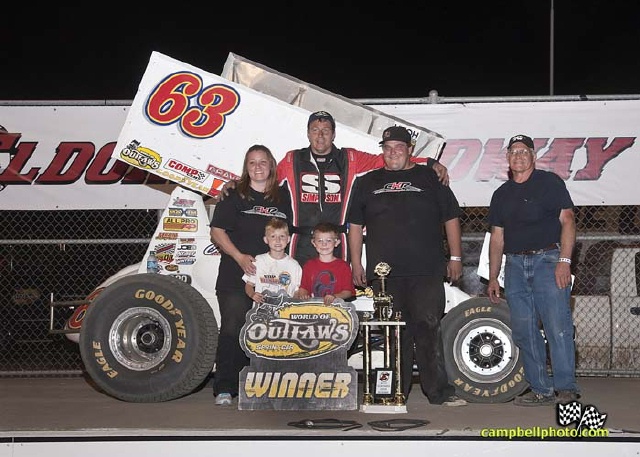 From Larry Boos Mike Campbell photo
ROSSBURG, Ohio (May 4) – The super moon, the closest a full moon gets to Earth in this year, doesn't arrive until Saturday night. But the World of Outlaws (WoO) treated fans at Eldora Speedway with a wild and crazy night of winged Sprint Car racing Friday in the Outlaw Thunder presented by Goodyear.
A series of cautions and a major five-car pileup shuffled the lead through three different drivers before handing it to Ohio native Chad Kemenah with six laps left. Kemenah sped away from Donny Schatz over those final laps for his first WoO victory at what's considered his home track, and his fourth career WoO victory.
Barney Craig won the Stock Car division by coming from fourth to first on the opening lap for the victory.
It wasn't as simple for Findlay, Ohio's Kemenah. Crowd favorite Jac Haudenschild started on the pole and led the first 24 laps before a stunning turn of events during a span of two laps knocked out three race leaders.
With 23 laps completed, Sammy Swindell cut a tire in turn 1 for the race's fifth caution flag. Haudenschild darted into the pit area under that yellow flag period for fuel; however, under WoO rules, drivers can refuel only under an open red flag stop. With no red having been displayed, WoO officials ruled Haudenschild's night was over.
The lead shifted to Dale Blaney, who then pitted with a flat right front tire under the same caution.
David Gravel then inherited the lead and held it at the restart with Kerry Madsen charging underneath. Racing side-by-side for the lead, Madsen appeared to slide up into Gravel going into turns 1-2 to touch off a sensational multi-car accident that sent Sprint Cars tumbling and parts showering the track. In addition to Gravel and Madsen, the accident also collected Craig Dollansky, Tim Shaffer and Paul McMahon. Joey Saldana also suffered a damaged wing and a flat tire.
"I saw cars going everywhere and I thought if I keep my nose clean I might keep my right front tire," Kemenah said.
He did, holding off Schatz the final six laps for the victory. Steve Kinser, who caused the fourth caution of the race on lap 20 when he slowed on the frontstretch, recovered to finish third. Cody Darrah and Daryn Pittman rounded out the top five.
"There have been a few races this year where I had the fast race car and I'd seem to lose. Tonight I guess it didn't matter; I'm standing up here," Kemenah said. "I'm kind of speechless, I can't thank everybody enough. Man, I'm about ready to cry."
Eldora Speedway owner Tony Stewart flew in from Talladega, Ala., — the site of Sunday's NASCAR Sprint Cup race — to compete with the Outlaws. The reigning and three-time Sprint Cup Series champion finished seventh.
Kraig Kinser won the last chance showdown. Haudenschild won the dash, while Blaney, Dollansky, Madsen and Swindell won heat races.
Gravel of Watertown, Conn., set fast time in qualifying with a lap of 13.228 seconds, 0.003 seconds faster than Kemenah. Kinser (13.277), Pittman (13.288) and Haudenschild (13.291) rounded out the top five in a competitive two-lap qualifying session. The top 20 drivers were separated by less than 0.3 seconds.
In the Stock Car division, Craig took a two-point lead over Dean Pitts in the driver standings following his victory and his third-place finish in Eldora's season-opener on April 21. Pitts, Earnie Woodard, Rob Trent and Shawn Phillipi finished in the top five.
"It's been a few years. I thought if I kept plugging away I could probably get another feature win," Craig said.
"This is my 25th year running big cars and it's good winning again! … I felt like I got a good run getting in. I just stood on it and just hoped for the best."
Craig and Woodard won heat races.
The WoO doubleheader program continues Saturday with a full WoO event and the UMP DIRTcar Modifieds. Gates open at 2 p.m., hot laps are at 6 p.m. and racing starts at 7:30 p.m. Tickets for the Outlaw Thunder by Goodyear, the Kings Royal weekend, and all other Eldora events are available through the track office at (937) 338-3815 or online 24 hours a day at www.EldoraSpeedway.com. Like us at www.Facebook.com/EldoraSpeedway or catch all the behind-the-scenes preparation for the event on Twitter @EldoraSpeedway.
Photo Gallery