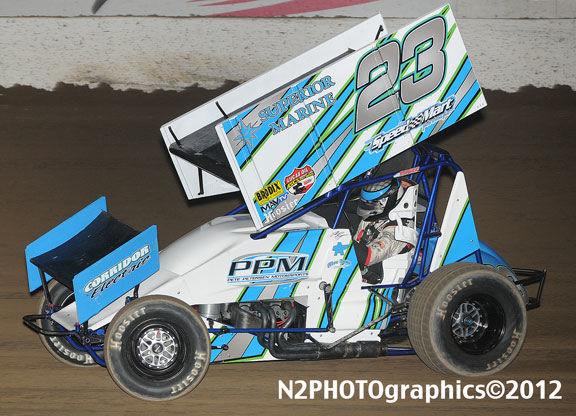 PETERSEN MEDIA
– One week after claiming his first career Lucas Oil ASCS National win, and first win of 2012, Seth Bergman backed it up by scoring a regional win Saturday night at Creek County.
Competing against the Sooner Region, Bergman's night got off to a great start as he was able to work his Petersen Motorsports/Speedmart/Eagle from fourth to second in his heat, putting him in the night's top-eight re-draw.
Pulling a two, the Evergreen state driver put his entry on the front row of the 25-lap feature event.
Bergman gunned into an early lead, as he set a steady pace over the field.
Fellow Washington native, Gary Taylor, charged from his sixth starting spot to put heavy pressure on Bergman, as the duo raced through traffic until the red flew at the halfway point.
"Under the red, Benny (Gregg) told me Gary was really strong and to protect the bottom in one and two and go wherever in three and four," explained Bergman.
Back underway, Bergman took the advice of his crew, and held Taylor at bay to pick up his second win of 2012.
"It's true what they say, once you get that first one they seem to come a little faster," Bergman said with a smile. "Ben worked hard all night, and this car was bad fast, I'm excited to get to Little Rock."
Seth was also in action on Friday night, where he scored a sixth place finish.
Bergman and his Pete Petersen Motorsports team would like to thank Superior Marine, Corridor Electric, Speedmart Inc, Eagle Chassis, ButlerBuilt, and 7 Industries for their support in 2012.
ON TAP: Bergman and his team will now head to Little Rock, AR for a weekend double header with the Lucas Oil ASCS National Tour this Friday and Saturday night.