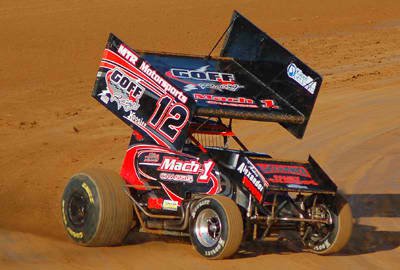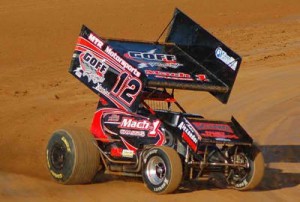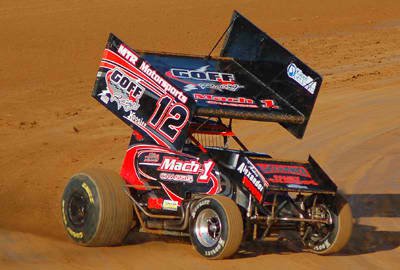 From Selinsgrove Speedway
Selinsgrove, pA — (May 12, 2012) —  Blane Heimbach of Selinsgrove drove to a convincing victory in Saturday night's 32nd Annual Jack Gunn Memorial for sprint cars at Selinsgrove Speedway. The special event drew a stellar field of 47 entries and marked the seventh consecutive year that the Gunn Memorial was a challenge race between the speedway's weekly 358 sprint cars and the traveling United Racing Company (URC) 360 sprint cars.
The $3,500 win was Heimbach's first of the season and 34th career at the track behind the wheel of the Creasy Signs/Goff Racing No. 12 360 sprint car. Heimbach also became only the second driver to win the Gunn Memorial four times, tying the record held by Todd Shaffer of Millerstown when the annual tribute race to the late Hall of Fame race track promoter was run as a 410 sprint car event.
Davie Franek of Wantage, N.J., was the night's fast qualifier with a lap time of 17.621 in a 360 sprint car. The Gunn Memorial was the second event in the inaugural $120,000 six-race Mach 1 Chassis Mid-Atlantic 360 Sprint Car Championship Series. Pat Cannon of Etters won the series opener at Selinsgrove on March 31 and finished second in the 30-lap Gunn Memorial after leading the first nine laps from the second starting position.
Tony Adams of Sunbury wired the field for his first win of the season and the 16th of his career at the track in the 25-lap late model feature. Adams became the fourth different winner in as many races this season.
John Fowler Jr. of Montandon scored his first career win in the 12-lap roadrunner race and became the division's third different winner.
Sprint car drivers JR Berry of Boyertown and Eric Tomacek of Abbottstown were transported to an area hospital with undisclosed injuries sustained in separate racing incidents at the track.
Selinsgrove Speedway will present the 6th Annual Collier Paving & Construction Roadrunner 20 plus 358 sprint cars and late models at 7 p.m. Saturday, May 19. Track gates will open at 5 p.m.
SELINSGROVE SPEEDWAY RACE SUMMARY – 12 May 2012
358/360 Sprint Cars – 47 Entries
30-Lap A-Main:  1) 12 Blane Heimbach $3,500 2) 3 Pat Cannon  3) 28F Davie Franek  4) 56 Nate Snyder  5) 2 Jason Schultz  6) 1 Mark Smith  7) 89 Robbie Stillwagon  8) 99K Cody Keller  9) 18 Ryan Bolkhe  10) 19 Colby Womer  11) 63 Josh Weller  12) 71 Jessica Anderson  13) 50 Tim Berkheimer  14) 23 TJ Stutts   15) 88B Andy Best  16) 7C Chad Trout  17) 29W Ryan Wilson  18) 5B Josh Beard  19) 1B Joey Biasi  20) 22 Troy Betts  21) 77 Derek Locke DNF  22) 76 Larry Kelleher DNF  23) 11T TJ Winegardner DNF  24) 73 Kramer Williamson DNF  25) 7 Ed Aiken DNF  26) 11 Eric Tomecek DNF
Heat Winners:  Robbie Stillwagon, Tim Berkheimer, Pat Cannon, Nate Snyder, Cody Keller
B-Main Winners:  Josh Beard, Derek Locke
358/360 Time Trials:  1) 28F Davie Franek 17.621  2) 71 Jessica Anderson 17.686  3) 3 Pat Cannon 17.865  4) 7 Ed Aiken 17.965  5) 56W Randy West 17.999  6) 5B Josh Beard 18.001  7) 1 Mark Smith 18.012 8) 12  Blane Heimbach 18.013  9) 23 TJ Stutts 18.088  10) 2 Jason Shultz 18.105  11) 47R Eric Riggins 18.163  12) 18 Ryan Bohlke 18.190  13) 45 Chuck Hebing 18.192  14) 1Z Jessica Zemken 18.199  15) 99K Cody Keller 18.258  16) 11 Eric Tomecek 18.260  17) 29 Ryan Wilson 18.276  18) 77 Derek Locke 18.277  19) 56 Nate Snyder 18.293  20) 88B Andy Best 18.303  21) 89 Robbie Stillwagon 18.306  22) 17J Jonathan Swanson 18.343  23) 7C Chad Trout 18.353  24) 67 Steve Collins 18.370  25) 39 Tim Hogue 18.401  26) 76 Larry Kelleher 18.428  27) 50 Tim Berkheimer 18.463  28) 63W Josh Weller 18.469  29) 45N Kevin Nagy 18.487  30) 73 Kramer Williamson 18.496  31) 40 Mike Kostic 18.542  32) 5W Phil Walter 18.607  33) 21 Duane Mausteller 18.640  34) 19 Colby Womer 18.659  35) B1 Joe Biasi 18.680  36) 9D Kevin Darling 18.681  37) 11T TJ Winegardener 18.714  38) 15 Mark Bitner 18.826  39) 22 Troy Betts 18.937  40) 12S Jimmy Stitzel 18.960  41) 34 Danny Massey 19.062  42) X Dan Mazy 19.244  43) 6S Bill Sherman 19.266  44) 2L Art Lidel 19.394  45) 66 Ryan Kissinger 19.474  46) 97 Jimmy Ruppert 19.703  47) JR Berry DNT
Late Models – 27 Entries
25-Lap A-Main:  1) 88 Tony Adams  2) 119 Jim Bernheisel  3) 32 Coleby Frye  4) 99 Jeff Smith  5) 2 Steve Campbell  6) 2J Jeff Rine  7) 27 Jim Yoder  8) 16 Matt Cochran  9) 119B Bryan Bernheisel  10) 22 Brett Schadel  11) 61 Ken Trevitz  12) 06 Mike Lupfer  13) 4D Chad Hollenbeck  14) 0N Ryan Nearhood  15) 23S Todd Snook  16) 91 Chad Davis  17) 33C Chris Casner  18) 44 Donnie Schick DNF  19) 76 Andy Haus DNF  20) 21 Scott Haus DNF  21) 45 Eric Hons DNF  22) 24 Dylan Yoder DNF  23) 7M Meade Hahn DNF  24) 3W Tim Wilson DNF
Heat Winners:  Jeff Rine, Tony Adams, Steve Campbell
Roadrunners – 21 Entries
12-Lap A-Main:  1)  02 John Fowler Jr. 2) 76 Bob Bussey 3) 28 Curtis Lawton 4) 8K Jeremy Kline 5) 31B Brandon Shultz 6) 15 Dustin Snook 7) 41D Dennis Conrad 8) 112 Ben Feree 9) 7 Butch Shaffer 10) 201 Brian Johnson 11) 111 Matt Lawrence 12) 29B Ricky Bender 13) 111X Larry Alvord 14) 99 Chris Hoffman 15) 00 Cory Long 16) 69 Scott Dunham Jr. 17) 2 Adam Campbell 18) 11 Keith Bissinger 19) 25J Nate Romig 20) 44 Corey Collier 21) 3 Bruce Wyland Jr.
Heat Winners:  Ricky Bender, Keith Bissinger