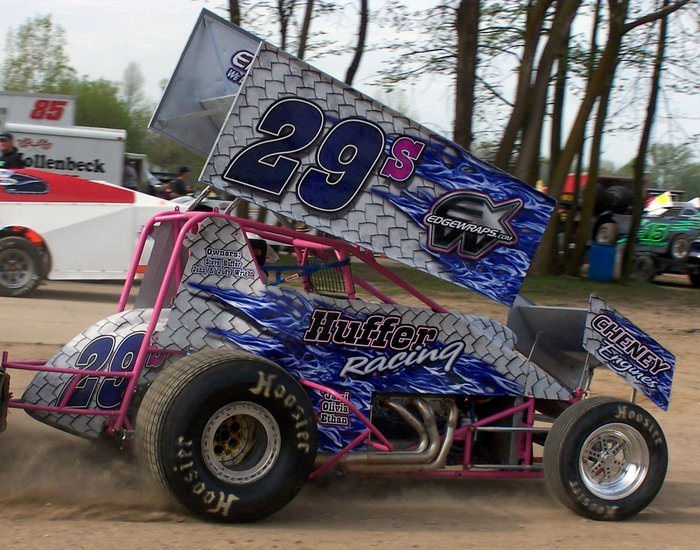 By Matt Pruier
Eagle, Michigan (Tuesday, May 15th, 2012): Despite a slow start to the 2012 racing season, Eagle, Michigan Sprint Cars pilot, Marques Huffer remains optimistic heading into the busy portions of his 2012 schedule. Even with the loss of an important crew member, Huffer and the entire Huffer Racing Team continue to move forward and press on.
Huffer's stepfather and mother moved from Michigan to South Dakota this past week so the team decided to not make the trip to Limaland Motorsports Park in Lima, Ohio for Weekly Sprints action. "We lost the backbone and power horse to Huffer Racing. In John, we had someone who for the last two and a half years was spending 40-80 hours a week tearing down our car, cleaning it, greasing it then getting it setup for the next weeks' events." Huffer explained.
"Then to relax on the weekends he was always kind enough to drive our hauler to and from all of the tracks and turn all the wrenches while we were there." Huffer continued. "His knowledge, love, ambition and dedication are things that will never be replaced!"
Saturday, May 5th, the team ventured down to Butler Motor Speedway in Quincy, Michigan for their Weekly Winged Sprints regular program and after starting the A Main, the rear suspension in his #29s Sprinter went south and he was forced to retire from the Feature. "Saturday at Butler was par for the course for this season, two laps into the A Main we had a part in our rear suspension break which is very frustrating to again in 2012 be a DNF for a feature race because of mechanical issues." He continued.
"But thanks to Smartt Innovations we still have the coolest looking car at the tracks. Overall for the night, we had an awesome car that with those AFCO Shocks felt incredible and any day that I can start on the pole of a heat race and end up third to only two former World of Outlaw drivers and beat the rest of the field who is manly running 50+ more cubic inch engines with roughly 300 more horsepower, all we can say is thank you Rutan Racing Engines for making such a fast Chevy 360 for us." Huffer offered.
Tentative plans have Huffer and crew heading back to Limaland on Friday, May 18th while also returning to Butler on Saturday, May 19th as both tracks will host regular racing programs for their Weekly Winged Sprint cars.
For the rest of the 2012 racing season, Huffer Racing will continue his run at the ASCS Sprints On Dirt Series Championship as well as the NRA Sprint Invaders title. The next races in both will be throughout the Memorial Day Holiday Weekend as a tripleheader of races will highlight the holiday weekend. All three events will be co-sanctioned by both touring series' starting on Friday, May 25th Limaland before moving to Waynesfield Motorsports Park in Waynesfield, Ohio on Saturday, May 26th and then the weekend ends at the famed Eldora Speedway in Rossburg, Ohio on Sunday, May 27th.
Throughout the rest of the 2012 racing season, Huffer's popular #29s Winged Sprint Car will carry sponsorship decals from Huffer Racing as well as Rutan Racing Engines, AFCO Racing Shocks, Lane Automotive, Smartt Innovations, Imagine Design Now, M.P.H. Promotions, T.S. Lettering & Graphics, Premier Custom Trailers, and Edgewraps.com.
To learn more about Marques Huffer and the entire Huffer Racing Team and to also inquire about additional sponsorship opportunities available for the rest of the 2012 campaign, head over to the teams new website at: www.hufferracing.com You can also stop by and check out the Huffer Racing Facebook Fan Page at: www.facebook.com and search "Huffer Racing"