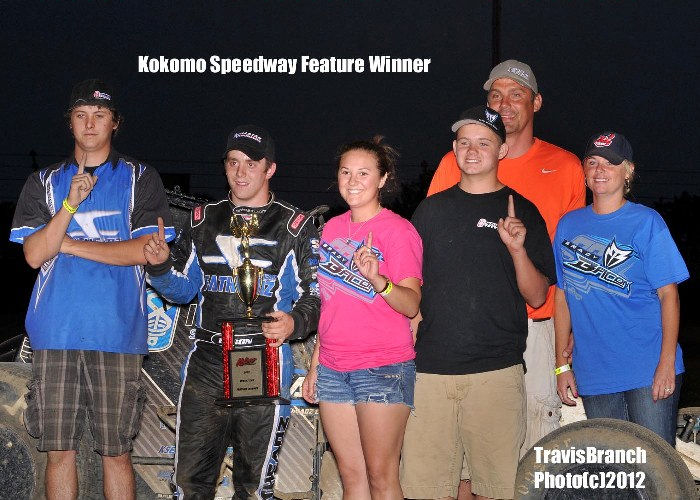 By Bill W
May 22, 2012 – For a USAC and Hoosier State regular, a win at Kokomo Speedway is an enduring dream. Brady Bacon was able to achieve that last Sunday night, and cap off a weekend where he had arguably the fastest car in Indiana. A third place finish with USAC at Bloomington Speedway and two marches from the back of the pack to finish fourth at Lawrenceburg showed that. Now, he prepares for five straight nights of racing beginning tomorrow night!
Brady's night at Kokomo started strongly in time trials and the heat. "We were good all night," he says. "Their format is a little different. We were able to qualify second, and that put us starting third in the heat race. We finished second."
The Broken Arrow, Oklahoma driver started sixth in the main event, and took a while to find his groove. "We fell back a little at the beginning," says Brady. "The track was really racy. There was a big cushion on the top, and the bottom was really good too. That's normal for Kokomo."
Once he found the low racing line, Brady shot to the front. "We started rolling the bottom pretty good and got up there," he says. "There was some good racing. We were able to race three-wide with Thomas Meseraull and Dave Darland and take the lead. I know (Jon) Stanbrough was pressuring us at the end, but we were able to hold him off."
Your first win at Kokomo is special. "It was really good to win there," says Brady. "It was great to have Infinity Shocks and PPM Titanium Products, and the owner, Scott and a lot of his friends were able to be there and watch. There were 29 cars there, and they were good cars. So to win at Kokomo is special. It says a lot about our partners and suppliers."
Friday night with USAC in Bloomington, Brady registered quick time of the night over a stout 38-car field. He went on to win his heat from the sixth starting spot. "The cushion was pretty tall, and it was low getting into turn one," he says. "We had to drive above it basically. We were able to get up front that way in the heat race."
Starting sixth, he found it tougher to move forward, but came home third at the checkers. "We were fast in the feature," says Brady. "It was tough to pass. The preferred line was on the bottom, and (winner) Bobby East was really good. He held his line, and it was hard to get by him. I was trying really hard to run the top, but it just wasn't there. He would have had to mess up to get by him. Anytime you race non-wing in Indiana, there's going to be competition. And when you have a race as big as Bloomington had, everyone is going to be there. There were a lot of good cars every night we ran."
The high banks of Lawrenceburg Speedway hosted a KISS event on Saturday. Draws for the heats saw Brady starting eighth and finishing sixth on a tacky track. "I think we had the best car there," he says. "The track was the heaviest I've ever seen it. There weren't passing points, and we drew last in the first heat, which wasn't ideal."
After winning the B main, he would start 16th in the main event and charge forward for the first of two times. "We were able to get up to fifth pretty quickly," says Brady. "Justin Grant spun and we clipped him. That cracked a wheel, and we had a flat. We had to change it, and we were able to get back out."
Using his patented bottom groove, Brady would again charge through the field and end up fourth. "We were able to charge back up to third," he says. "Robert Ballou got us at the line, and we settled for fourth. The last five laps the bottom went away. We had used that to get up front both times. It's really tough to have to come from the back twice!"
The Brady Bacon Racing #99 team will hit the Valley Speedway in Grain Valley, Missouri on Wednesday night and the I-80 Speedway near Greenwood, Nebraska with the Lucas Oil ASCS National Series. On Friday, Brady will drive for Randy Washburn (#0) in Hays, Kansas with NCRA. Saturday and Sunday will be the Steve King Memorial in Jetmore, Kansas, also sanctioned by the ASCS National Series. Brady will do his best to defend his title in Jetmore!
Watch the Exciting Kokomo Feature at Jackslash.com!
Watch Brady's exciting win at Kokomo here…
http://jackslashmediainc.com/flip-the-switch-tv-show/
Follow Brady on his Website, Twitter and Facebook!
Follow Brady at his website located at www.BradyBaconRacing.com! Also keep up with him on Facebook and Twitter (which also can be accessed at the website) at the following links…
Twitter Link – http://twitter.com/BradyBacon
Facebook Link – www.facebook.com/pages/Brady-Bacon-Racing/278125555137
Partner of the Week – Tel-Star Communications
Tel-Star Communications, Inc. is a personal communications service company. Tel-Star Communications was formed in October of 2000 to bring you the highest quality service available in this complex market of communications. With over 50 years of combined experience, Tel-Star Communications brings you the highest expertise and diversity this market has to offer. Each technician has been trained, tested and authorized by the system manufacturer in telephone design, installation, programming, training, troubleshooting, and system maintenance and repair. Our number one priority is Customer Service and we feel that what we provide is unparalleled with any other service company. Tel-Star Communications will work on any job and will always do it cost effectively. Our philosophy is based on best cost, best product, and what is best for our customer. Visit Tel-Star Communications on the web at www.Tel-StarCommunications.com!
Associate Marketing Partner of the Week – Simpson Performance Products
Simpson Performance Products is headquartered in New Braunfels, TX with more than 80,000 sq. feet of manufacturing and warehouse space. Many of our restraints, helmets and flagship parachutes are manufactured and tested right here. Simpson fire suits and crew uniforms are manufactured outside of Los Angeles, CA in our 52,000 sq. foot facility. Simpson also employs the largest customer service and sales team devoted solely to servicing NASCAR customers of any racing safety supplier, based in the heart of NASCAR country, Mooresville, NC. Visit us online at www.TeamSimpson.com!
If you would like to receive Brady's weekly releases, send an e-mail to sprntcar@hotmail.com with the subject "Brady".
Brady Bacon Racing would like the following sponsors for all their help: Fatheadz Eyewear, Oilfield Equipment and Manufacturing, Tel-Star Communications, PPM Titanium Products, Triple X Race Co., Infinity Shocks, Smiley's Racing Products, Heath Clips Lawn Care, Keizer Aluminum Wheels, Eaton Industrial Coatings, Pattison Precision Products, Wesmar Racing Engines, Butlerbuilt Seats, Hoosier Tire Southwest, Diversified Machine Inc., Brown and Miller Racing Solutions, Lightning Wings, Simpson, Pro Pan, CP Pistons, Schoenfeld Headers, Carrillo Rods, KSE Steering, All Star Performance, King Racing, Schroth Racing, FSR Radiators, Three-wide Clothing and Fuel Safe.