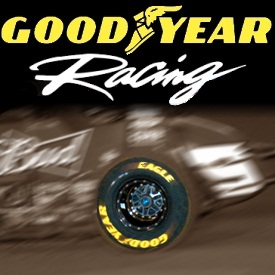 By Lee Elder
SALINA, Ok. (May 22, 2012) – Shayla Waddell became the first woman to win an Oil Capital Racing Series winged sprint car feature race when she won at Salina Highbanks Speedway here.
Waddell, a 19-year-old racer, previously won feature events in weekly competition at State Fair Speedway in Oklahoma City.
She became the latest in a long line of women to reach notable racing accomplishments on Goodyear tires. That list includes Shirley Muldowney's many wins and championships in NHRA drag racing and Janet Guthrie breaking the gender barrier at the Indianapolis 500.
Goodyear is the official tiremaker for the OCRS. The tiremaker manufactures a right rear tire specifically for the rigors of OCRS racing, but the remainder of the tires used by the OCRS comes from the same line Goodyear supplies to touring winged sprint car series such as the World of Outlaws.
Waddell started on the pole for the chase around the 3/8-mile oval and she stayed in front of the 24-car field. Matt Sherrell was second, followed by Sean McClelland, Fred Mattox and Jaime Passmore.
More information about Goodyear Racing is available at www.racegoodyear.com. More information about the OCRS is available at www.ocrsracing.com.
Goodyear employs about 73,000 people at manufacturing plants and facilities in 22 nations. Based in Akron, Ohio, Goodyear is among the largest tiremakers in the world and is the world-wide leader in race tire innovation.