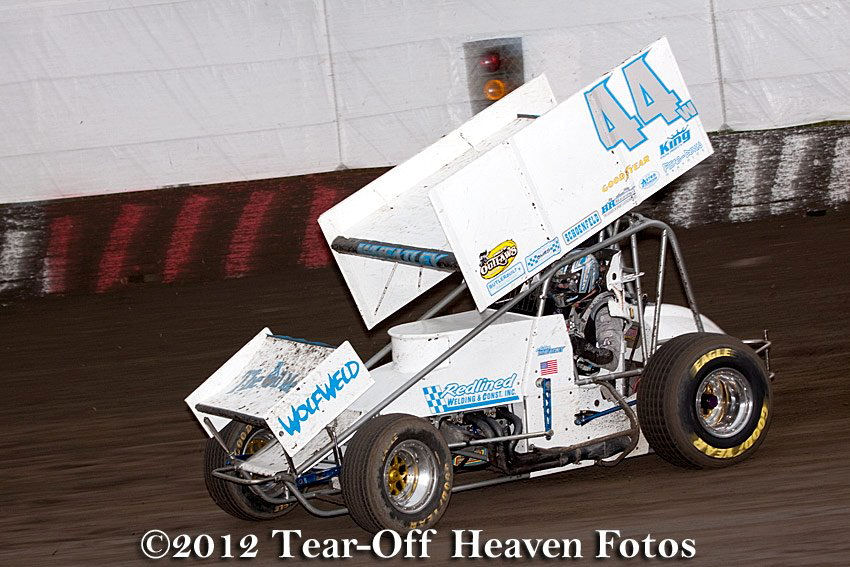 PETERSEN MEDIA
– Returning to action over the weekend, Austen Wheatley competed with the Fremont/Attica Sprint Title Series and scored a 10th place finish Friday night at Attica Raceway Park.
Starting in the last row of his heat, Wheatley worked his way to the sixth spot late in the race, only to come up just short of the fifth and final transfer spot, and found himself on the front row of the B-main.
Getting the jump at the start of the B, the Lake Stevens, WA driver picked up the win, and lined his King Racing Products/BR Motorsports/Redlined Welding and Construction up in the eighth row.
As the track gradually widened out as the feature wore on, Wheatley was able to slowly work his way forward inside the top 12.
"It (the track) started out pretty narrow, but as it began to widen out, we were really able to move around and pick up some spots," Wheatley quipped.
With the race winding down, Wheatley was able to snag the 10th spot at the stripe, and able to grab some much needed confidence.
"Luckily I had this thing dialed in tonight," Wheatley continued. "It was a different experience for me from driving the rig into the races, and working alone tonight. We've been talking to a few guys so hopefully I have some help soon."
Saturday night the scene shifted to Fremont Speedway in Wooster, OH, and Wheatley's night didn't quite go as well as Friday night did as he failed to make the feature.
"Saturday was wild," said Wheatley. "I felt like I had a bulls-eye on me, and any wreck that happened was right by me."
Timing in 20th, Wheatley started and finished seventh in his heat race and was forced to get through the B main event.
Lining up sixth in the B, 'Mini-Wheats' looked like he had a shot to reach the feature, but several evasive maneuvers saw the young driver lose valuable spots, and he missed out of the feature by just one position.
"It was a rough night, and hopefully we can get some momentum and keep getting some better finishes," Wheatley continued.
Austen and his team would like to thank King Race Products, BR Motorsports, The Oil Medics, Wolfweld, Redlined Welding & Construction, Schoenfeld Headers, Astro Titanium, BMRS, Fire-Down Graphics and ButlerBuilt for their support in 2012.
STAY CONNECTED: Stay updated with Austen by following him on twitter @MiniWheats44w, or by visiting his website www.austenwheatley.com.