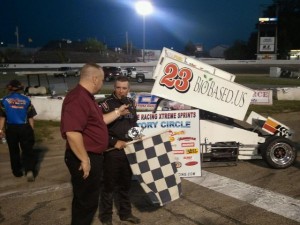 From Anderson Speedway
Anderson, IN — (May 23, 2012) — Michigan driver Jason Blonde inherited the lead on lap 27 of the Must See Racing Xtreme Sprint Series Winged Sprint series and went on to record the win at Anderson Speedway on Wednesday.
The winged sprint race is the prelude to the start of Pay Less Little 500 activities at the track with 41 cars on hand to try to make the 33-car field for Saturday's race.
Tanner Swanson jumped into the lead from the pole position after the fastest 10 drivers were inverted for the start. Blonde tucked in behind Swanson and appeared to be the only driver to be able to contend for the lead.
The first caution flag waved on lap 16 when Travis Miniea spun in turn two and on the restart Blonde made a run to the outside of Tanner, but was unable to grab the top spot.
On lap 27 Swanson's car suddenly slowed on the back straight and his night ended in the infield pit area. Behind Blonde were Kody Swanson, Ryan Gillenwater, Jason Cox and Troy DeCaire.
The race was red-flagged on lap 40 when Cox and Pierce spun coming off turn two and blocked the track.
Blonde pulled away from Kody Swanson on the final restart, with Swanson closing slightly in lapped traffic. But at the finish no one had anything for Blonde.
Kody Swanson finished second followed by DeCaire, JoJo Helberg and Gillenwater. Helberg started 10th in the feature
Blonde said it was his first win at Anderson Speedway, where he typically runs strong but doesn't have the finishes to reflect that.
Kody Swanson said Blonde ran a great race and was going to be tough to catch, especially when he encountered a mechanical problem late in the contest.
"The brakes went out and we were able to hold on for second, I'm pleased with that," he said.
California driver Helberg set a new track record for a winged sprint turning a lap during qualifications with a lap of 10.168-seconds (88.5 miles per hour) breaking the mark of 10.211-seconds (88.2 mph) set by Aaron Pierce on Sept. 17, 2011.
Dameron Taylor chased Travis Young for 26 laps looking constantly to the low side to make the pass, a pass that he finally accomplished on lap 27 entering turn three to record his first career victory in the Mel Kenyon Midgets.
At the finish Jessica Bean and Cory Horn got together on the front straight coming to the checkered flag as they battled for third. Horn tried to use the high line and Bean came high. After the contact, Bean's car slide across the finish line on its side.
On the first lap Tim Taylor ramped his son Dameron's tire and bounced off the turn three wall. Tim Taylor was the fast qualifier.
First round qualifications for the 64th Pay Less Little 500 will take place on Thursday, May 24, beginning at 1:30 p.m. with the 33-car field set during second round of qualifications on Friday afternoon. On Friday Night, The Ohio Express concert will be showcased at 7:30 pm. The 64th Pay Less Little 500 goes green approximately at 8 p.m. on Saturday night.
Tickets are available for the historic 64th Pay Less Little 500 at $28 for reserved seating. For more information, contact the Anderson Speedway Ticket Office at (765) 642-0206.
– www.andersonspeedway.com –
A-Main (60 Laps): 1. 23 – Jason Blonde, 2. 19 – Kody Swanson, 3. 91 – Troy DeCaire, 4. 7 – JoJo Helberg, 5. 45 – Ryan Gillenwater, 6. 07 – Jacob Wilson, 7. 88 – Jimmy McCune, 8. 81 – Travis Miniea, 9. 51 – Mike Larrison, 10. 26P – Aaron Pierce, 11. 40 – Jason Cox, 12. 26 – Jeff Bloom, 13. 20K – Kyle Flint, 14. 22 – Derek Snyder, 15. 41 – Brian Olson, 16. 64 – Mickey Kempgens, 17. 37 – Hank Lower, 18. 23s – Tanner Swanson, 19. 2T – Tom Tolbert, 20. 10K – Ron Koehler, 21. 55 – Dave Baumgartner, 22. 1 – Chris Neunenschwander.
Photo Gallery