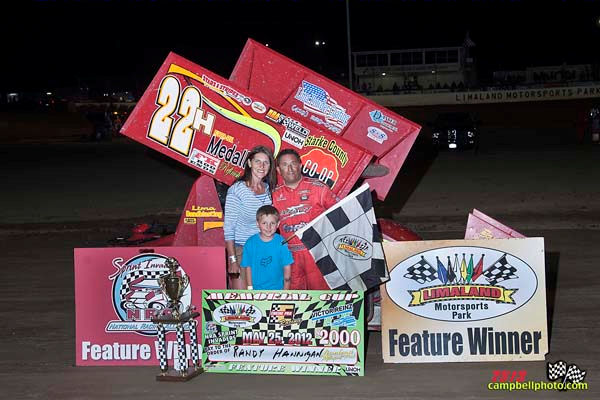 By Bob Buffenbarger, Mike Campbell Photo
Lima,Oh. – 5/25/2012- Randy Hannagan opened the three day Memorial Day weekend Ohio swing for the Engine Pro ASCS Sprints on Dirt presented by ARP/NRA with an exciting win at Limaland Motorsports Park on a warm Friday night. Chasing Hannagan was Shane Stewart, Ben Rutan, Jared Horstman and Hud Horton.
At the drop of the green of the 25 lap main event, pole sitter Dallas Hewitt led the initial circuit with Hannagan (also on the front row) and Ben Rutan soon were engaged in a three wide slide job swapping affair with Hewitt maintaining the lead and Rutan taking 2nd early on.
Lap 8 saw Hannagan make his make move as he took the lead but Rutan was keeping the pressure on and bringing Shane Stewart aboard the 3G, along with him. Also, 14th starting Jared Horstman was charging through the field taking over 4th.
By the 15th circuit Hannagan was beginning to stretch his lead while Rutan and Stewart were still staging a duel for 2nd place with Horstman in pursuit. A caution with 4 laps remaining closed the field up but when the green waved, Hannagan was up to the task and took the checkers with Stewart and Rutan following.
The five heat races were captured by Kyle Sauder, Dennis Yoakam, Hud Horton, Shane Stewart and Luke Hall. Three B mains were required due to the large car count and they were won by Tim Allison, Darren Long and Dustin Daggett. The first B main saw Greg Wheeler take a hard flip in turn two. Wheeler was not hurt.
Additional information regarding the American Sprint Car Series is available at www.ascsracing.com.
Engine Pro ASCS Sprints on Dirt presented by ARP Results
Friday May 25, 2012
Limaland Motorsports Park – Lima, Oh.
Heat Races (Top 3 Finishers Transfer to the "A" Feature)
Engler Machine and Tool Heat Race #1 (8 Laps): 1. 7K-Kyle Sauder; 2. 22-Ben Rutan; 3. OO-Ryan Grubaugh; 4. 46-Roert Huisken Jr.; 5. 23-Devon Dobie; 6. F37-Kyle Moffit; 7. 4J-Bob Gehr; 8. 27B-Brad Lamberson; 9. 10J-Jarrod Delong
Allstar Performance & Comp Cams Heat Race #2 (8 Laps): 1. 22D-Dennis Yoakam; 2. 4-Josh Turner; 3. 27K-Mark Aldridge; 4. 34-Jimmy Sneed; 5. 31-Andy Teunessen; 6. 82-Mike Miller; 7. 11N-Ed Neumeister; 8. 10-Jason Blonde
Butlerbuilt Seats Heat Race #3 (8 Laps): 1. 28H-Hud Horton; 2. 22H-Randy Hannagan; 3. 17-Jared Horstman; 4. 2MD-Dustin Daggett; 5. 27-Beau Stewart; 6. B20-Butch Schroeder; 7. 35-Ron Blair; 8. 49-Shawn Dancer; 9. 18-Todd Heuerman
Hoosier Racing Tire Heat Race #4 (8 Laps): 1. 3G-Shane Stewart; 2. 2M-Dallas Hewitt; 3. 5M-Max Stambaugh; 4. 11-Tim Allison; 5. 3W-Brett Mann; 6. 7-Darren Long; 7. 16C-Greg Wheeler; 8. 2G-Joe Geibe; 9. 12-Kent Wolters
Heat Race #5 (8 Laps): 1. 34H-Luke Hall; 2. 40-Caleb Helms; 3. 16-Ryan Ruhl; 4. 50B-Mike Burns; 5. 49T-Gregg Dalman; 6. 70-Jim Lingar; 7. 2-Brent Gehr; 8. 23M-Jack Miller; 9. 4S-Eric Smith
Engine Pro "B Main #1" 10 Laps (Top 2 Finishers Transfer to the "A" Feature): 1. 11-Tim Allison; 2. 49T-Gregg Dalman; 3. 18-Todd Heuerman; 4. 46-Roert Huisken Jr.; 5. 31-Andy Teunessen; 6. 10-Jason Blonde; 7. B20-Butch Schroeder; 8. 4J-Bob Gehr; 9. 23M-Jack Miller; 10. 16C-Greg Wheeler
B Main #2 10 Laps (Top 2 Finishers Transfer to the "A" Feature): 1. 7-Darren Long; 2. 49-Shawn Dancer; 3. 27-Beau Stewart; 4. 10J-Jarrod Delong; 5. F37-Kyle Moffit; 6. 11N-Ed Neumeister; 7. 34-Jimmy Sneed; 8. 2-Brent Gehr; 9. 50B-Mike Burns; 10. 12-Kent Wolters
B Main #3 10 Laps (Top 2 Finishers Transfer to the "A" Feature): 1. 2MD-Dustin Daggett; 2. 35-Ron Blair; 3. 3W-Brett Mann; 4. 27B-Brad Lamberson; 5. 2G-Joe Geibe; 6. 70-Jim Lingar; 7. 4S-Eric Smith; 8. 23-Devon Dobie; 9. 82-Mike Miller; 10. 98J-John Kettlewell
Engine Pro ASCS Sprints on Dirt presented by ARP "A" Main Event
"A" Feature (25 Laps): [#]-Starting Position
1. 22H-Randy Hannagan[2]; 2. 3G-Shane Stewart[6]; 3. 22-Ben Rutan[4]; 4. 17-Jared Horstman[13]; 5. 28H-Hud Horton[7]; 6. 11-Tim Allison[16]; 7. 40-Caleb Helms[10]; 8. OO-Ryan Grubaugh[11]; 9. 49T-Gregg Dalman[19]; 10. 49-Shawn Dancer[20]; 11. 2M-Dallas Hewitt[1]; 12. 34H-Luke Hall[5]; 13. 5M-Max Stambaugh[14]; 14. 7K-Kyle Sauder[9]; 15. 27K-Mark Aldridge[12]; 16. 7-Darren Long[17]; 17. 22D-Dennis Yoakam[8]; 18. 16-Ryan Ruhl[15]; 19. 35-Ron Blair[21]; 20. 4-Josh Turner[3]; 21. 2MD-Dustin Daggett[18]
Engine Pro ASCS Sprints on Dirt presented by ARP Point Standings (Top Fifteen):