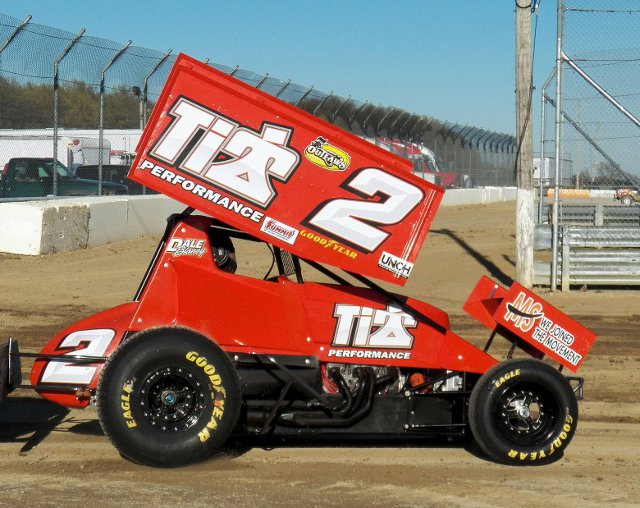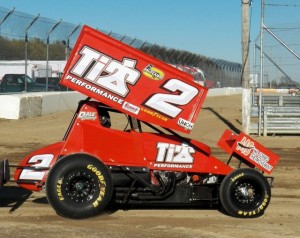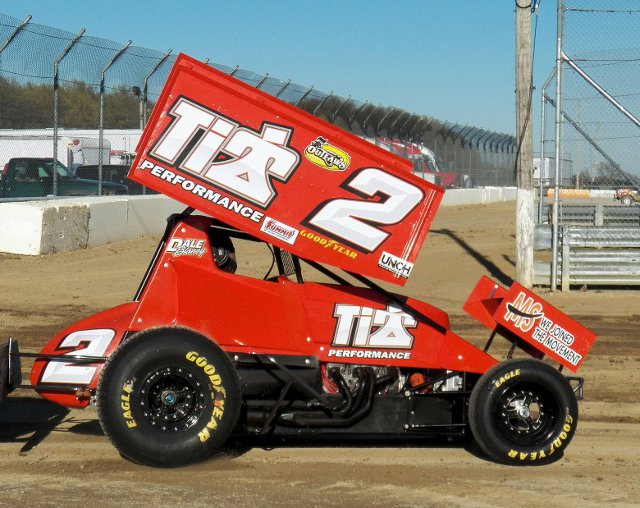 From Brian Liskai
Fremont, OH — (May 26, 2012) — Dale Blaney survived a lengthy red and a caution late in the race to score his 87th career University of Northwestern Ohio All Star Circuit of Champions victory to open the double-header weekend at Fremont Speedway Saturday, May 26.
For Blaney, it was his third UNOH All Star win of 2012 and 13th career victory at "The Track That Action Built" on Kear's Speed Shop Night. It was the 100th appearance of the UNOH All Stars at Fremont Speedway and Blaney is second to Jack Hewitt in the number of series victories at the track with 8.
"You never know…the wins could stop tonight…you never know. The way it's going we've been running really, really well this year. I don't think we've had a night where we've been disappointed. Last Saturday we weren't real good, but we will take fourth for not being very good. I love my guys, George, Troy, Bobby…Junior and Rick were here. It's pretty awesome to have all those guys working on it…they give me a great car every night," said Blaney beside his Ti22 Performance backed machine.
"I love coming here to Fremont…I've had a lot of success here and I'm looking forward to coming back tomorrow," said Blaney of Sunday's $10,000 to win finale. "Sitting in the race car you don't even think about what it pays. Hopefully we'll get here, draw a decent number, qualify well and take it from there. If this was a 50 lapper tonight it would have gotten interesting. The track changed a whole bunch toward the end. Fifth laps tomorrow…it will be fun."
Just like they did earlier this year at Attica, Blaney and former Fremont track champion Craig Mintz battled early for the lead. Mintz led laps 1-6 before Blaney drove under him. Mintz would stay close to Blaney and at one time early in the event when they were racing in traffic, there was a tremendous battle between those two, Tim Shaffer and Bryan Sebetto.
"It's just hard to be George (Fisher, owner of Blaney's car) and Dale and that car…they are just good and Dale doesn't make many mistakes," said Mintz of his second place run. "I would have liked to have gotten into lapped traffic and had a little race there but that #2 just kept getting smaller, smaller and smaller."
"These guys behind me…my dad and Brad and Kemp and my fiancée and Kevin Shammo and all my sponsors, Real Geese Decoys, Erie Shore Propane, KS Sales and Service, Kistler Engines, Wasserman Construction…these guys put this car here and I just put my foot on the floor," added Mintz.
After being involved in a tangle with Brandon Martin while battling for third on lap 21, which sent Martin flipping violently into turn four with his wing flying into the stands (no one was seriously hurt…a few fans were taken to the hospital for a check-up), Sebetto would get a last lap pass of Phil Gressman to finish third.
"That was 100 percent my fault. I ran it in there…we were just racing hard. That's what you get with a one lane race track…everyone is fighting to run in the same place. I feel bad for Brandon…we've been racing together since we were kids in go-karts. He's one of the last guys I'd do that to…I don't ever want to do that to anyone. I feel bad and I apologize. I know he's mad and I deserve the criticism…that was a pretty crappy move," said Sebetto beside his Hammer Pallets, Gressman Powersports, JLH General Contractors, Meggit Powdercoating backed machine.
"We don't have to change anything on this car for tomorrow…it was good enough to get up there and race with Craig and Dale but I just kept screwing up and blowing it through the cushion," added Sebetto.
In the Fremont Federal Credit Union 305 Sprints, Fostoria's Jamie Miller would survive several late race restarts to claim his second win of the year at Fremont (his other was a non-wing victory on May 12). Miller would lead all 25 laps for his 11th career win at the track. Miller, who started fourth, made a fantastic move on the initial start, splitting two cars to grab the lead.
"The way the track was tonight you had to get as many positions as you could off the start. It kind of fell into our place there at the start and I took advantage of it and just ran," said Miller beside his Crown Battery backed #4m. "I have to thank George Fisher…he builds a great chassis and Craig and Les Mintz helped us out a little bit tonight…we were struggling with this car but I think we found a little something here when it gets muddy."
In the Fremont Fence Dirt Trucks, Fremont's John Ivy would battle Dan Roepke Jr. throughout the 20 lap distance and then had to hang on the last four laps as a shock broke. But, Ivy would take the win, the 32nd of his career at Fremont, moving him into a tie for 10th with Wally Heminger on the track's all-time win list.
"She was bouncing around there those last few laps..she was a handful. I'm whooped," said Ivy, who also raced a 305 sprint to third place run. "I would have liked it to have been two wins tonight but we'll take what ever we can get. I think I have some more wins in me. I have to thank Charlie, Craig and the boys for giving me this truck…we've been having a ball," said Ivy beside his Perkins Tree Service, Diversified Machine and Welding backed truck.
Blaney and Mintz would bring the UNOH All Star field to the green for the 30-lap feature with Mintz grabbing the lead with Blaney glued to his rear bumper while Shaffer raced into third and Sebetto and David Gravel in tow. Mintz and Blaney would pull away from a tremendous battle for third between Shaffer and Sebetto with Danny Smith grabbing fifth.
The leaders would race into lapped traffic by the 7th circuit with Blaney driving under Mintz for the lead while Sebetto and Shaffer closed. Shaffer would do a 360 spin in turn two on the eighth lap to bring out the caution. Blaney and Mintz would pull away on the restart with Sebetto now battling 10th place starter Brandon Martin for third with Smith continuing to run fifth.
On lap 12, Todd Heller made contact with another car and slammed into the turn two soft wall to bring out the red. Heller was taken to the hospital for a precautionary check.
On the ensuing restart Blaney and Mintz would again pull away from the battle for third between Martin, Sebetto and Phil Gressman. By the 17th lap the leaders again raced into lapped traffic with the running order Blaney, Mintz, Martin, Gressman and Sebetto. Sebetto would drive back around Gressman into fourth on the 19th lap and began racing Martin hard for third.
On the 21st lap, the caution would fly for Andrew Palker who spun in turn two. On the restart, Blaney and Mintz would pull away with Martin and Sebetto still racing hard for third. As the drove into turns three and four, Sebetto and Martin got together, with Martin taking a nasty flip with his top wing flying over the tall front stretch fence into the stands. A few fans received bumps and bruises and were taken to the local hospital for a check up while track crews worked to repair the fence. Martin was uninjured.
Also in that incident, Brian Smith got upside down on the back stretch and was not injured. With nine laps to go when the green came back out and a clear track ahead of him, Blaney would pull away slightly from Mintz while Sebetto and Gressman battled for third. Sebetto would slide off the top side of turn two on lap 24, dropping back to fifth.
A Dean Jacobs spin on lap 25 would give Mintz one more shot at Blaney. Blaney would drop the hammer on the restart and pulled away to a three car length lead with Gressman, Smith, Sebetto and Gravel in tow. Sebetto would get around Smith with two laps to go to take fourth. As Blaney drove to the win over Mintz, Sebetto would slide in front of Gressman for the third spot coming to the checkered as Gravel would take fifth.
Jess Stiger and Alvin Roepke paced the 305 sprints to the green, but D.J. Foos would spin and Jeremy Duposki would get upside down to necessitate a complete restart. On the second try it was Miller who dove between Stiger and Roepke to grab the lead. Stiger and Roepke would battle for second with Caleb Griffith, Dustin Dinan and Ivy in tow. By the sixth lap, Miller had opened up a big lead as Griffith would drive around Roepke into third.
Miller would hit lapped traffic by the 7th circuit as Griffith drove into second. Miller would find heavy traffic by the 10th lap, but Griffith could not close as Sticker, Ivy and Roepke gave chase. The first caution would fly on lap 12 with the running order Miller, Griffith, Ivy, Stiger, Roepke, Nate Dussel and Jimmy Colvin.
With nine laps to go, Paul Weaver would slow in turn four to bring out another caution. On the restart Griffith tried to put pressure on Miller with Ivy, Roepke and Colvin in tow. On lap 18, Foos would spin again to bunch up the field one last time. With a clear track, Miller was unstoppable and pulled away for the win. Griffith, Ivy, Roepke and Dussel would round out the top five. For the second week in a row, Paige Polyak would earn the "hard charger award" for driving from 18th to a sixth place finish.
In the 20-lap dirt truck feature, Roepke and Ivy would bring the field to the green with Ivy taking the lead. Ivy and Roepke would run bumper to bumper, pulling away from a great third place battle between Steve Sabo, Bob Dible, Art Ball and Cory Ward. Ivy would catch lapped traffic on the 7th circuit, but a caution on the following lap for debris would give him a clear track.
On the restart, Ivy and Roepke would pick right back up on their battle for the lead with Sabo, Dible, Ball and Ward still fighting for third. Andrew Lutman would bring out the caution at the half way point, with Ivy and Roepke again pulling away on the ensuing restart.
The final caution would fly on lap 12 when Lutman spun again and Dible and Sabo making contact, ending Dible's night. Again on the restart Ivy and Roepke would pull away from the field and would race side-by-side for the lead. Sabo, Ward and Ball would also continue their great battle for third. Ward would take the position with five laps to go but couldn't close on the top two competitors.
Ivy would drive to the win over Roepke, Ward, Sabo and Ball.
Fremont Speedway – 5/26/2012
Kears Speed Shop Night
Fort Ball Pizza Palace 410 Sprints (35 Cars)
[#]-Starting Position
Qualifying – Callie's Performance
1. 54-Cap Henry, 12.990; 2. 2-Dale Blaney, 12.998; 3. 55-Brad Bowman, 13.025; 4. O9-Craig Mintz, 13.048; 5. 4-Danny Smith, 13.147; 6. 83-Tim Shaffer, 13.150; 7. 89G-David Gravel, 13.240; 8. 24H-Bryan Sebetto, 13.241; 9. 14H-Todd Heller, 13.256; 10. 3-Pete Miller III, 13.266; 11. 5R-Byron Reed, 13.272; 12. 5K-Adam Kekich, 13.272; 13. 53-Phil Gressman, 13.329; 14. 9X-Brandon Martin, 13.349; 15. 19-Stevie Smith, 13.372; 16. 45-Paul McMahan, 13.378; 17. 3L-Mike Linder, 13.408; 18. 14K-Cole Duncan, 13.417; 19. 57X-Andrew Palker, 13.423; 20. D4-Danny Holtgraver, 13.498; 21. 12-Jarred Ridge, 13.512; 22. 2+-Brian Smith, 13.518; 23. 44W-Austen Wheatley, 13.523; 24. 9Z-Duane Zablocki, 13.539; 25. O-Lee Jacobs, 13.592; 26. 16-Chris Andrews, 13.628; 27. 35-Stuart Brubaker, 13.669; 28. 83M-Broc Martin, 13.697; 29. 60-Jody Keegan, 13.747; 30. W20-Greg Wilson, 13.847; 31. 14-Chad Wilson, 13.850; 32. 46AU-Stuart Williams, 13.923; 33. 97-Dean Jacobs, 13.995; 34. 5T-Travis Philo, 14.037; 35. 17-Marty Perovich, 14.039
Heat 1 – (10 Laps – Top 5 finishers transfer to the A-feature)
1. 53-Phil Gressman[3] ; 2. 3L-Mike Linder[2] ; 3. 14H-Todd Heller[4] ; 4. 4-Danny Smith[5] ; 5. 97-Dean Jacobs[9] ; 6. 54-Cap Henry[6] ; 7. 60-Jody Keegan[8] ; 8. 12-Jarred Ridge[1]
Heat 2 – (10 Laps – Top 5 finishers transfer to the A-feature)
1. 14K-Cole Duncan[2] ; 2. 2+-Brian Smith[1] ; 3. 83-Tim Shaffer[5] ; 4. 9X-Brandon Martin[3] ; 5. 2-Dale Blaney[6] ; 6. 3-Pete Miller III[4] ; 7. 16-Chris Andrews[7] ; 8. W20-Greg Wilson[8] ; 9. 5T-Travis Philo[9]
Heat 3 – (10 Laps – Top 5 finishers transfer to the A-feature)
1. 57X-Andrew Palker[2] ; 2. 44W-Austen Wheatley[1] ; 3. 5R-Byron Reed[4] ; 4. 19-Stevie Smith[3] ; 5. 89G-David Gravel[5] ; 6. 35-Stuart Brubaker[7] ; 7. 14-Chad Wilson[8] ; 8. 55-Brad Bowman[6] ; 9. 17-Marty Perovich[9]
Heat 4 – (10 Laps – Top 5 finishers transfer to the A-feature)
1. D4-Danny Holtgraver[2] ; 2. 45-Paul McMahan[3] ; 3. 9Z-Duane Zablocki[1] ; 4. 24H-Bryan Sebetto[5] ; 5. O9-Craig Mintz[6] ; 6. 83M-Broc Martin[7] ; 7. 5K-Adam Kekich[4] ; 8. 46AU-Stuart Williams[8]
Dash – R & R (6 Laps, finishing order determined first 6 starting positions of A-feature
1. 2-Dale Blaney[2] ; 2. O9-Craig Mintz[1] ; 3. 24H-Bryan Sebetto[6] ; 4. 83-Tim Shaffer[5] ; 5. 4-Danny Smith[3] ; 6. 89G-David Gravel[4]
B-Main – Computer Man Inc. (12 Laps – Top 4 finishers transfer to the A-feature)
1. 55-Brad Bowman[2] ; 2. 54-Cap Henry[1] ; 3. 5K-Adam Kekich[4] ; 4. 35-Stuart Brubaker[8] ; 5. 16-Chris Andrews[7] ; 6. 3-Pete Miller III[3] ; 7. W20-Greg Wilson[11] ; 8. 83M-Broc Martin[9] ; 9. 60-Jody Keegan[10] ; 10. 14-Chad Wilson[12] ; 11. 5T-Travis Philo[14] ; 12. 46AU-Stuart Williams[13] ; 13. 12-Jarred Ridge[5]
A-Main – (30 Laps)
1. 2-Dale Blaney[1]; 2. O9-Craig Mintz[2]; 3. 24H-Bryan Sebetto[3]; 4. 53-Phil Gressman[9]; 5. 89G-David Gravel[6]; 6. 4-Danny Smith[5]; 7. 54-Cap Henry[11]; 8. 5R-Byron Reed[8]; 9. 3L-Mike Linder[16]; 10. 83-Tim Shaffer[4]; 11. D4-Danny Holtgraver[19]; 12. 45-Paul McMahan[15]; 13. 55-Brad Bowman[12]; 14. 97-Dean Jacobs[24]; 15. 14K-Cole Duncan[17]; 16. 44W-Austen Wheatley[21]; 17. 9Z-Duane Zablocki[22]; 18. 5K-Adam Kekich[13]; 19. 9X-Brandon Martin[10]; 20. 2+-Brian Smith[20]; 21. 57X-Andrew Palker[18]; 22. 35-Stuart Brubaker[23]; 23. 14H-Todd Heller[7]; 24. 19-Stevie Smith[14]
Hard Charger: 97-Dean Jacobs[+10]
Fremont Federal Credit Union 305 Sprints (24 Cars)
[#]-Starting Position
Heat 1 – (8 Laps – Top 5 finishers transfer to the A-feature)
1. 8B-Bobby Clark[2] ; 2. 3B-Jeremy Duposki[1] ; 3. 36-Seth Schneider[3] ; 4. 5-Dustin Dinan[8] ; 5. 1W-Paul Weaver[7] ; 6. 22D-Dan Hammond[5] ; 7. 10S-Roger Shammo[6] ; 8. 19R-Steve Rando[4]
Heat 2 – (8 Laps – Top 5 finishers transfer to the A-feature)
1. OO-Alvin Roepke[2] ; 2. 8J-Jess Stiger[1] ; 3. 1-Nate Dussel[7] ; 4. 10-Josh Harrison[3] ; 5. 83X-Nate Reeser[5] ; 6. 25-Jason Keckler[6] ; 7. 68G-Tyler Gunn[8] ; 8. 94K-Kurt Huber[4]
Heat 3 – (8 Laps – Top 5 finishers transfer to the A-feature)
1. 8K-John Ivy[2] ; 2. 4M-Jamie Miller[1] ; 3. 11F-D.J. Foos[3] ; 4. 40-Caleb Griffith[5] ; 5. 9-Jimmy Colvin[7] ; 6. 5R-Jordan Ryan[4] ; 7. 10X-Dustin Stroup[8] ; 8. 27-Paige Polyak[6]
B-Main – Computer Man Inc. (10 Laps – Top 5 finishers transfer to the A-feature)
1. 25-Jason Keckler[2] ; 2. 19R-Steve Rando[7] ; 3. 27-Paige Polyak[9] ; 4. 22D-Dan Hammond[1] ; 5. 5R-Jordan Ryan[3] ; 6. 10X-Dustin Stroup[6] ; 7. 68G-Tyler Gunn[5] ; 8. 10S-Roger Shammo[4] ; 9. 94K-Kurt Huber[8]
A-Main – (25 Laps)
1. 4M-Jamie Miller[4]; 2. 40-Caleb Griffith[6]; 3. 8K-John Ivy[5]; 4. OO-Alvin Roepke[2]; 5. 1-Nate Dussel[8]; 6. 27-Paige Polyak[18]; 7. 9-Jimmy Colvin[15]; 8. 5-Dustin Dinan[3]; 9. 83X-Nate Reeser[14]; 10. 8B-Bobby Clark[11]; 11. 19R-Steve Rando[17]; 12. 36-Seth Schneider[10]; 13. 8J-Jess Stiger[1]; 14. 11F-D.J. Foos[7]; 15. 1W-Paul Weaver[13]; 16. 25-Jason Keckler[16]; 17. 5R-Jordan Ryan[20]; 18. 22D-Dan Hammond[19]; 19. 10-Josh Harrison[9]; 20. 3B-Jeremy Duposki[12]
Hard Charger: 27-Paige Polyak[+12]
Fremont Fence Dirt Trucks (22 Trucks)
[#]-Starting Position
Heat 1 – (8 Laps – Top 5 finishers transfer to the A-feature)
1. O1-Art Ball[1] ; 2. 16-Steve Sabo[3] ; 3. D1-Dustin Keegan[8] ; 4. O9-Jeff Wank[7] ; 5. 9-Curt Inks[6] ; 6. 79-Andrew Lutman[4] ; 7. P51-Willie Keegan[2] ; 8. 4-Dave Brewer[5]
Heat 2 – (8 Laps – Top 5 finishers transfer to the A-feature)
1. 5JR-Jimmy McGrath Jr.[2] ; 2. 18W-Cory Ward[6] ; 3. 94-John Ivy[1] ; 4. 23M-Brad Mitten[7] ; 5. 71-Craig Holland[5] ; 6. 115-Ben Good[3] ; 7. 8KB-Kent Brewer[4]
Heat 3 – (8 Laps – Top 5 finishers transfer to the A-feature)
1. 17-Bob Dible[7] ; 2. 3R-Chuck Rolle[6] ; 3. 88-Dan Roepke Jr.[5] ; 4. 95-Keith Sorg[1] ; 5. 4X-Brian Sorg[3] ; 6. 99X-Gene Potridge[4] ; 7. 73-Cody Basinger[2]
A-Main – (20 Laps)
1. 94-John Ivy[2]; 2. 88-Dan Roepke Jr.[1]; 3. 18W-Cory Ward[10]; 4. 16-Steve Sabo[3]; 5. O1-Art Ball[6]; 6. 5JR-Jimmy McGrath Jr.[11]; 7. 3R-Chuck Rolle[7]; 8. D1-Dustin Keegan[5]; 9. 23M-Brad Mitten[12]; 10. 8KB-Kent Brewer[20]; 11. 9-Curt Inks[13]; 12. 4X-Brian Sorg[15]; 13. 71-Craig Holland[14]; 14. 95-Keith Sorg[8]; 15. 99X-Gene Potridge[18]; 16. O9-Jeff Wank[9]; 17. 115-Ben Good[17]; 18. 73-Cody Basinger[21]; 19. 17-Bob Dible[4]; 20. 79-Andrew Lutman[16]; 21. 4-Dave Brewer[22]
Hard Charger: 8KB-Kent Brewer[+10]

Photo Gallery