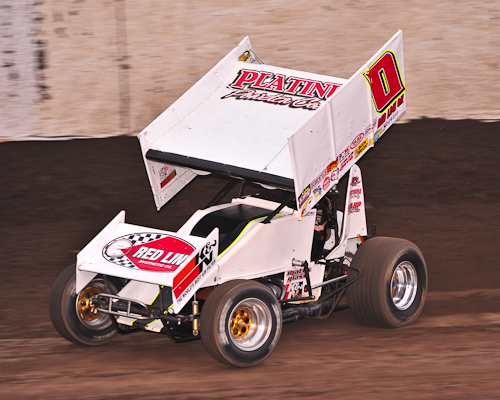 PETERSEN MEDIA
Saturday night at the Calistoga Speedway, Chico, CA driver, Jonathan Allard came up just short of his third victory on the Cancen Oil King of the West tour as he fell victim to a hard charging Tim Kaeding, before having a rough night on Sunday.
"Leading all those laps, and losing it at the end stings," said JA. "My guys gave me a great car, and I hate to lose one like that for them."
After a wild ordeal following the dash, where the second and third finishers were disqualified for not reporting to the scales, Allard found himself on the front row with Willie Croft.
When the green flag flew, it was Allard rocketing away to the lead, as he looked very tough very early, on the sticky surface.
Allard was dominating the field and working well through lapped traffic, until the caution flew late in the race bunching the field up, and putting a hard charging Tim Kaeding right behind him.
Back underway Allard grabbed the lead, but the top three of JA, Croft, and Kaeding were all within striking distance of each other.
Allard took the white flag as the leader, but heading down the backstretch, he got bottled up behind a lapped car, and TK squirted by him and went on to pick up the win with JA in the second spot.
Returning the speedway on Sunday, Allard started off the night strong as he timed in third quick, and ran second in his heat, putting him in the all-important dash.
A fifth place finish put Allard in the third row for the feature event, where things would get ugly early for the current point leader.
Heading into turn two on the second lap, Allard made contact with a spinning Tim Kaeding, and was forced to the work area for repairs, and restarted from the tail of the field.
Over the next 24 laps, JA wasted no time working his way through the field, as he had sliced and diced his way up to the sixth spot by the 23rd lap, but on the 24th lap he felt the wrath of the charge as he exploded a right rear tire on the white flag lap and brought out a caution.
JA would end up in the ninth spot as the race drew to a close.
"It's unfortunate what happened on the first lap, but I do hope Timmy is okay," said JA. "We got going pretty good from the back, but just lost a tire there at the end but still managed to end up in the ninth spot."
ON TAP: Allard will look to add to his points lead as the series now heads down south to the Kings Speedway on Saturday June 2, 2012.
STAY CONNECTED: For more information on Jonathan, including upcoming events, pictures, and news please check out www.allardmotorsports.com, or follow JA on twitter @Allard0.