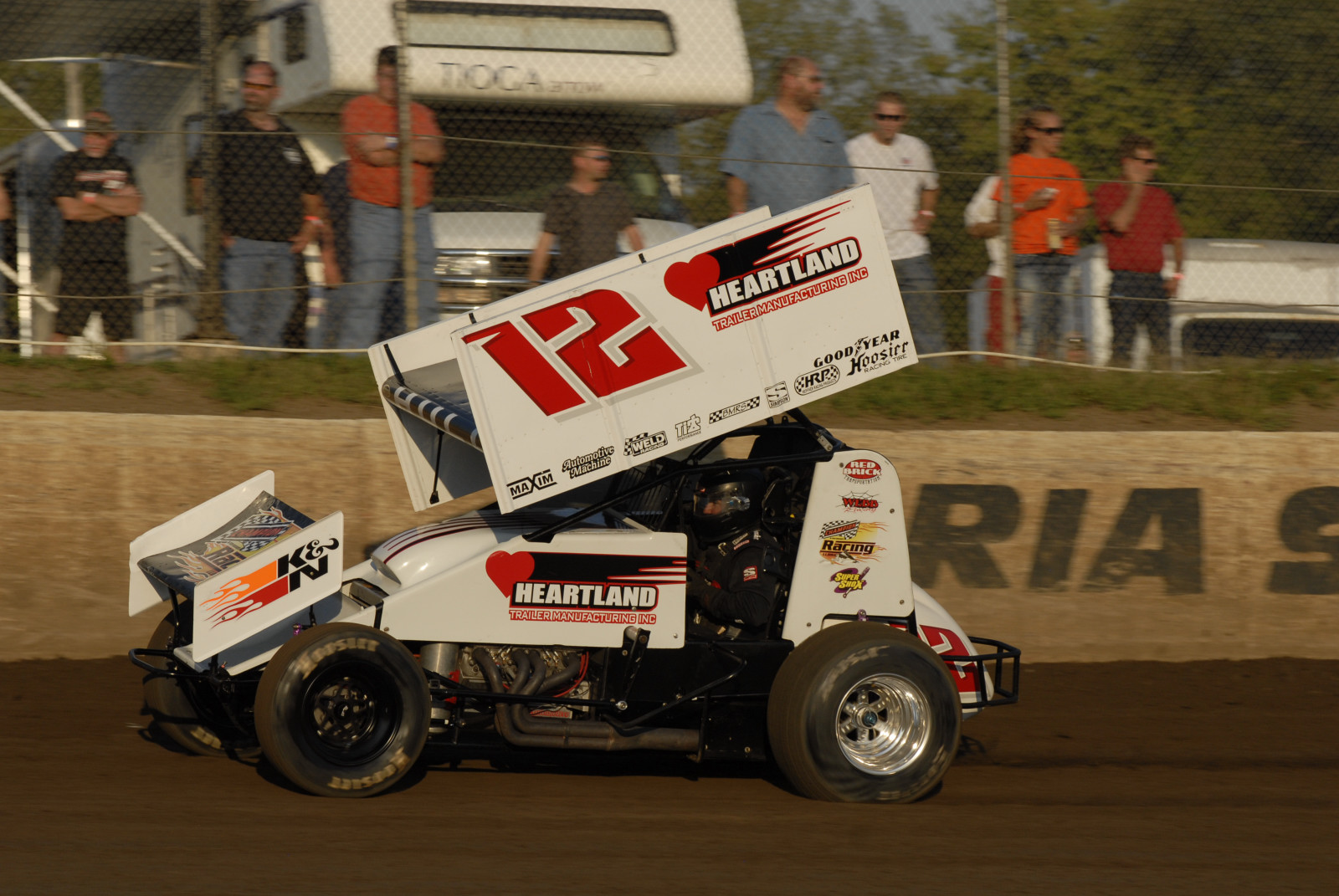 by Robert Cortum
Sikeston, Mo (05-30-12) –
The MOWA Series is finally off and running and the 2011 Champion, Jerrod Hull, has returned to the top spot due to his season opening performance. After finishing 2nd in the MOWA Season opener to AJ Bruns, Hull took the checkers at I-55 Speedway and finished out the weekend running 2nd to Outlaw Champion Danny Lasoski at 34 Raceway.
"It's been a great start to the season now that we have got that rain all pushed away from the tracks we run at," states Hull. "The 2012 MOWA drivers have really stepped up their programs this year and the competition is a lot tighter. It's going to be a lot of fun running with this group this year again."
Jacksonville, Illinois ended up being the season opener for the group as Lincoln and the original May 4th date at Jacksonville both succumbed to Mother Nature. Jacksonville is the place where Jerrod Hull historically shines, but that didn't stop friend and fellow competitor AJ Bruns from taking the big check at the end of the night.
"AJ is a good friend of the team and an awesome competitor, I'm really happy he was able to win at Jacksonville. It's like a home track to him also," added the 2011 MOWA Champion. "We kind of missed it a bit at the beginning and slid backwards. We caught an open red flag and my crew was able to make some changes that really made a difference."
The next stop on the schedule was the famous I-55 Speedway in Pevely, Missouri. Hull would dominate the feature event by leading the way of all 25 laps. On a track that featured multi-groove racing, it was no easy task for the Sikeston, Missouri racer.
"When a track has two grooves that are working really well you have to be on your toes a lot more. As soon as you feel comfortable on the bottom or the top you can get the sense that the other line is better, or even a third line develop. That's one of the best things about racing on dirt is that the surface can change so much even over a 25 lap feature. I'm just blessed we were able to get out of there with a good win for this team."
Excitement was in the air and motors were running wide open this past Sunday at Burlington, Iowa's 34 Raceway. The popular Southeast Iowa venue carries with it a strong sprint car fan following that dates back many, many years. Hull has conquered the facility many times in his career, but on this night, a couple of drivers decided to show up and try to crash the party. Former World of Outlaw Champion Danny Lasoski and Knoxville Raceway Champion Brian Brown were in the house and were set on taking home the night's big money. After a solid start that featured Lasoski and Brown shoot to an early lead with Hull in tow in 3rd, Brown would get tangled up with heavy lapped traffic, conceding 2nd to Hull. On an abrasive track, Hull would continue to maintain that position all the way to the checkers.
"Having Danny (Lasoski) and Brian (Brown) be in this field of cars really shows how for real this MOWA group is. I think we just missed with the tires a bit, but we will just take these notes back with us and be that much more ready the next time. It was unfortunate what happened to Brian, but those things happen, you race long enough the same thing is going to happen to almost every racer."
Next up for the Jerrod Hull will be a date with the Sprint Invaders at Peoria Speedway. Hull will be piloting the Dale Oaks owned machine. No stranger to the Oaks machine, the team looks to unite for an exciting night in the Central Illinois city.
The 2012 supporters of the Jerrod Hull Motorsports/Heartland Trailer Mfg. #12 Maxim are:
· Heartland Trailer Manufacturing, Inc.: www.heartlandtrailermfg.com
· Axis Products: www.axisproducts.com
· Champion Racing Oil: www.championbrands.com
· K&N Filters: www.knfilters.com
· Midland Performance
· Lighthouse Christian Center: www.lighthouseofdexter.org
· Got Dirt? Racing Promotions
· Sebastian Sandblasting
· Maxim Chassis
· Hoosier Racing Tires
· Weld Wheels
· Simpson Safety
· Super Shox
· Ti22
· BMRS
· HRP Wings
· Automotive Machine
· Red Brick Transportation
· Webb Racing