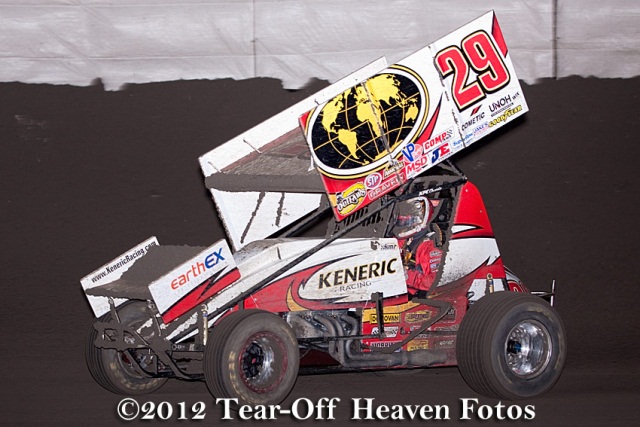 By Bill W
May 30, 2012 – For Kerry Madsen and the Keneric Racing #29 team, it was a solid week with the World of Outlaws. A good showing with quick time on LIVE TV highlighted the week. Solid finishes of ninth and seventh in Charlotte, North Carolina and Lawrenceburg, Indiana have the team carrying momentum into a big weekend in Ohio and Michigan.
Speed televised LIVE from the Dirt Track at Charlotte on Friday night. Kerry timed in quickest after pulling the last pill, making for good TV. "It could have been better, but it was a good run this week," he says. "It was good to get quick time, and do that going out last. It was good to do it on TV and have the people back in Australia see it."
Kerry ran well in the heat running second (from fourth), and then finished where he started in the Dash (eighth). He would end up ninth in the main event. "We were good in the heat," he says. "We had a little issue in the feature with the car toward the end that affected our performance. But overall, it was a good run. We got quite a bit of TV time, so that was good. It was a pretty exciting telecast."
Monday, Lawrenceburg Speedway hosted the World of Outlaws. "It was the same deal," says Kerry. "We went out late and were second quick. We've been working at that pretty hard, so it is sort of coming around. We're still pretty close to our baseline, but a little off of it."
After finishing fourth in the heat and eighth in the Dash, Kerry ran a good race to finish seventh on the high banks. "We had a pretty good run in the feature race," he says. "Starting eighth and finishing seventh sounds like a boring race, but trust me; there was plenty of wheel to wheel and elbow to elbow action. We had plenty of tussles with Sides and Kinser and Sammy and Joey. There was some pretty aggressive racing back there."
Kerry was complimentary of the venue, which he hadn't visited in a number of years. "It is an awesome facility," he says. "Everything is really nice. It is a weird track in that it has really banked corners up the hill, and then the straightaways are pretty flat. It is a pretty cool track really."
Things are looking up after the improvement in qualifying. "I think we are real close to turning this thing in the other direction," says Kerry. "It's still May. Good results are around the corner. We need to keep timing in that top five mark, and good things will come from that."
This weekend, the WoO visits Attica Raceway in Attica, Ohio on Friday, and the I-96 Speedway in Lake Odessa, Michigan Saturday. "Attica is going to be tough," admits Kerry. "There's going to be over 50 cars, and it's a place where the locals get gung-ho about the Outlaws coming to town. A bad draw there can get you behind, but I've been o.k. there. I'm not sure what I-96 will be like with the new configuration, but the way it was, wasn't great, so I'm looking forward to it."
Follow Kerry Madsen on his Website and on MySpace, Facebook and Twitter!
Follow Kerry Madsen at his website located at www.KenericRacing.com! Also keep up with him on Facebook and Twitter (which also can be accessed at the website) at the following links…
Facebook link = http://www.facebook.com/#!/pages/Official-Fan-Page-for-Kerry-Madsen/101145169933686
Twitter link = http://twitter.com/#!/kmr29
Kerry's Releases
To receive Kerry's Releases, send an e-mail to sprntcar@hotmail.com with "Madsen" in the subject line!
The Team
Kerry Madsen (KMR / Keneric Racing), Bob & Peter Gavranich (Keneric Racing), Earthex, Morrison Motors, KPC Chassis.