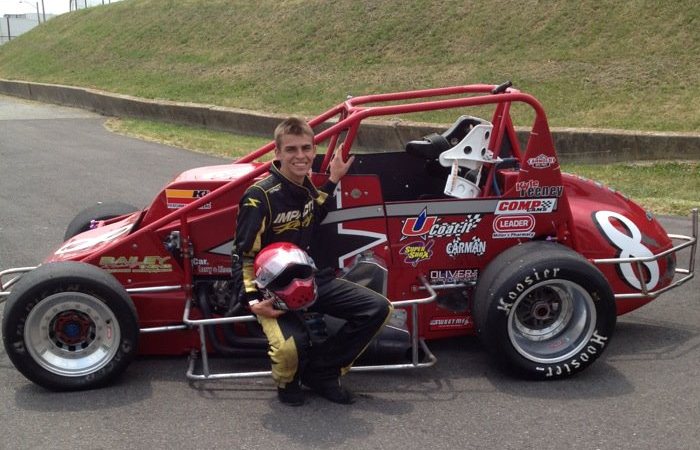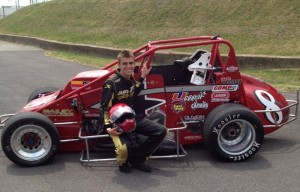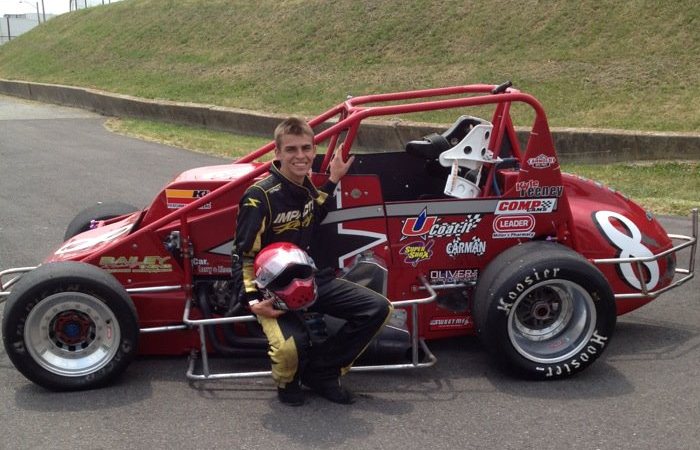 From MPH Promotions
Oxford, MI — (Friday, June 1st, 2012) — The Pay Less Little 500 at the fast ¼ (0.250) mile high-banked paved oval of Anderson Speedway in Anderson, Indiana is one of the most prestigious and grueling races in the country. 500 laps around a ¼ mile in a Non-Winged Sprint Car and Feeney Motorsports definitely knows the significance of the event.
May 26th will be a day that 18-year-old Kyle Feeney will never forget as the Oxford, Michigan teenager Qualified for the 64th edition of the race and would start 26th in the 33-car field and when all was said and done, he would come out of the marathon 500 lap event with a ninth place finish in an event won by fellow Great Lakes State driver, veteran Brian Tyler.
"I can't thank Larry Burkhardt and Marv Carman enough for the opportunity to drive their car. Not every car owner is will to take the chance on a rookie in this prestigious of a race." The appreciative driver stated. "I was little disappointed with the first day of qualifying. I was hoping to be positioned solidly in the field on Thursday, but I ended up 32nd which obviously was not going to hold up. My dad assured me he had been there many times before and Friday was a new day."
On Friday's Bump Day Qualifying, Feeney solidly locked himself into the show but at the expense of his Father, Kevin Feeney who was also driving a team car to his son for Carman, and veteran Hank Lower, who was driving a Feeney Motorsports entry. So the elder Feeney went up top to the "Birds Nest" to spot for his son for the 500-lap race.
"I was a little nervous before the start of the race but not as much as my dad was!" Laughed the Great Lakes State teenager, "It was a blast running for 500 laps and just did the best I could to run my own race and stay out of trouble. My pit crew did an awesome job, the first pit stop went as planned but then the engine started to overheat at the half way point of the race and we had to short pit on the second stop, but the team did an incredible job changing tires and fuel again, plus making an adjustment to the fuel system to cool the engine down. This was a bit of a gamble due to fuel mileage," He explained.
The strategy worked for Feeney as he was able to pit only once more to stop for fuel and not lose a position. "It did get kind of dicey in the closing laps as the tires went away, the early pit stop and fuel only left me to run the last 225 laps on the same set of tires. I would have never thought we could have come away with a top ten in our first race. I just can't thank everyone that helped enough." He stated.
Off the track, Kyle has a big week as he is graduating from Oxford High School with Top Honors in his class Summa Cum Laude with a 3.92 GPA. He has received the Presidential Scholarship from Saginaw State University and will enter their Mechanical Engineering program in the fall.
As for his Father, Kevin Feeney, he and Kyle will return to Auto Value Super Sprints competition this Saturday, June 2nd at the fast 3/8s (0.375) mile high-banked paved oval of Kalamazoo Speedway in Kalamazoo, Michigan as both veterans will be steering Marv Carman prepared Winged Sprint Cars. As Kevin busily prepares for the Kalamazoo he also is still beaming about the job his son did in one of the most prestigious races in the country;
"It was definitely a bitter sweet qualifying experience this year. It would have been nice to have raced with Kyle at his first Little 500 but I got to say I think I had as much fun spotting for him as I do racing there." He stated. "I have never been as nervous in my life as I was leading up to the green flag on race day. It is way easier to strap in one of those cars than to watch your kid do it for the first time." He laughed.
"After the green flag dropped it was all good and we had great communication throughout the race. Kyle did everything he needed to do and did an outstanding job avoiding some of the wrecks that come with starting 33 cars on a ¼ mile track." The 43-year-old continued. "I am extremely proud of him and the entire crew. I still can't believe they pulled off the second pit stop and changed the pill in the fuel system without losing time."
"All of us at Feeney Motorsports can't thank Larry and Marv enough for providing the opportunity and the crew; Moe, Mike Koss, Tylar Rankin, Bob Herrick, Dan Winters, Michael Feeney, Rick Walterspaugh, Chris Miller, Jerry Carman, Tracey Lower, Farah Lower. We're looking forward to next year already and hope to have another opportunity to put Hank Lower in the field too!" He ended.
Feeney Motorsports sponsors include; U Coat It Floor Coating as well as Comp Cams, Super Shox, Joe Gibbs Driven Racing Oil, Bailey Racing Engines, Simpson Racing Equipment, and M.P.H. Promotions. To learn more about Kevin and Kyle Feeney and the entire Feeney Motorsports Team, and to inquire about additional sponsorship opportunities for the rest of the 2012 racing season, go to the Facebook Fan Page at: www.facebook.com and search for "Feeney Motorsports" and click on the "Like" button today. A new website is coming very soon.