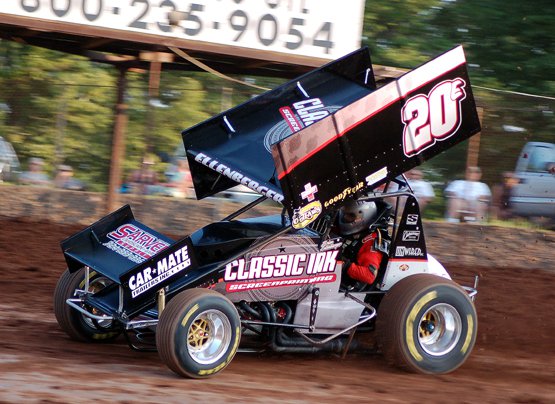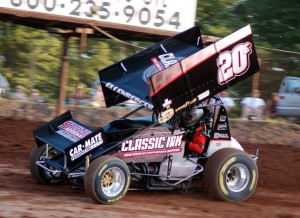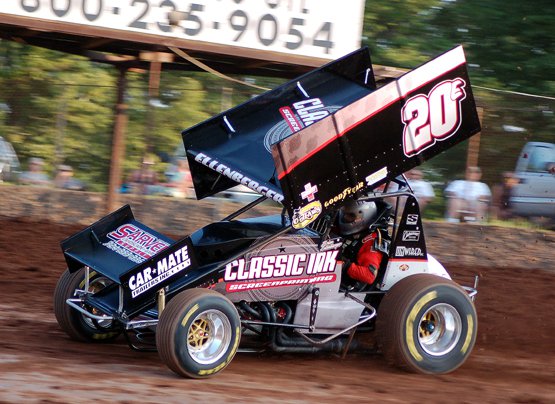 From Lernerville Speedway
By Eric Westendorf
Sarver, PA — (June 15, 2012) — After the wild men from Extreme Pyrotechnics lit up the sky with another rocking fireworks display, the Ti22 Performance DIRTcar Sprints rolled onto The Action Track with Eric "Turkey" Williams and Brian Ellenberger on the front row. Ellenberger jumped on top of a racy cushion around turns one & two and down the back straightaway to take the early lead while Williams hugged the bottom of turns three & four to reel him back in. By lap six, Ellenberger and Williams engaged lapped traffic and almost drove into a wild ride by Todd Bauer who flipped exiting turn four and landed in front of the flagstand just a short distance ahead of the leaders.
After the restart, Williams used a slidejob through turns three & four to take the lead from Ellenberger by sliding up to the wall and taking away his access to the launch pad off turn four down the front straightaway. Williams would officially lead the next 15 laps, but Ellenberger did frequently pass him down the back stretch, only to see Williams slide back under and past him exiting turn four. Ellenberger made his back stretch pass lead stick on lap 23 and he rolled into Sheetz Victory Lane for the second time this season.
Eric Williams scored the best finish of his blossoming career at Lernerville Speedway with a solid second place run, and like Steve Feder, his first career feature win appears to be right around the corner! Last week's feature winner Danny Holtgraver came from tenth to finish third. Jack Sodeman Jr. ran in the top five all race, including a few laps mid-race in second place, and finished fourth ahead of Kevin Schaeffer, whom also ran in the top five all race long. Defending Track Champion Carl Bowser finished sixth ahead of Sheldon Haudenschild, Brandon Spithaler, Andy McKisson and Scott Priester.
Andy McKisson, Brian Steinman and Brian Ellenberger were heat race victors; Rod George won the Ti22 B-Main after Brandon Matus went up in smoke and then fire while running away with the win on the white flag lap. Brandon was okay and helped launch the new promotional tee-shirts into the crowd while the #1 Cochran parade paced the track after fireworks.
Ti22 Performance DIRTcar Sprint Feature (25 Laps)
1. (20E) Brian Ellenberger, Butler
2. (7) Eric Williams, Greenville
3. (D4) Danny Holtgraver, Pittsburgh
4. (23Jr) Jack Sodeman Jr., N. Jackson, OH
5. (9) Kevin Schaeffer, Kittanning
6. (10) Carl Bowser, Sarver
7. (93) Sheldon Haudenschild, Woster, OH
8. (22B) Brandon Spithaler, Evans City
9. (O) Andy McKisson, Strattanville
10. (11) Scott Priester, Rimersburg
11. (3) Pete Miller, Port Vue
12. (CIII) Rod George, Kittanning
13. (33) Brent Matus, Wampum
14. (24S) Brian Steinman, Lucinda
15. (21N) Andy Priest, New Castle
16. (49) Bob Howard, State College
17. (44) Pete Landrum, Jeanette
18. (1R) Gale Ruth Sr., Pleasantville
19. (5) Bob McMillin, Wampum
(45) Todd Bauer, Clarion Heat Race Winners: Andy McKisson, Brian Steinman, Brian Ellenberger
B-Main Winner: Rod George