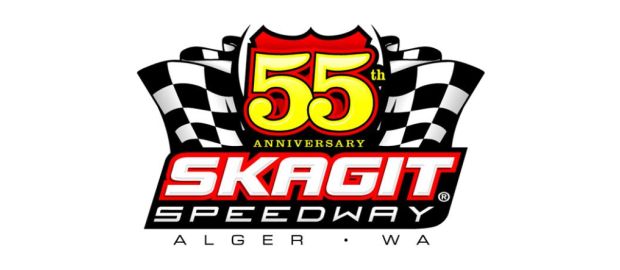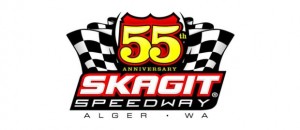 From Skagit Speedway
Alger, WA — (June 15, 2012) — The second night at the Jim Raper Memorial Dirt Cup presented by Goodyear was Friday night June 15th at Skagit Speedway.
Two-time Dirt Cup Champion Shane Stewart set fast time at 11.228 seconds around the high banked 3/10th mile pacing the field and earning 200 points to add to his total.
The five heat race winners were Chad Hillier, Roger Crockett, Mitch Olson, Toni Lutar and Jesse Whitney.
Winning the C main was Daniel Anderson, with Mike Melwicks second and Clayton Sibley, Jeff Westergard and Kelleigh Johnson rounding out the top 5. The top 4 transferred to the B main with Melwicks unable to answer the call moving Johnson into the final starting spot for the B.
The B main winner was Trevor Turnbull, and the other six move ups to the A main behind him in order were Sam Hafertepe, Jr., Tim Kaeding, Marc Dupperon, Eric Fisher, Trey Starks and Scott Parker.
Twenty two cars took the green flag for the 30-lap feature with Toni Lutar leading the first lap when caution came out for the first of 4 yellow flags in the first 9 circuits. Lutar held the lead until the lap 9 restart when Travis Rilat flew around him on the outside and lead the tenth lap. Behind the leaders Hafertepe and Kaeding were slicing and dicing through traffic. Each passing point in the main event worth two points per position gained and both drivers starting deep in the field. Rilat would hold the point for the remainder of the next 20 laps but faced a stiff charge late in the race from Shane Stewart who closed to within a rear nerf a few times in heavy traffic. Mitch Olson had a strong race running third most of the evening and finishing third, with Peter Murphy the Friday night winner fourth and Kaeding fifth.
In the companion Hornet Nationals race, Freddie Vela and Rick Young won the heat races. In the 15-lap main event Young and Vela came from 17th and 18th starting on the field to battle for the lead late in the race with Cliff Ballenger in the mix as well. At the finish Vela, Young and Ballenger were all touching as they crossed the stripe for an exciting main finish.
Saturday night racing For the Jim Raper Memorial Dirt Cup starts with the Scrambles after opening ceremonies at 7pm. The US Hornet Nationals will also conclude inside the Dirt Cup program.
Fast time: Shane Stewart 11.228
Heat 1 Chad Hillier, Willie Croft, Shane Stewart, Tim Kaeding, Jonathan Jorgenson
Heat 2 Roger Crockett, Travis Rilat, Jayme Barnes, Marc Dupperon, Eric Fisher
Heat 3 Mitch Olson, Craig Stidham, Jason Solwold, Henry Van Dam, Dean Brindle
Heat 4 Toni Lutar, Jonathan Allard, Peter Murphy, Kevin Smith, Trevor Turnbull
Heat 5 Jesse Whitney, Barry Martinez, Jac Haudenschild, Mike Melwicks, Shane Valliant
C Main Daniel Anderson, Mike Melwicks, Clayton Sibley, Jeff Westergard, Kelleigh Johnson
B Main Trevor Turnbull, Sam Hafertepe Jr., Tim Kaeding, Marc Dupperon, Eric Fisher, Trey Starks, Scott Parker, Kevin Smith, Dean Brindle, Jeff Westergard, Clayton Sibley, Shane Valliant, Daniel Anderson, Luke Didiuk, Kelleigh Johnson, Jonathan Jorgenson, Henry Van Dam, Josh Edson
A Main Travis Rilat, Shane Stewart, Mitch Olson, Peter Murphy, Tim Kaeding, Jason Solwold, Jesse Whitney, Sam Hafertepe Jr., Jayme Barnes, Jonathan Allard, Willie Croft, Toni Lutar, Trey Starks, Roger Crockett, Marc Dupperon, Eric Fisher, Trevor Turnbull, Craig Stidham, Chad Hillier, Scott Parker, Barry Martinez, Jac Haudenschild
Lap leaders Toni Lutar 1-9, Travis Rilat 10-30
Outlaw Hornets
Heat 1 Freddie Vela, Ben Gunderson, Cliff Ballenger, Becky Boudreau, Brian Michelson
Heat 2 Rick Young, Clint Meins, Matt Ploeg, Tyler Ketchum, Patrick Adams
Main Freddie Vela, Rick Young, Cliff Ballenger, Patrick Adams, Ben Gunderson, Clint Meins, Brian Michelson, Tyler Ketchum, Brett Lloyd, Matt Ploeg, James Sims, Mikey Powers, Jon Edwards, Becky Boudreau, Tina Thibert, TJ Campbell, Marky Toth, Terry Graul
Lap leaders Terry Graul 1-2, Cliff Ballenger, 3-11, Rick Young 12-14, Freddie Vela 15