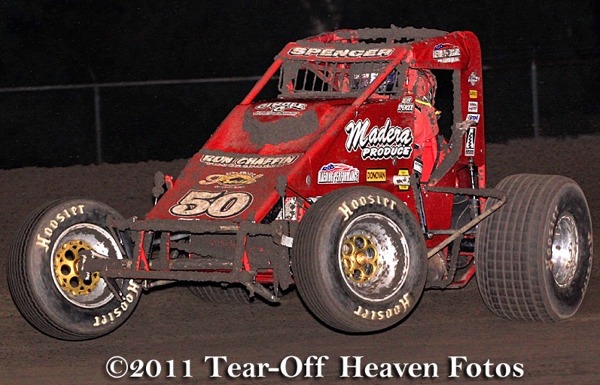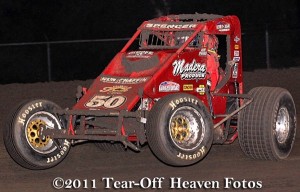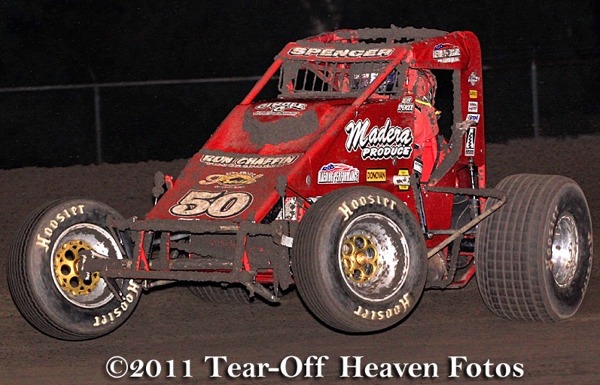 From Dick Jordan and Steven Blakesley
Watsonville, CA — (June 15, 2012) — Four-time USAC/CRA champion Mike Spencer of Temecula, CA defeated local favorite Ryan Bernal of Hollister to win Friday night's 30 lap feature for USAC/CRA and USAC Western Classic Sprints at Ocean Speedway Watsonville. Spencer's win against the field of non-wing 410 Sprint Cars paid $2500.
Spencer took over the lead from Bernal on lap 21 after Bernal moved up the race track in turn one to try Spencer's line. Spencer's win broke Cory Kruseman's streak of two straight USAC/CRA wins at the venue.
"It was fun racing Ryan," Spencer said. "He got a really good start but I could hang with him. I passed him when that red came out and I was worried that I showed him the middle where I was running. He was kinda searching and we were able to take advantage of that and get him out of turn two."
Bernal, who won the USAC Western Classic event in April at Watsonville, knew to expect a challenge from Spencer.
"I knew he was going to wait until about halfway to poke his nose in there," Bernal said. "Once we got that red I saw him up there but I just couldn't make it stick. We caught lapped traffic a little too late."
Young Brody Roa, fresh off his win at Yuma, AZ, led the field to green. Trouble struck early when Huntington Beach's Nic Faas stopped in turn two and Danny Sheridan rode a wheel and got a flat left rear tire. Sheridan was unable to return to competition. Ocean Sprints winged 360 points leader Shane Golobic of Fremont broke an axle while pushing off for the feature as well.
Bernal passed Roa for the lead on lap two and Roa dropped to the fourth spot when the red came out on lap four. Orland rookie Taylor Simas rode over the back of Tommy Laliberte in turn two for a wild flip that ended Simas' night.
Racing stayed clean and green until lap nine when 2011 USAC Western Classic champion Geoff Ensign of Sebastopol came to a stop in turn three after wheel banging with eight-time USAC champion Tony Hunt.
Bernal pulled away from Spencer and third place running Matt Mitchell of Yorba Linda until the caution came out again on lap 14 for young Evan Bonnema coming to a stop in turn four. The top-five remained unchanged upfront although Spencer pulled alongside Bernal multiple times in a great side-by-side duel while Mitchell tried to make the cushion work in turns one and two.
Battling from the sixth position on back included Brent Kaeding, Kruseman, Roa, and others. The red flag came out again on lap 18 when USAC Western Classic points leader Shauna Hogg and San Jose's Nick Green made contact in turn three sending Hogg flipping towards the wall. Santa Rosa's Marty Hawkins stopped but was able to resume.
On the restart, Bernal tried to work the second groove that Spencer had utilized and the veteran quickly took advantage. Coming out of turn two Spencer cut to the inside to take the lead at the competition of lap 21. "Cadillac" Cody Williams charged to eighth place under this green flag run on the cushion as well.
Spencer closed in on lapped traffic with two laps to go but navigated traffic nicely to take the victory ahead of Bernal, Mitchell, Rip Williams, and Austin Williams, with Cody Williams the hard charger of the night from 16th starting position to finish sixth.
Heat race wins went to Faas, Fremont's Shane Golobic, and Sheridan. Fast-time qualifier was Rip Williams with a 13.280 lap on the quarter-mile dirt track.
AMSOIL USAC/CRA-WESTERN CLASSIC SPRINT RACE RESULTS: June 15, 2012 – Watsonville, CA – Ocean Speedway
QUALIFICATIONS: 1. Rip Williams, 3, Jory-13.280; 2. Austin Williams, 2, Jory-13.665; 3. Ryan Bernal, 73, Ford-13.921; 4. Cory Kruseman, 7, Priestley-13.939; 5. Brent Kaeding, 69, Kaeding-14.066; 6. Mike Spencer, 50, Chaffin-14.273; 7. Tony Hunt, 56, Phulps-14.273; 8. Tommy Laliberte, 20X, Laliberte-14.369; 9. Shauna Hogg, 5, Hogg-14.375; 10. Marty Hawkins, 3M, Hawkins-14.431; 11. Matt Mitchell, 37, Mitchell-14.432; 12. Brody Roa, 91R, BR-14.525; 13. Nic Faas, 4, Alexander-14.534; 14. Nathan Washam, 33, Hood-14.568; 15. Evan Bonnema, 58, Bonnema-14.693; 16. Geoff Ensign, 3F, Finkenbinder-14.718; 17. Cody Williams, 44, Jory-14.772; 18. Danny Sheridan, 18, Kittle-14.934; 19. Taylor Simas, 7T, Simas-14.981; 20. Shane Golobic, 46, Von Schriltz-15.009; 21. Nick Green, 14X, Green-15.016; 22. Kyle Evans, 84, Evans-15.196; 23. Tyler Schmidt, 49, Schmidt-15.382; 24. Seth Wilson, 1X, Wilson-15.793; 25. Tom Baker, 3T, Baker-15.995; 26. Dustin Baxter, 25B, Baxter-NT; 27. Scott Pierovich, 14, Vertullo/Pierson-NT.
FIRST HEAT: (10 laps) 1. Faas, 2. Simas, 3. Kruseman, 4. Ensign, 5. R. Williams, 6. Hunt, 7. Hawkins, 8. Evans, 9. Baker. NT
SECOND HEAT: (10 laps) 1. Golobic, 2. Mitchell, 3. A. Williams, 4. C. Williams, 5. Kaeding, 6. Laliberte, 7. Schmidt, 8. Washam. NT
THIRD HEAT: (10 laps) 1. Sheridan, 2. Spencer, 3. Roa, 4. Bernal, 5. Green, 6. Wilson, 7. Bonnema, 8. Hogg. NT
FEATURE: (30 laps) 1. Mike Spencer, 2. Ryan Bernal, 3. Matt Mitchell, 4. Rip Williams, 5. Austin Williams, 6. Cody Williams, 7. Cory Kruseman, 8. Brent Kaeding, 9. Brody Roa, 10. Nic Faas, 11. Tommy Laliberte, 12. Seth Wilson, 13. Evan Bonnema, 14. Marty Hawkins, 15. Tyler Schmidt, 16. Kyle Evans, 17. Tony Hunt, 18. Shauna Hogg, 19. Nick Green, 20. Geoff Ensign, 21. Taylor Simas, 22. Danny Sheridan, 23. Shane Golobic. NT
—————————-
**Baxter flipped during qualifications. Baker flipped during the first heat. Simas and Hogg flipped during the feature.
FEATURE LAP LEADERS: Lap 1 Roa, Laps 2-20 Bernal, Laps 21-30 Spencer.
NEW AMSOIL USAC/CRA SPRINT STANDINGS: 1-Spencer-475, 2-Faas-416, 3-Matt Mitchell-375, 4-A.Williams-356, 5-Bernal-344, 6-Roa-322, 7-R.Williams-310, 8-Kruseman-278, 9-Wilson-270, 10-C.Williams-250.
NEW USAC WESTERN CLASSIC SPRINT STANDINGS: 1-Hogg-224, 2-Hunt-215, 3-Bernal-148, 4-Gordon Rodgers-132, 5-Baker-131, 6-Cody Gerhardt-117, 7-Tim Skoglund-117, 8-Pierovich-115, 9-Hawkins-115, 10-Matt Mitchell-113.
NEXT AMSOIL USAC/CRA SPRINT RACE: June 16 – Santa Maria (CA) Speedway
NEXT USAC WESTERN CLASSIC SPRINT RACE: June 16 – Santa Maria (CA) Speedway