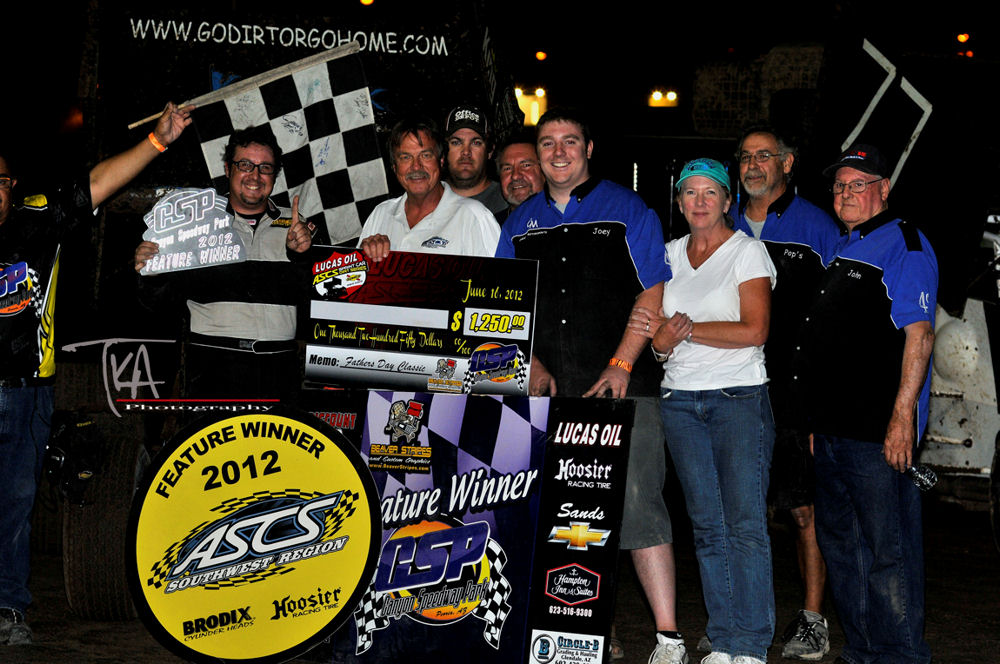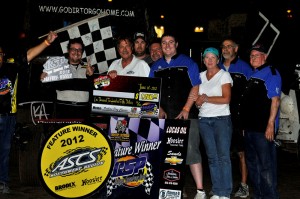 From Cody Morris
Peoria, AZ — (June 16, 2012) —  The ASCS Southwest Region fired into action with their sixth showing of the 2012 season and first since the beginning of April.
Saturday's one night stand marked the second Southwest visit to Peoria, Arizona's Canyon Speedway Park this season, with a solo outing in October being a prelude to the Western World Southwest finale at CSP.
Lance Norick led the field to the start of the 25 lap main event, with the only caution of the event negating that start as five time and reigning Southwest champion Rick Ziehl spun to a stop in turn one.
With the Southwest champ and point leader relegated to the tail of the field, Norick settled into the lead until Phoenix native Billy Chester battled past at the halfway point of the 25 lap affair.
Chester led the field with five rounds left and as hometown favorite Dalten Gabbard began to make his move for the top spot.
Just weeks since snaring his first career ASCS win in non-winged Canyon Region action at his hometown Peoria venue, Gabbard reeled in the leader in the final laps and mounted a final lap move for the win on the high side that fell short by a mere car length.
Billy Chester III held on for his first career ASCS win aboard the Marty Wilcox powered, BCF Flooring and Trafficade sponsored no. 4c XXX mount.
While one more lap might have delivered a first Southwest score for Gabbard, the young Peoria native settled for a Southwest career best runner up finish. Cave Creek, Arizona's Lance Norick claimed a season best show position finish with non-wing Canyon regular R.J. Johnson fourth.
Five time and reigning Southwest titlist and Las Cruces, New Mexico native Rick Ziehl rebounded from his misfortune on the initial start to complete the top five finishing order.
With discussions for an added Southwest date in the coming weeks pending, the ASCS Southwest Region is currently scheduled to resume their campaign on September 1st at Show Low, Arizona's Thunder Raceway.
ASCS Southwest Region / 14 cars
June 16th, 2012 / Event 6 of 15
Peoria, Arizona / Canyon Speedway Park
A Feature (25 Laps): 1. 4c-Billy Chester III[4]; 2. 77-Dalten Gabbard[3]; 3. 90-Lance Norick[1]; 4. 51-R.J. Johnson[6]; 5. 20z-Rick Ziehl[2]; 6. 8-Bob Ream Jr[5]; 7. 2m-Mike Martin[8]; 8. 41w-Joshua Williams[9]; 9. 97-Chris Bonneau[7]; 10. 57x-Steve Stone[11]; 11. 14-Darrell Sickles[12]; 12. 91-Casey Buckman[14]; 13. 13-Glenn Brace[10]; 14. 9-Ryan Linder[13]
Lap Leaders: Norick 1-12, Chester 13-25
Heat 1
(8 Laps): 1. 77-Dalten Gabbard; 2. 51-R.J. Johnson; 3. 90-Lance Norick; 4. 4c-Billy Chester III; 5. 57x-Steve Stone; 6. 91-Casey Buckman; 7. 9-Ryan Linder
Heat 2
(8 Laps): 1. 8-Bob Ream Jr; 2. 2m-Mike Martin; 3. 20z-Rick Ziehl; 4. 97-Chris Bonneau; 5. 41w-Joshua Williams; 6. 13-Glenn Brace; 7. 14-Darrell Sickles
2012 ASCS Southwest Region point standings (top ten):
1. Rick Ziehl 822; 2. Dalten Gabbard 815; 3. Lance Norick 774; 4. Joshua Williams 741; 5. J.T. Imperial 624; 6. Joshua Hodges 569; 7. Mike Martin 503; 8. Mike Rux Jr. 357; 9. Bob Ream Jr. 264; 10. Billy Chester III 260