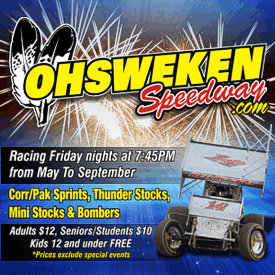 By Tommy Goudge
(June 20, 2012) – The first special event of the Ohsweken Speedway season hits the track this Friday when Jones Brown Insurance presents the first of four races in the Northern Summer Nationals Sprint Car series. The Lighthouse Tattoos Thunder Stocks, HRW Automotive Mini Stocks, and Pierced Parts Bombers will also be in action this Friday night, June 22 for round four of Friday Night Thunder.
NORTHERN SUMMER NATIONALS
The first two rounds of the Northern Summer Nationals Sprint Car series will take place this weekend, with Friday racing at Ohsweken Speedway, and Saturday at South Buxton Raceway. Three affiliated sanctioning bodies have officially signed up for the series, including Ohsweken's Corr/Pak Merchandising Sprint Car division, along with the Southern Ontario Sprints club, and Patriot Sprint Tour. NHRA drag racing star Cruz Pedregon will pilot a Glenn Styres-owned car on Friday night as well.
Ohsweken's own Glenn Styres currently leads the Corr/Pak Merchandising Sprint Car standings, and won the opening night feature. "Fenwick Flyer" Tom Huppunen is currently second in the standings, and has a feature win already this season. Burford's Jamie Collard is third, followed by Vineland driver Chris Steele, and Dain Naida of Tecumseh, Michigan. Steele claimed his first career Sprint Car feature win last Friday, and is one of many competitive drivers in the Corr/Pak division, which has averaged more than 30 cars per event so far in 2012.
Defending Southern Ontario Sprints champion Lee Ladouceur of Alexandria, Ontario took over the SOS points lead with a run to 3rd place from row 5 last weekend at Brighton Speedway. He leads the SOS brigade into this weekend's events, with other tour regulars such as Ridgetown's Adam West, Newmarket driver Dick Mahoney, Lefroy's Warren Mahoney, Jim Munsie of Pickering, Stouffville's Brad Lodge, and Mike Ferrell of London. Port Stanley driver Chris Durand, and Sutton's Bob Crawford have been in competition at Ohsweken already this season, and are also expected to attend both events this weekend.
Bryan Howland of Auburn, New York leads the Patriot Sprint Tour standings heading into this weekend's events, with Alden, New York's Scott Kreutter just 18 points behind. Both those drivers have competed at Ohsweken already this year, along with Jared Zimbardi of Salamanca, New York, and Cheektowaga, New York driver Todd Hoddick. Other PST regulars expected to race in Ontario this weekend include Williamsville, New York driver Don Adamczyk, and Belfast, New York's Steve Collins.
Any 360 Sprint Car which meets the Northern Summer Nationals rulebook will be allowed to compete, and the overall points champion of the 4 race Northern Summer Nationals miniseries will be guaranteed a spot in September's Canadian Sprint Car Nationals. The Empire Super Sprints series and ASCS Sprints on Dirt series do not have races scheduled this weekend, allowing Michigan's Dustin Daggett, and Quebec drivers Alain Bergeron and Michael Parent to join the large contingent of Sprint Car drivers making the trip to southern Ontario.
Last year's Northern Summer Nationals title was claimed by Bryan Howland. Keith Dempster claimed a feature win at South Buxton, and finished just 2 points behind Howland. Jamie Collard won in spectacular fashion at Ohsweken in August, while rain claimed the other two events last year.
LIGHTHOUSE TATTOOS THUNDER STOCKS
Cambridge's Wyatt Van Wart won two of the three features run last Friday night for the Thunder Stocks, and leads the championship chase as a result. Caistor Centre driver Cory Turner is second in the standings, followed by Port Robinson's Devin Habiuk, Brad Herron of Waterford, and Caledonia driver Lee Winger. Herron and Habiuk also have feature wins to their credit this season.
HRW AUTOMOTIVE MINI STOCKS
Caledonia driver Mike Evers is atop the Mini Stock standings heading into this Friday's event, followed by Hamilton's Brittani Myers, Steve Hess of Ohsweken, Paris driver Steve Miller, and the Burlington team of Mike Taylor and Mark Czuba. Evers, Jeremy Hughes, Jason Lungaro, and Czuba have won the four features run so far this year.
PIERCED PARTS BOMBERS
Hamilton's Max Chechalk is the points leader in the Bombers division by just one point over Caledonia driver Jesse McDonald, despite two feature wins already this year. Davey Boughton of Carlisle has also won a feature this year, and is currently third in the standings, followed by Hagersville driver Dusty DeBoer, and a fifth place tie between Hamilton's Jeremy May, and Burlington driver Ian Myerscough.
TICKETS PLEASE!
Advanced reserved seat tickets for "Tony Stewart at Ohsweken" July 30, World of Outlaws Sprint Cars "Six Nations Showdown" July 31, and the 8th annual Canadian Sprint Car Nationals September 14 and 15 at Ohsweken are on sale now! Please visit www.OhswekenSpeedway.com and call 1-888-720-RACE to order yours today!
RIDE WITH THE PROS
Ohsweken Speedway has two custom-built two-seater Sprint Cars available each race night for rides. Please visit www.OhswekenTwoSeater.com to learn how you can take the ride of your life with one of the stars of the Corr/Pak Merchandising Sprint Car division!
OUR SPONSORS
About Jones Brown Insurance: Jones Brown Motorsport is Canada's insurance provider to the motorsports industry. They offer the widest range of products specifically designed to protect motorsports associations, facilities, teams, and special events. As this country's only dedicated supplier of motorsports insurance products and services, they provide the broadest coverage, exclusive risk management advice, and the strongest negotiation available on your behalf. Their team's in-depth knowledge of industry challenges and service requirements includes over 50 years of first-hand experience. For more information on motorsport products and programs, please visit www.JonesBrown.com.
About Corr/Pak Merchandising: Founded in 1997, Corr/Pak Merchandising Inc. is based in Richmond Hill, Ontario, and is a designer and producer of Point of Purchase (POP) displays for retail. Strong emphasis on creative design and speed of response has seen Corr/Pak achieve great success in a very competitive industry. Their in-house capabilities and broad range of trusted suppliers enable them to develop any sort of effective solution for your retail display needs, no matter the materials used – whether corrugated, wood, boxboard, plastic, wire, steel, or any combination of those. Corr/Pak's support of the Sprint Car division at Ohsweken continues for a fifth consecutive season in 2012. Please visit www.CorrPak.ca for more information on the title sponsor of Sprint Car racing at Ohsweken Speedway.
About Lighthouse Tattoos: The friendly and knowledgeable staff at Lighthouse Tattoos are there to assist you in choosing a tattoo from thousands of in-store designs, or they can create a custom tattoo using your own idea. Lighthouse Tattoos is a clean and sterile environment, and is health department inspected and approved. They provide a fun and relaxing atmosphere to make sure your tattoo experience is a memorable one. Visit the title sponsor of Thunder Stock racing at Ohsweken at 245 Lakeshore Road East in Mississauga, or online at www.LighthouseTattoos.com.
About HRW Automotive: HRW was founded by Robert Workman in 1990. By providing good old-fashioned customer service, HRW has gained a loyal following in the community. You can entrust all of your vehicle's service and repair needs to the team of automotive professionals at HRW Automotive. Visit the title sponsor of Mini-Stock Racing at Ohsweken Speedway at 163 Baptist Church Road in Caledonia, or on the web at www.HRWAutomotive.com.
About Pierced Parts: Pierced Parts Body Jewellery retail stores are located in Brantford, Waterloo, and London. Pierced Parts offers wicked selections of body jewellery, crazy contacts, and hair dye for the alternative lifestyle. Visit the title sponsor of Bomber racing at Ohsweken on the web at www.PiercedParts.com.
THIS WEEK AT OHSWEKEN
Ohsweken Speedway's Friday Night Thunder continues this Friday, June 22 when Jones Brown Insurance presents the opening round of the Northern Summer Nationals Sprint Car series. Ohsweken's Corr/Pak Merchandising Sprint Car stars will be joined by drivers and teams from the Southern Ontario Sprints, and Patriot Sprint Tour for a big $3,000-to-win event, which will also include NHRA star Cruz Pedregon. The Lighthouse Tattoos Thunder Stocks, HRW Automotive Mini Stocks, and Pierced Parts Bombers will also be part of the fourth round of Friday Night Thunder this week.
Friday Night Thunder at Ohsweken offers affordable, exciting, family entertainment just a short drive from many Mid-Western Ontario locations. Adult general admission for this special Northern Summer Nationals event is $20, while seniors and students are $10, and kids age 12 and under are FREE!
Spectator gates open @ 6:00p.m., with the first race taking the green flag at 7:45p.m. this Friday, June 22nd. Visit www.OhswekenSpeedway.com and Feel The Excitement!