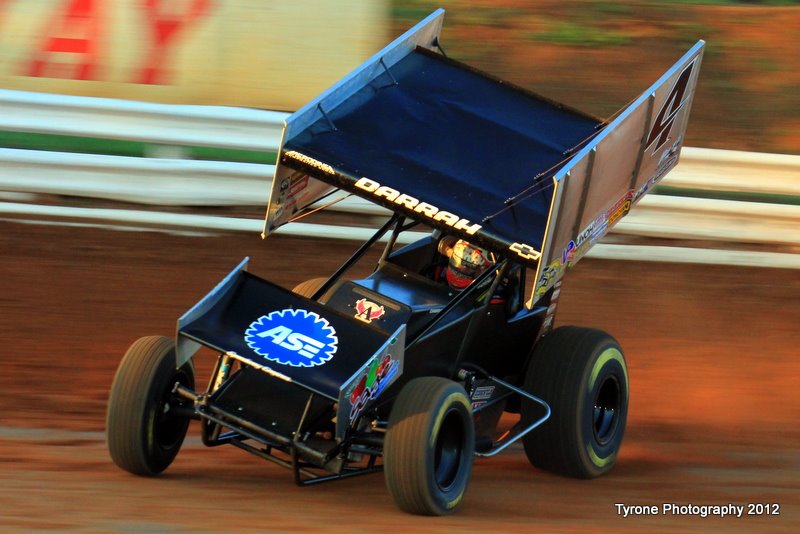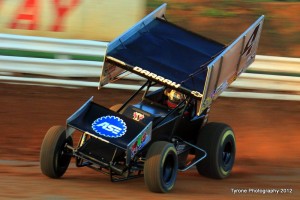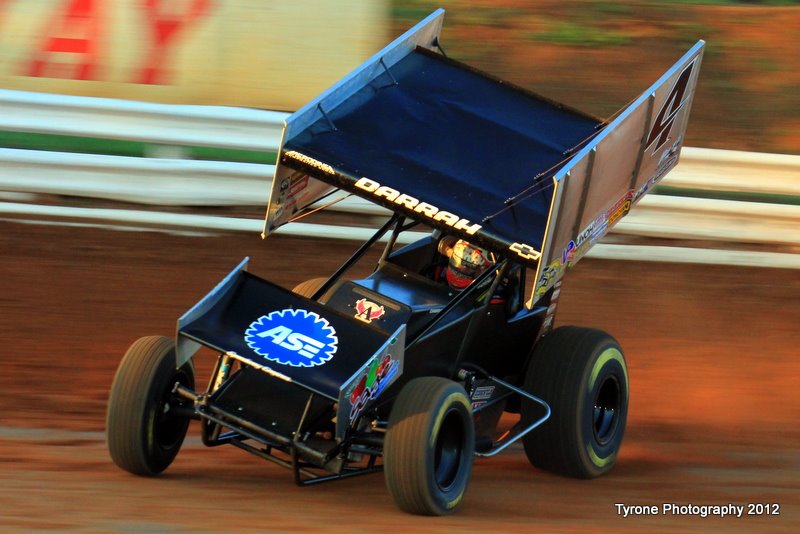 From Peterson Media
Spending the weekend racing in historic Dodge City, KS in the Boot Hill Showdown, Cody Darrah followed a 14th place effort on Friday up with a strong fifth place finish Saturday night.
"We struggled pretty bad on Friday from qualifying to the feature, but luckily we turned it around on Saturday," said Darrah.
Friday night was indeed subpar for the Kasey Kahne Racing/Sage Fruit/Team ASE team as Darrah timed in 15th quick, putting him in the third row of his heat race.
Tallying a fifth place finish, Darrah would transfer to the feature but would start in the 15th spot.
Marred in thick, and heavy traffic, Darrah wasn't able to move forward as he fell back as far as 17th, but was able to work up to the 14th spot at the stripe.
Saturday night during the final night of the showdown, Darrah had a much better night.
From start to finish the night was much better for Darrah and his Schroth Racing/Roth Motorsports/Ollie Bargain Outlet No. 4 machine.
Timing in ninth quick, Darrah lined up on the front row of his heat, which he won, putting him in both the feature and in the dash to determine his starting position.
Starting in the eighth spot of the dash, Darrah would finish in the same spot, and line up for the 30-lap feature in the fourth row alongside Craig Dollansky.
On the start of the race, Darrah was able to make his way into the fifth spot, as the racetrack was very narrow.
With a little passing occurring early, Darrah would maintain the fifth spot, as he track became tough to pass on in the closing laps.
At the stripe, Darrah would hold the fifth spot, his sixth top five of the year, and 12th top ten of the season.
"We were much better on Saturday night compared to Friday," Darrah explained. "It was a true testament to this team and learning from Friday. Luckily we were able to get a few spots at the beginning of the A, because it really got tight and narrow towards the end of the night."
ON TAP- Cody and his KKR team will remain in Kansas for another week as they are scheduled to hit the Bellville Highbanks on Friday night before a stop at the Lakeside Speedway in Kansas City, KS on Saturday.
STAY CONNECTED- Check in to www.codydarrah.com or visit his facebook page, http://www.facebook.com/pages/Cody-Darrah/164513250262145?ref=ts for the latest news on Cody.