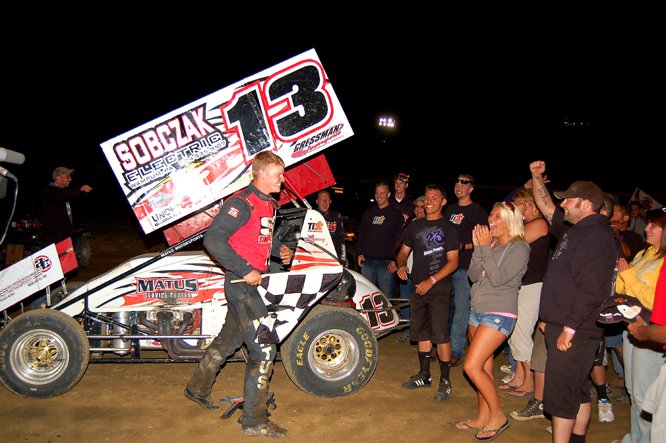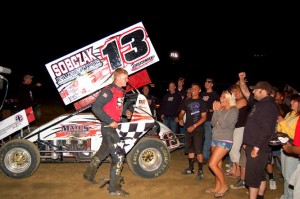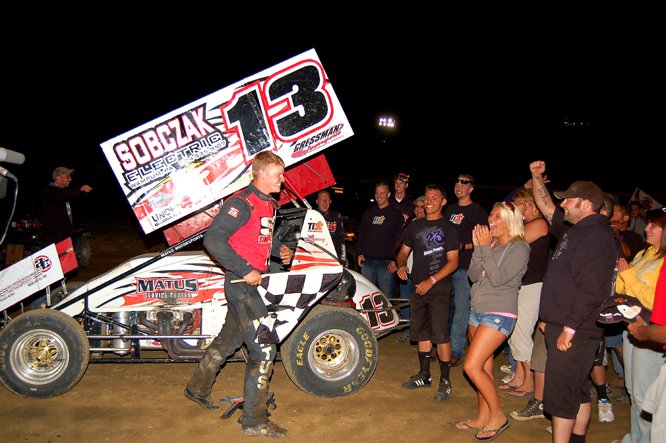 From Brian Liskai
Hartford, OH — Tuesday, June 26, 2012 — After several attempts to finish the 30-lap feature at Sharon Speedway Tuesday night there were only three cars in front of the field that hadn't blown tires. It was Wampum, Pennsylvania's Brandon "The Wheel Man" Matus who nursed his tires enough to take his first ever University of Northwestern Ohio All Star Circuit of Champions victory on night #5 of the 30th Annual Ohio Sprint Speedweek.
There were several attempts at a green, white checkered finish that resulted in race-long leader Tony Stewart finally blowing his right rear, followed by then leader Kyle Larson and Dale Blaney. When the green came out, leader Logan Schuchart raced around to the white flag, but his right rear tire let go and he kept going as Matus, who started 18th, drove by and went on to the biggest win of his young career much to the delight of the local crowd.
"I wish I knew how I saved enough of my tires. Everyone knows me for loving these slick tracks. Running up in the dust under cautions helped I know that, but just easy on the throttle…that's it," said Matus beside his Sobczak Electric, Matus Service Center, Miller Masonry, Gressman Powersports backed machine.
"I was a bundle of nerves those last couple of green, white, checkered attempts. There's so many things going through your head…you have no idea. I didn't know if the tire would last," added Matus of his GF1 Chassis, Ti22 sponsored #13. "I have to thank my Mom, Dad, Sister…everybody."
Paul McMahan would come back from an early flat tire to take second after restarting fourth on the final attempt at the finish.
"That was kind of our game plan. We didn't have much tire left after the heat race. I thought maybe I might be able to save it but it just kept getting flatter and worse and worse. So I just decided to try and tear it up…it's a bad thing to do but it's what you have to do and it paid off for us tonight. We missed it by one spot. Congratulations to those guys (Matus)…he drove a heck of a race to save that tire for 30 laps…he did a heck of a job," said McMahan beside his Bryan Grove Racing, Canton Erectors, Berlin Natural Bakery backed #45.
Another of the cars that did not require a tire change – Eric Williams of Greenville, Pa. – would come home third.
"Under that red flag (a fuel stop before the first attempt at a green, white, checkered finish) they told me I hardly had any air left in the right rear so they put some air in it and I was just hoping it would hold," said Williams beside his Approved Toilet Rentals, McClung Auto Body, Rentools and Equipment backed #7. "I just tried to nurse it to the end. I was debating on coming here tonight…I'm glad I did."
Tony Stewart and Dale Blaney would bring the field to the green of the 30-lap feature with Stewart blasting into the lead while Blaney had his hands full with the winner of the previous two nights, Kyle Larson with Caleb Helms, Logan Schuchart, McMahan, Tim Shaffer and Sam Hafertepe Jr. in tow. Stewart would pull away and hit lapped traffic by the sixth circuit with Blaney, Larson, Helms and Schuchart in tow.
With eight laps in the books, Stewart was mired in lapped traffic, allowing Blaney to close with Larson comfortably in third while Helps battled with Schuchart and Hafertepe for fourth. Once clear of traffic, Stewart again pulled away from Blaney, Larson, Hafertepe and Schuchart.
The tire situation began on lap 19 when Danny Smith suffered a flat to bring out the caution. On the restart Stewart would pull away from Blaney and Larson. Bryan Sebetto's tire would let go on lap 23 for another yellow. And again, Stewart would blast away on the restart with Blaney, Larson, Hafertepe, Schuchart, Helps and McMahan in pursuit. With six laps to go, McMahan's tire finally blew for another yellow. A lap and another flat, this time for Stevie Smith.
With five laps to go, the running order was Stewart, Larson, Blaney, Hafertepe, Schuchart and Eric Williams. This time the field was able to get two laps in before Stewart's right rear left go and he retired pit side, handing the lead to Larson. But, the caution flew when several cars blew tires.
That set up the first attempt at a green, white, checkered. On the first attempt, Shaffer blew a tire, followed by Blaney on the second try, necessitating the fuel stop. On the restart, both Larson and second place running Hafertepe suffered flats, handing the lead to Schuchart, who, along with Matus and Williams, were the only cars left from the original start of the event that had not had a flat.
The green came out and Schuchart looked like he might nurse his car home to the victory. He raced around to the white, but when he entered turns one and two, his right rear let go as Matus, McMahan – who had come from the back of the backing the last five laps after getting a new right rear – and Williams applied pressure. Matus stayed glued to the rubber on the bottom and drove home to the victory.
McMahan, Williams, Mike Linder and Stevie Smith – the later two having changed flat tires late in the race – would round out the top five.
UNOH Night
All Star Circuit of Champions (43 Cars)
[#]-Starting Position
Qualifying – Kistler Engines
1. 14-Tony Stewart, 14.806; 2. 1S-Logan Schuchart, 15.020; 3. 1K-Kyle Larson, 15.088; 4. 83-Tim Shaffer, 15.104; 5. 2M-Dallas Hewitt, 15.141; 6. 2-Dale Blaney, 15.145; 7. 89G-David Gravel, 15.157; 8. 2L-Ed Lynch, 15.174; 9. 40-Caleb Helms, 15.192; 10. 45-Paul McMahan, 15.206; 11. 15H-Sam Hafertepe Jr., 15.212; 12. 3L-Mike Linder, 15.214; 13. W20-Greg Wilson, 15.247; 14. 35-Stuart Brubaker, 15.255; 15. 7-Eric Williams, 15.263; 16. 24H-Bryan Sebetto, 15.323; 17. 33-Brent Matus, 15.343; 18. 5B-Adam Anderson, 15.364; 19. 3-Pete Miller III, 15.364; 20. 13-Brandon Matus, 15.382; 21. 4-Danny Smith, 15.389; 22. 19-Stevie Smith, 15.395; 23. 46AU-Stuart Williams, 15.415; 24. 17-Marty Perovich, 15.486; 25. 5T-Travis Philo, 15.519; 26. 94-Rob Chaney, 15.556; 27. 30C-Lance Dewease, 15.563; 28. 29-Shane Stewart, 15.565; 29. 6-Bill Rose, 15.613; 30. 5K-Adam Kekich, 15.616; 31. 24-Brian Steinman, 15.630; 32. O8-Dan Kuriger, 15.654; 33. 54-Cap Henry, 15.720; 34. 55-Brad Bowman, 15.776; 35. 8-Mike Lutz, 15.788; 36. 60-Jody Keegan, 15.839; 37. 55X-Dave Blaney, 15.853; 38. 22S-Brandon Spithaler, 15.905; 39. 23-Jimmy Light, 15.926; 40. 71AU-Ryan Davis, 15.991; 41. D4-Danny Holtgraver, 16.101; 42. 4K-Kody Kinser, 16.204; 43. 55AU-Luke Bowey, 16.237
Heat 1 – Kears Speed Shop (8 Laps – Top 5 finishers transfer to the A-feature)
1. 4-Danny Smith[1] ; 2. 33-Brent Matus[2] ; 3. W20-Greg Wilson[3] ; 4. 14-Tony Stewart[6] ; 5. 40-Caleb Helms[4] ; 6. D4-Danny Holtgraver[11] ; 7. 2M-Dallas Hewitt[5] ; 8. 55X-Dave Blaney[10] ; 9. 6-Bill Rose[8] ; 10. 54-Cap Henry[9] ; 11. 5T-Travis Philo[7]
Heat 2 – All Pro Aluminum Heads (8 Laps – Top 5 finishers transfer to the A-feature)
1. 19-Stevie Smith[1] ; 2. 45-Paul McMahan[4] ; 3. 2-Dale Blaney[5] ; 4. 35-Stuart Brubaker[3] ; 5. 1S-Logan Schuchart[6] ; 6. 55-Brad Bowman[9] ; 7. 5B-Adam Anderson[2] ; 8. 22S-Brandon Spithaler[10] ; 9. 94-Rob Chaney[7] ; 10. 5K-Adam Kekich[8] ; 11. 4K-Kody Kinser[11]
Heat 3 – Dragon Race Fuel (8 Laps – Top 5 finishers transfer to the A-feature)
1. 15H-Sam Hafertepe Jr.[4] ; 2. 46AU-Stuart Williams[1] ; 3. 3-Pete Miller III[2] ; 4. 7-Eric Williams[3] ; 5. 1K-Kyle Larson[6] ; 6. 30C-Lance Dewease[7] ; 7. 89G-David Gravel[5] ; 8. 23-Jimmy Light[10] ; 9. 8-Mike Lutz[9] ; 10. 24-Brian Steinman[8] ; 11. 55AU-Luke Bowey[11]
Heat 4 – Kinsler Fuel Injection (8 Laps – Top 5 finishers transfer to the A-feature)
1. 17-Marty Perovich[1] ; 2. 13-Brandon Matus[2] ; 3. 24H-Bryan Sebetto[3] ; 4. 83-Tim Shaffer[6] ; 5. 29-Shane Stewart[7] ; 6. 3L-Mike Linder[4] ; 7. O8-Dan Kuriger[8] ; 8. 2L-Ed Lynch[5] ; 9. 60-Jody Keegan[9] ; 10. 71AU-Ryan Davis[10]
Dash – Outerwears Performance Products (6 Laps, finishing order determined first 6 starting positions of A-feature
1. 14-Tony Stewart[4] ; 2. 2-Dale Blaney[-] ; 3. 40-Caleb Helms[1] ; 4. 1K-Kyle Larson[2] ; 5. 1S-Logan Schuchart[6] ; 6. 83-Tim Shaffer[5]
B-Main – MSD Ignition (12 Laps – Top 4 finishers transfer to the A-feature)
1. 89G-David Gravel[2] ; 2. 2L-Ed Lynch[3] ; 3. 30C-Lance Dewease[8] ; 4. 3L-Mike Linder[4] ; 5. 5T-Travis Philo[6] ; 6. 2M-Dallas Hewitt[1] ; 7. 54-Cap Henry[13] ; 8. 6-Bill Rose[9] ; 9. 94-Rob Chaney[7] ; 10. D4-Danny Holtgraver[20] ; 11. 55-Brad Bowman[14] ; 12. 55X-Dave Blaney[17] ; 13. 5B-Adam Anderson[5] ; 14. 60-Jody Keegan[16] ; 15. 22S-Brandon Spithaler[18] ; 16. 8-Mike Lutz[15] ; 17. 71AU-Ryan Davis[19] ; 18. 55AU-Luke Bowey[21] ; 19. 5K-Adam Kekich[10] ; 20. 24-Brian Steinman[11]
A-Main – University of Northwestern Ohio (30 Laps)
1. 13-Brandon Matus[18]; 2. 45-Paul McMahan[7]; 3. 7-Eric Williams[14]; 4. 3L-Mike Linder[13]; 5. 19-Stevie Smith[20]; 6. 40-Caleb Helms[3]; 7. 83-Tim Shaffer[6]; 8. 1K-Kyle Larson[4]; 9. 1S-Logan Schuchart[5]; 10. 2-Dale Blaney[2]; 11. 89G-David Gravel[11]; 12. 15H-Sam Hafertepe Jr.[8]; 13. 4-Danny Smith[19]; 14. W20-Greg Wilson[9]; 15. 33-Brent Matus[16]; 16. 24H-Bryan Sebetto[15]; 17. 17-Marty Perovich[22]; 18. 30C-Lance Dewease[23]; 19. 46AU-Stuart Williams[21]; 20. 3-Pete Miller III[17]; 21. 14-Tony Stewart[1]; 22. 29-Shane Stewart[24]; 23. 35-Stuart Brubaker[10]; 24. 2L-Ed Lynch[12]
Hard Charger: 13-Brandon Matus[+17]
©2011 – Results Provided by: Computer Man Inc. Fremont, OH